topic 5186
Sawdust Patination Technique for LARGE Objects
2000
Readers:
I am working on a public arts project called Horse Mania for the city of Lexington, Kentucky. I am closely cladding a life-sized horse with sheet copper (attaching it with a seams of copper pop rivets. I DO have the Colouring and Patination of Metals bible, which is excellent, and plan on using sawdust and a solution of copper nitrate and water to create a mottled brown. Is the best way to do this to build a large wood "coffin" for the horse, line it with plastic and pack it with solution dampened sawdust?
Is there an easier way? My deadline is June 15 and I'm still cutting and riveting copper.
Thank you!
Penny Mullinix
- lexington, Kentucky
---
2000
It sounds as if you are using the logical approach. Perhaps a home finishers trick may work for you. Some do it yourselfers will take a sponge and paint a wall by dabbing it to get a mottled effect. Instead of building a coffin like tank, perhaps you might be able to dapple on the solution of copper nitrate that you have chosen. Usually copper nitrate on copper will not form a brown.
Many antiquers use Liver of Sulphur [linked by editor to product info at Amazon] or sodium potassium sulfuret, which is available through some plating chemical suppliers. Use this material according to the manufacturers instructions and obey the Material Safety Data Sheet carefully. Wear all appropriate safety equipment. Dappling that on will usually form a mottled finish such as you desire. After the mottled finish is applied, you should make a decision as to whether a final lacquer or organic topcoat is needed. You also may decide that you will use no final coating and just let the copper weather naturally. Good luck with your Horse.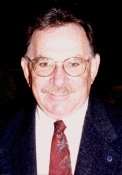 Ed Budman
- Pennsylvania
---
2001
Dear Penny Mullinix,
I have just read your question on the best way to achieve creating a mottled brown effect and would like to share a little insight if it's not too late.
It appears to me from reading your inquiry that you are not too experienced at the art of patination. You cannot produce a brown patina using the sawdust method. Nor can you get the result using copper nitrate. I also read the response posted, which advised you to use liver of sulfur or potassium sulfuret, again these chemicals will not produce the effect you are looking for; as you may have found out the hard way. The best chemical to use is ferric nitrate using two or three good size chunks with either purified or distilled water. Dissolve the ferric nitrate in a min. of 16oz. of water listed above. The use of regular tap water will contaminate the solution and not create a lasting patina. Once the solution is prepared set it aside while prepare the copper for the patina. In applying the solution use a spray bottle with a very fine mist. You will also need a propane torch with a rosebud tip.
Before you attempt to apply the solution to the horse practice on a sheet of copper first until you understand how to heat the copper to about 200 degrees then spray the solution with a side to side motion. Never start the spraying directly on the copper, always lead into the piece and finish outside the piece. Do this until a light yellow or gold color appears (yellow and gold one in the same). To get the mottled effect adjust the spray so that the spray particulates are larger, heat the copper and this time as you spray start directly on the copper. It's a quick heating and spray technique that alternates a little at a time so that you can monitor the chemical action. Try not to over heat or other colors will appear, if you get red back off IMMEDIATELY the copper is TOO HOT.
I can sit and write to you all night , but that would be futile, don't get frustrated patina work is very hard to learn and requires a lot of trial and error accompanied with even more patience and persistence.
I hope this helps you with your project, and if you are already done please contact me anyway I would like to know how it turned out.
Duane Saavedra
ARTIST/COPPER SPECIALIST - Paso Robles, California, USA


If you have a question in mind which seems off topic, please Search the Site