Where the world gathers for
plating, anodizing, & finishing Q&As since 1989
-----
Appearance of white rust on acid zinc parts
January 17, 2009
Hi guys,

I'm a small plating shop owner and I'm hoping I can get some help on a few problems I'm having.

I currently zinc/clear passivate some parts which are made from Mild Steel EN1A Round bar (which to the eye appears ever so slightly pitted)its certainly not a smooth finish, they are approx. 45 mm long x 40 mm dia. and hollow up the inside of the part ( this hollow machined part is totally smooth). I plate them in an Pot chloride acid zinc solution.

The parts after plating look fine with a nice looking blue passivated finish, but I notice after a few days small white spots appearing on the outside of the parts that when wiped with a cloth seem to disappear, but when left will reappear the next day. The steel used to make the parts is whats known in the UK as EN1A free cutting steel.

I'm assuming my clear trivalent passivation tank is ok, as we check is for Ph each day and add regular additions of the passivation to the solution. Plus other parts plated in the acid zinc solution go through this clear pass and are fine, nuts, bolts etc are fine after a few days showing no signs of white spots.

Process is as follows :-
1. Hot alkaline cleaner at 50oC
2. Hot alkaline Cleaner at 60oC
3. rinse
4. rinse
5. Acid pickle 50% hydrochloric for 15/20 minutes
6. rinse
7. rinse
8. acid zinc plate
9. drag out rinse
10. rinse
11. rinse
12. Macdermid pk3 clear tripass
13. rinse
14. rinse
15. spin dry for 15 minutes


1. Is it a possible cleaning Problem?
2. Plating solution problem?
3. Passivation problem?
4. rinsing problem?
5. drying problem?

Maybe I need to use some sort of top coat sealer or light oil to stop the white spots appearing?

Is there any special cleaning procedures I should be following for grades of steel like
Mild Steel EN1A, EN1A Pb(leaded.

I remember many years ago when I first started in the business that we plated a product called a Round Hank Bush that we cleaned using Dry acid salts because we were told that normal hydrochloric acid would cause us problems when zinc plating it.

Sorry for such a long winded post, but I'm hopeful that someone will be able to give me some help on the problem.

Kindest regards,
David Anderson
plating shop owner - England
---
January 19, 2009
You did not mention adhesion, but to get the best adhesion on leaded steel you need to dip thru fluoboric acid, after pickling off the rust in the HCl. Chlorides form insoluble salts on the surface where the lead is smeared.

Regarding the "white rust", apparently the Tri-valent chromate is not affording enough protection for the environment, a typical European problem. Your chromate vendor has a silicate top coat that is very effective in increasing the protection on tri-chromates.

Robert H Probert
Robert H Probert Technical Services

Garner, North Carolina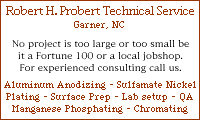 ---
January 21, 2009
Hallo David,
The process sequence seems to be right. If some other sorts of steel parts go well, you probably confront to lead. Leaded steel is serious challenge for job platers. You can find a lot of deep holes in the substrate and lead smeared out on the surface. The first thing is to plate leaded parts thicker than unleaded. Please try to increase the thickness up to 12 mic.
Best regards
JANUSZ LABEDZ
- WARSAW, POLAND