Serious Education ... plus the most fun you can have in metal finishing.
How Can I Remove the Gold Plating from Stainless Steel Watch Strap
January 11, 2009
Hi there,

I have a Tag Heuer watch from the 90s. It has alternating gold/stainless steel links in the strap, and I would like to remove the gold from the gold links to make it all stainless steel. This is a pic of what the watch looks like--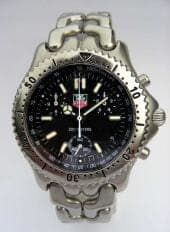 What would be the best way to go about doing this? I've tried brushing with various metals and it doesn't seem to work. I'm wondering if there's an (electro) chemical process that I should go through?

Also, I'd quite like to remove the gold plating from the part around the face that lets you set a countdown timer, but if this is too difficult or risky it doesn't matter so much!
Alex Azzi
- Venice, Italy