Where the world gathers for
plating, anodizing, & finishing Q&As since 1989
-----
Cracking in silver plating
January 7, 2009
Hello, most recently I have seen where silver plating after machining has presented with "eggshell" cracking (best way to describe it) over the entire surface. I am not familiar with this and have never seen anything like this before in silver plating. The silver plating process is cyanide based with a pre-nickel, then silver strike followed by an after plating bake at 950 F for 30 minutes. Could this be a result of alloying with contaminants in the tank causing stress leading to cracks in the deposit? Any help or insight would be greatly appreciated.

Thank you
Derrick Kasunic
Plating Process Engineer - Winnipeg, Canada
---
January 13, 2009
PROBABLY YOU HAVE STRESS IN THE NICKEL AND NOT IN THE SILVER.
FIRST TRY TO STRIP THE SILVER AND SEE IF THE CRACKS BEGIN IN THE NICKEL
YOU DID NOT MENTION WHAT IS YOUR SUBSTRATE AND WHAT KIND OF NICKEL
Ricardo Burstein
Bnei Berak, Israel
---
January 15, 2009
The nickel is a wood's strike (210 g/l nickel chloride and 85 g/l HCl) and the substrate is stainless steel 347 (AMS 5654)
Derrick Kasunic
- Winnipeg, Canada
---
January 19, 2009
Consider the copper contamination in the silver plating solution. Consider the carbonate level in the silver solution. Be sure the silver anodes ar 0.9999 ("four nines")

Robert H Probert
Robert H Probert Technical Services

Garner, North Carolina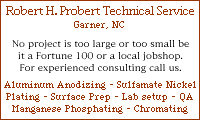 ---
First of two simultaneous responses -- January 20, 2009

Hello, Derick,
Maybe you need more HCl in your Woods, something around 250g/L. Are you giving the SS a brief reverse etch before applying the forward polarity? You should see quite amount of gassing at this step.
Guillermo Marrufo
Monterrey, NL, Mexico
---
Second of two simultaneous responses -- January 20, 2009

Derrick

The heat treatment can act as a thermal shock test. Any local areas of non adherence of the silver to the nickel will show up as blisters. Getting silver to adhere to nickel without a silver strike is difficult. Are you looking at flattened blisters or actual cracks. Try a scotch tape test on the silver and see if any comes off on the tape. This will distinguish between adhesion and cracks issues.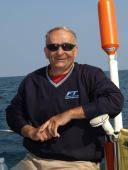 Pat Mentone
St Paul, Minnesota
---
January 22, 2009
Hello Derrick,
The reason of your problem seems to be simple. You use bad nickel for that purpose. That is not Woods nickel, but strong acidic bath for thin strikes on stainless steel. Nickel deposit from the bath is very brittle and must be really thin, just only for promoting better adhesion of the next nickel deposition. If you bake your parts to such a high temperature you should use your bath only for very thin strike followed by sulfur free sulfamate nickel bath.
Best regards,
JANUSZ LABEDZ
- WARSAW, POLAND
---
January 22, 2009
To follow up. I was able to do a SEM EDS scan of the deposit surface and noted a large amount of carbon around the boundaries of the cracks and to a lesser amount sodium and magnesium.
The anodes are indeed 0.9999 purity. In addition, I had deposit composition analyzed by ICP OES and the deposit purity was 99.950%. Meets aerospace requirements. Copper was less than 0.003%. Iron was the only significant element noted at 0.045%. Carbonates were higher at the time (77g/l), but within process limits of 30-90g/l.
We don't do the reverse etch you speak of prior to the nickel strike, only a dip in 50-60% HCl, then nickel strike. We do however follow that up with a silver strike. The cracking I should have mentioned, was seen after machining, but no adhesion problems. I the surface area was to be plated at 0.2 amps and it was silver plated at 1.1 amps. Could this cause this type of crack problems. To note, there was no burning of the deposit seen.
Derrick Kasunic
- Winnipeg, Canada
---
January 23, 2009
So the cracking was after machining and not after the bake.
Sure sounds like the machining is grinding. If it is single point, use sharper tools and more coolant.
James Watts
- Navarre, Florida