Where the world gathers for
plating, anodizing, & finishing Q&As since 1989
-----
Pickling problem for carbon steel pipes
January 5, 2009
Dear Sirs,

We are a company working in field of hydraulic pipes pickling & flushing.
Now, we are engaged in a huge plant including C.S hydraulic pipes which must me pickled and flushed due to a Re number greater than 10,000! Now here are my questions.

1)After pickling by citric acid and passivation process a lot of yellow spots can be seen inside the pipe. first time when I saw inside the pipe I was shocked .it seems to be some corroded points which not removed during pickling, but surprisingly, it can be removed easily just by rubbing finger or a piece of cloth.when you remove yellow spots,passivated surface is visible.What happened during degreasing,pickling and passivation ?

2) When you can remove rusty colour spots just by rubbing finger, you can be sure this will removed during flushing. But after flushing by a Re more than 10,000 nothing happened. just yellow spots changed to black sticky thin layer! Again can be removed by slight rubbing. Please let me know your opinion .
Ghasem Shilati
- Tehran, IRAN
---
January 20, 2009
What passivation process did you use? Citric acid is a good passivator of stainless but on carbon steel it will only clean and etch, it cannot passivate.

Ray Kremer
Stellar Solutions, Inc.

McHenry, Illinois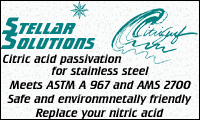 ---
January 28, 2009
Dear sir,
here is our procedure for passivation just after pickling is carried out.
1)citric acid by concentration of 0.5%
2)adding ammonia to increase pH up to 9
3)after one hour adding sodium nitrite by concentration of 0.5%
4)circulating for 5 hours at 50 °C.

Please let me know if you suggest a better way for passivation.
Ghasem Shilati
- Tehran, Iran