Where the world gathers for
plating, anodizing, & finishing Q&As since 1989
-----
Cleaning 304 SS rusty pipes and fittings at site
December 31, 2008
Dear Sir,

I am a project engineer for an STP Plant in Qatar located directly on the sea, we are in the finishing stages of the project. we have noticed a rust on some 304 SS pipes, fittings & pipe supports (specially around the bolts).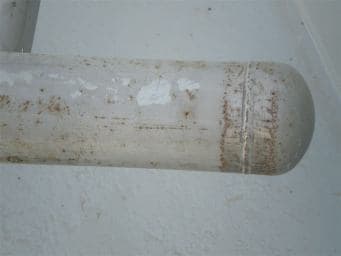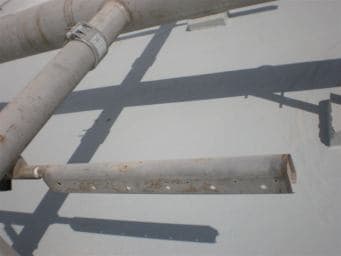 I need a solid & guaranteed solution to remove these rusts (procedures), & also to guarantee that these spots will not appear again (does this solution include periodic maintenance).

Please advise.
Hossam Soliman
project engineer - Sharjah, UAE
---
January 5, 2009
There are good citric acid based products that will easily and effectively remove the rust from your stainless steel. However, the ocean is a very bad environment for any stainless and it will require periodic maintenance treatments to keep it corrosion-free.

Let us know if we can be of assistance.

Ray Kremer
Stellar Solutions, Inc.

McHenry, Illinois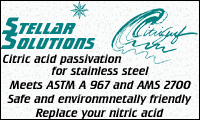 ---
January 8, 2009
Hello.. Just for the best standards you need to clean the pipes with HCl acids. It will thoroughly remove the rust.

Next, clean the pipes with water so that acid is removed and then let the pipe get dry completely.

Now there is a colour named " Red Oxide " you can apply that with good coat. After it is been dried...again apply another colour. For Best results apply 3 coats again and again.
Mustafa Gandhi
- Surat, Gujarat, India
---
January 20, 2009
It's not a good idea to use HCl to clean your Stainless Steel as chloride is very damaging to the surface.

Ray Kremer
Stellar Solutions, Inc.

McHenry, Illinois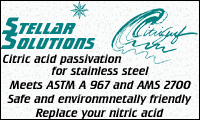 ---
March 13, 2009
Dear Mr. Soliman

Washing the rusted area with acid containing corrosion inhibitor/s will remove the rust safely. But the rust may again appear on the surface after some interval of time. For that you need to wash the entire acid treated surface with water (preferably warm water) followed by immediately alkali wash (water containing some alkali such as sodium hydroxide, Potassium hydroxide etc) so that remaining acid is neutralized. After the above is complete, immediately treat the affected area with a suitable rust preventive liquid.

Hope the above solution will solve your problem.

Best wishes and good luck.
Dr. Danish Jamal
protective products - Pune, India
---
March 24, 2009
Hi Soliman,

Citric Acid based chemicals should work for you. It removes rust and as well as passivates the surface to avoid further rusting.

But as Mr. Ray rightly says, avoid using HCl. But whatever you do for rust prevention SS 304 may not withstand the marine atmospheric corrosion for a longer time. You must need a frequent maintenance of it.

regards
Keshava Prasad M
- Chennai, India