Where the world gathers for
plating, anodizing, & finishing Q&As since 1989
-----
Passivating 304 and 308 SS, salt spray problems
December 19, 2008
We are Passivating a pressure hose with regular outcome.
The hose is made of 304SS and it has a weld made with 308L SS, we need to pass 24 hours salt spray and we get Red corrosion before the 24 hours. The problem is mainly in the welding,(see photo) and some scattered areas of the welded coupling.
Our procedure is as follows;
1.- Alkaline Immersion cleaner 60-80°C for 5-10 minutes
2.- 2 Rinses
3.- Nitric Acid Passivate, 25-30% vol. Nitric Acid and 2.0-3.0% sodium dichromate, temp. 45°C for 30 minutes
4.- 2 Rinses
5.- Neutralization with Sodium Hydroxide 4.-6% weight 71-81°C 30 minutes
6.- 2 Rinses
7.- DI water rinse 45-50°C 5-10 seconds
8.- Drying

We have also have tried changing Nitric Acid Passivate, 38-42% vol. Nitric Acid, temp. 48-555°C for 30 minutes followed by
4.- 2 Rinses
5.- Neutralization with Sodium Hydroxide 4.-6% weight 71-81°C 30 minutes
6.- 2 Rinses
7.- DI water rinse 45-50°C 5-10 seconds
8.- Drying 30 minutes
9.- Post Cleaning treatment or sealer, with 20% sodium dichromate 55°C for 30 minutes
10.- 2 Rinses
11.- DI water rinse 45-50°C 5-10 seconds
12.-Drying

Please have a look at the picture and see the rusted areas.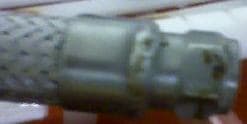 Any recommendations will be greatly appreciated
Sergio Hernandez
job shop plant - Guadalajara Mexico
----
Ed. note: the pictures are awfully fuzzy, Sergio :-)
---
January 14, 2009
Ed,
could you publish again my question, haven't received any answers.

Right now I don't have better pictures, thanks
Sergio Hernandez
- Guadalajara, Jalisco
---
January 27, 2009
Hello Sergio,

Perhaps pickling the welds prior to passivation will help.
Micheline Forth
- Rincon,Georgia, USA
---
February 24, 2009
I agree that you might need to pickle prior to your passivation to remove welding scale.

If you do not have the scale removed then you will not passivate these areas.

I would try...

1) alkaline cleaner

2) pickle... I am not sure what is a proper pickle for SS... 50% by volume HCl is typical for mild steels. 15 minutes.

3) then go back to your original process... alkaline cleaner etc...
Thomas E. Kidd
- Budapest, Hungary
---
September 7, 2009
You 1st need to increase your argon mixture upon tig welding. Also the contamination shown in the weld is an issue. You are starting the test with a carbon buildup. 2nd make sure your tungsten is clean and has a 45 deg center point. 3rd Make sure the hose is cleaned. The hose must be wiped down, braid cleaned, weld collar cleaned. Only leave a 1/8" height max from the braid collar to the hose.
The welding process must be as follows: burn the hose lip, braid, and collar at a 30% angel with your gas around 20 lbs. Use a purge tube so not contamination occurs in the weld. The end fitting also has to have a 1/8 in space from the hose before welding. Place 2 tack welds at 180 deg apart. straighten the end and weld with a 312L welding wire that has been cleaned, wipe off with acetone. The weld is not finished, allow to cool and clean with a 316 brush. Do not use a carbon or buffing wheel. Now wipe off with a acetone cloth.
I have made thousands of these all passing a salt test. Some lines have been in service for more the 15 years with no rust spots. I think I covered everything except the s/s end fittings. They need to be clean and S/S. I used 316 and 304 ends never had an issue.
Mike O'Neill
- Downingtown, Pennsylvania