Where the world gathers for
plating, anodizing, & finishing Q&As since 1989
-----
Sink drain with rust stains
December 21, 2008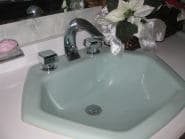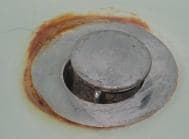 Q. About six months ago I had a plumber fix a leaky bathroom sink and to help with the dripping from the faucet he fixed it and also replaced a small screen in the faucet spout so that it would flow nicely instead of spraying all over when turned on. A few weeks later I noticed a rust stain developing. So I went to work at cleaning the rust away with a CLR [affil link] solution. This worked with some elbow grease. Over time the stain came back. Now it's a total of six months that went by and I needed to call the plumber again for a leaky toilet. Before calling my husband went to the hardware store and bought the entire guts. He was going to replace it himself but found out at the store that our style toilet needed a professional. Since we couldn't get our regular plumber we called another. This plumber fixed our toilet in a jiffy. Now that I've gone on for so long let me tell what my question is. I now ask this plumber why there is a new rust stain around the sink drain and that it wasn't there before the other plumber arrived and put this screen in the spout. I asked if he could have used a screen that rusts when the sink drips a little. He assured me that it wasn't from the spout but that it was from the sink itself. Something about the porcelain wore away from within the opening of the sink drain and that is what was causing it to rust around the drain. He said that I needed to buy a new sink. Is this the correct solution? Please help as funds are low. Thanks, NP
Nin Paru
homemaker - West Orange, New Jersey, USA
---
December 24, 2008
A. Hi, Nin. It is not in danger of failing within the foreseeable future, but the rusting will continue. The 2nd plumber is probably correct that the work by the previous plumber had little to do with the failure, and it is probably caused by the cast iron sink rusting around the drain hole.
You may get some temporary relief by using hydrogen peroxide on the rust. Letter 8229 relates lots of success stories. Better is removing the drain flange so you can get to the hole cut in the cast iron, and applying rust converter and then fresh plumber's putty, because it's possible that some of the rust is coming from the area under the drain flange rather than beyond the drain flange. Or you could try some touchup enamel after removing the drain flange or without removing the drain flange; but the best you can hope for is probably improvement, not a cure, as the cast iron sink is rusted.
Good luck.
Regards,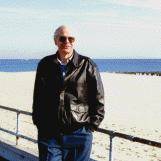 Ted Mooney
, P.E.
Striving to live Aloha
finishing.com - Pine Beach, New Jersey
---
December 24, 2008
A. You might try a little Oxalic Acid [affil. link] on the stain. When I sold chemicals for a living, we'd sell sacks of it to boatyards, for removing rust stains from sails.

Dave Wichern
Consultant - The Bronx, New York
---
---
March 30, 2016
Q. I also have rust around the drain in the bathroom sink. In your previous answer you mentioned applying a rust converter. What is a 'rust converter'? Is this something that I can buy at the hardware store?
Beverly Smith
- Waldorf, Maryland USA
---
March 2016
A. Hi Beverly. Yes, "Rust Converter" is not for removing the visible rust from the white porcelain surfaces, but for slowing the rusting of the exposed cast iron by converting wet, loose, dusty red rust to tight, more impervious black rust. It is also variously called "Naval Jelly", "Ospho", "Rust Reformer", etc. It's available mail order or locally.
Regards,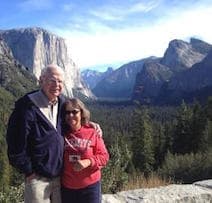 Ted Mooney
, P.E. RET
Striving to live Aloha
finishing.com - Pine Beach, New Jersey