Where the world gathers for
plating, anodizing, & finishing Q&As since 1989
-----
Zinc Plating with Blue Chromate is turning color over time

SUGGESTED ZINC PLATING BOOKS for Shops, Specifiers & Engineers
"Electroplating of Zn-Fe, Zn-Co & Zn-Ni"
by
V Narasimhamurthy
(2020)
avail from
eBay
,
Abe Books
, or
Amazon
"Zinc Electroplating"
by
Muralidhara & Venkatesh
(2018)
avail from
eBay
,
Abe Books
, or
Amazon
"Alkaline noncyanide zinc plating with reuse of recovered chemicals"
by
Jacqueline M. Peden
(1994)
avail from
Abe Books
"Zinc Plating"
by
Herb Geduld
(1990)
avail from
Abe Books
, or
Amazon
"Tin-Zinc Alloy Plating"
by
Tin Research Inst.
(1952)
avail from
eBay
, or
Abe Books
"Zinc Cyanide Plating Solutions"
by
William Blum
(1921 Classic Reprint)
avail from
Abe Books
, or
Amazon
"Composition and Comparison of Zinc Electroplating Solutions"
by
John Elder Pyron
(1917 Classic Reprint)
avail from
eBay
,
Abe Books
, or
Amazon
(as an Amazon Associate & eBay Partner, finishing.com earns from qualifying purchases)
Q. We are using acid zinc plating process to plate parts also, we use the tri Cr and top sealer to post the coating parts. The plated color is changed to grey color after 3 months. We were told that the Fe contaminates the Cr bath. So we added an Ion exchange unit to filter Fe. For first year, it worked great; the second year, the plated color changing issue came again. So, We refreshed the Cr bath 1 to 2 months. Also with with Ion exchange we still could not fix this problem. Hope an expert gives recommendation of how to fix this issue. Thanks.
Elaine Shen
Engineer - Michigan
August 25, 2023
A. Hi Elaine!

Photos of the problem could help us understand "how much" is the issue and how can we help. So, having said that, I would recommend:

1) Check abnormalities in chromating baths (pH, concentration, zinc or iron contamination as you mentioned).
2) Check abnormalities in the top sealer (it's inorganic? organic? a lacquer? This could be the source of your problem, too).
3) Check organic contamination of your zinc plating bath (could be, this is a long shot but happened once here).

So, if you kept digging into the problem and have some more information, send it so we can lend you a hand.

Have a nice week!
Daniel Montanes
- Cañuelas, Buenos Aires, Argentina
October 26, 2023

Thanks Daniel for your suggestion. I will check it.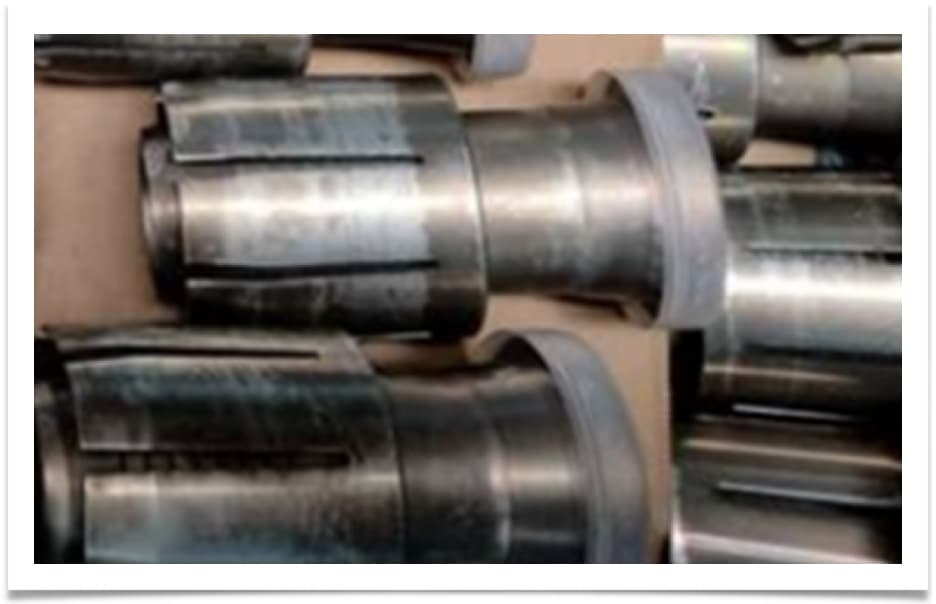 Elaine Shen
- Michigan
October 27, 2023
A. Hi Elaine,

Seems a low thickness problem to me. The greyish parts may be the parts with very low to no zinc, and the other ones with a little more zinc. But I could look around in your plating process instead of the chromating.

Hope.you can solve this. If you can share more data we will try yo guide you to interpret it and take some course of action.

Best of luck!
Daniel Montañés
- Cañuelas, Buenos Aires, Argentina
November 14, 2023
---
---
⇩ Closely related postings, oldest first ⇩
---
---
Q. Dear sir,

We are facing a problem in Zinc plating Blue passivation, After 10 to 12 Weeks, passivation is converting to yellow passivation; we are not able to find out the problem.

Regards,
Khadar I
plating division - Bangalore, Karnataka, India
December 13, 2008
A. Khadar,
Could you please provide us with some more information? For example is this a hex or tri clear? What types of parts are these? What conditions are the parts subjected to during these 10-12 weeks? Is the corrosion performance still up to par after the yellowing? What are the chemical properties of the bath? Etc.

The more information that you can give us the better.

Good Luck,

Dave

David J. Wolf
Medina, Ohio
---
---
Q. Dear Sir,

We are fasteners platers from Chennai, India and we are facing the problem of discoloration of trivalent blue passivation on storage. The silver-tone color changes to pinkish yellow on storage of 3-5 weeks. The Salt spray like is unaffected. The discoloration takes place even in new passivation bath which means zinc and iron contamination cannot be the reasons. Hexavalent passivation from the same plating baths are good and meets the salt spray expectations.

Can any one help. Thanks in advance.
Srinivas Raghavan
process incharge - Chennai, Tamilnadu, India
December 26, 2008
---
---
Q. Hi,
I am seeing a yellowish tinge in blue passivated parts, mainly on the edges. How could that happen -- is it because of a cyanide bath? Normally RoHS compliant passivations use non cyanide bath ... is it that reason?
Arun Kumar
- Kochi, Kerala, India
June 26, 2012
A. Dear Arun,

When there are yellowish tinges on the edges, mainly is a iron content problem of the zinc bath, or the blue chromate concentration is too high.

We see that problem in barrel pieces and solve it with diluted (5%) hydrogen peroxide. Do you test the zinc bath with Hull cell? If you do, you could test it in Hull cell (2 A, 5 minutes, with agitation) and chromate the plates with and without peroxide added. Then you could make a conclusion!

Hope you could solve your issue. Best regards,
Daniel Montañés
Self-Drilling Fasteners Manufacturer - Cańuelas, Buenos Aires, Argentina
---
---
Two acid zinc tanks give perfect blue but two give yellowish tint
Q. We have 4 Rack acid zinc plating tanks. Material from two tanks gives perfect blue tint after blue passivation. While the material from other two tanks have yellowish tint after blue passivation.
Can you suggest a remedy?
Shazer Javaid Awan
- Lahore, Punjab, Pakistan
February 8, 2014
A. Hi Shazer. You are fortunate to have a rather consistent issue rather than an off and on problem. I think Step 1 is to do Hull Cell testing of the four baths. Because of the consistent nature of the problem this testing ought to quickly reveal whether the problem is in the chemistry of the bath vs. elsewhere. Good luck and please get back to us.
Regards,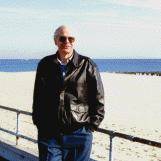 Ted Mooney
, P.E.
Striving to live Aloha
finishing.com - Pine Beach, New Jersey
A. When I used to have this problem it was mostly due to iron contamination of the bath. But maybe there could be another reasons for that problem.
Daniel Hernandez Guerra
- Bucaramanga Santander Colombia
A. The yellow chromate of a blue chromate formation coming out of a chloride solution is most likely high iron contamination.

Robert H Probert
Robert H Probert Technical Services

Garner, North Carolina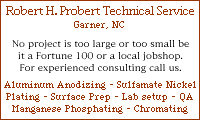 ---
---
Q. I have a problem, after blue zinc and pack with plastic bag the next day it become yellowish
James kt
electroplating Malaysia - johor Malaysia
March 10, 2018
A. Hi James. I think the first step is to leave a part unwrapped, wrap a part in paper, & wrap a part in different plastic and see whether the problem is related to the wrapping material/method or whether the yellowing always appears irrespective of the wrapping. Good luck.
Regards,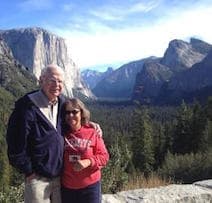 Ted Mooney
, P.E. RET
Striving to live Aloha
finishing.com - Pine Beach, New Jersey
---
---
Blue passivation turns into silvery colour after a week
Q. We are doing plating of MS component (OD & ID (CNC ground surface) in Acid zinc plating and plating with blue trivalent passivation without top coat). With top coat also, we have tried. Topcoat itself is changing colour to silvery yellow. After a week, 10 ~ 20% of the parts are changed into yellow in colour and rest of the parts are blue in colour. We have checked the iron content in the bath and found to be 0.05 ppm only. The pH of the bath is 5.1 and passivation solution is 2.3 only. Shall we take this partial colour change is the inherent characteristics of blue passivation? Could this affect the performance of the product? What is the reason for this partial change except iron content?
SWAMY RAM
- Chennai, TAMIL NADU, INDIA
September 4, 2018
A. Hello Swamy,

Most likely iron content in your blue trivalent PASSIVATION tank, not in your plating bath. If it were in your tank, you would see black staining in high current zones, but yellow staining may be because of high iron content in your chromate :)

Best of luck!
Daniel Montañés
TEL - N FERRARIS - Cañuelas, Buenos Aires, Argentina
A. Good day.

We had that kind of problem a few years ago.

The main reason is the dissolved iron in passivate, activation or sealer.

Please try to analyze iron by sulfosalisilic acid (Fe+3) or phenantroline + sodium disulfite (Fe+2).

Once a week take out the passivation to a relay tank and clean the walls and remove the pieces from the bottom.

In my experience the concentration over 150 ppm of iron (Fe+3) generates the problem of yellow pieces
Diego Nava
- Querétaro, Querétaro, Mexico
---
---
Q. Hi sir ,
I had new complaints from customer that parts are in Zn trivalent blue passivization turns into the yellowish on center of the part; its CRCA.

Is this issue from packing material lifetime, or finishing the parts?

Please help me.
Devraj durai
- Bangalore, Karnataka, India
March 1, 2021
A. This defect is related to copper contamination in your plating bath. Use titanium anode hooks instead of copper anode hooks.
Alireza Barmeh
- Isfahan, Iran
---
---
Q. Zinc barrel plating with Cr3 Blue passivation on mild steel pressed components having complex shape is changing to dark pink /yellow shades on LCD area after 3 months in 300 pcs out of the total assembled 8000 components in one particular lot supplied.
The components are assembled with copper terminals. Conducted XRF spectrum and found 0.2 micron copper on the pink shaded area. In the same spectrum, iron shows 35% .This could be due to contamination of bath? or improper passivation? Due to Galvanic Corrosion? First time occurs in 8 years. Conducted 15 various trials in passivation, changing different concentration and time. Awaiting SEM analysis report! Can anyone help in fix the exact root cause please. Thanks.
Ganesan Ponnusamy
- Maraimalai Nagar, India
October 24, 2021
A. Hello there,

We need more information about your zinc tank. Is it alkaline non-cyanide, or is it Acid zinc ? I assume is acid zinc since you have co-deposited impurities in the LCD area. Because of the geometry of your part plus being a barrel plating, your LCD area have very low current density, if its lower than 0,3 A/dm2 you have co-deposition of Iron. (Imagine doing dummy plating but with your parts instead of panels).
If you want correct passivate film on your zinc parts, the thickness should be minimum 5 µm. Also keep your Iron level low in both the tank and the passivation tank.
To check your bath for Iron, you simply can add a drop of H2O2 in a jar with sample from your bath: if it becomes cloudy brown, then your iron is high and you should treat it with H2O2. For barrel plating you can treat directly in the tank but don't add more than 0,1 ml/L at once. The iron will precipitate (considering your pH is higher than ~5.3-5.5) and will drop on the bottom of the tank. Repeat these steps until there is no precipitation occurring.
S. Daniel
Chemical Engineer - Bucharest, Romania
A. Mr. GANESAN,

If parts are yellowish after blue chromate, check blue chromate chemistry. Check the concentration, iron contamination.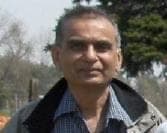 Popatbhai B. Patel
electroplating consultant - Roseville, Michigan
May 19, 2023
---
---
Q. I have a similar case of blue zinc trivalent passivate turning into a yellow color tone, the detected AQL is below 5%.

It is a barrel acid zinc plating process, but the yellowish issue only happens on a few pieces in the same barrel process. But on the same day production (same process) a different lot is not with kind of rejection.

During the packaging or sorting process, there are non-detected differences by visual.

What is the cause will happen this similar color-turning case? what is the suspect point of it?

Appreciate your support on the question.
XL Koh
- Malaysia
April 26, 2023
---