Where the world gathers for
plating, anodizing, & finishing Q&As since 1989
-----
Hydrogen Embrittlement in Electroless Ni Plating
December 1, 2008
I have a problem with welding two large steel cylinder together (3m diameter in 20mm carbon steel). One side of the weld is as supplied hot rolled, the other side has been Electroless Ni plated and diffusion bonded at 600degC.
The welding is being done by skilled welders but is resulting in weld bead cracking very typical of hydrogen embrittlement. All advice says that the 600degC should relove any residual hydrogen from the part, but I am proposing that the Ni/P/Fe crystalline interface between the Ni and Fe may form a barrier to prevent the release of hydrogen.

As any one come across this problem?
Robin Rhodes
Consultant Design Engineer MARINE - Warwickshire, England
---
First of two simultaneous responses -- December 3, 2008

It is not hydrogen. Commercial electroless nickel contains phosphorous (from 4-5% up to 11-12%) and is generally considered not suitable for welding for the reason you describe. Best thing you could do is to remove it before welding.
Guillermo Marrufo
Monterrey, NL, Mexico
---
Second of two simultaneous responses -- December 3, 2008

I will not claim to be an expert, but I have done both EN and heat treating for several years a long time ago.

First, I will question the value of the EN that has been heated to 600C. It becomes a completely different material.

600C will definitely bake out any hydrogen IF the bake cycle is immediately after the plating and not at the end of the plater's shift. It gets too deep to be removed completely and the damage is all ready done and is not reversible.

I am not good enough to tell the difference between hydrogen cracking and weldment cracking from the welding process.

I strongly suspect that the problem is caused by a rapid and asymmetrical cooling from the 600C and the stress is collecting in the weld area.
James Watts
- Navarre, Florida
---
First of two simultaneous responses -- December 4, 2008

Thanks for your comments so far. I have done a few more tests on a small sample plated with electroless Ni with 9% P as used on the large cylinder, diffusion treated at 600degC.

Welding to a piece of untreated steel caused exactly the same brittle weld cracking down the centre of the bead.

The Ni plate was then ground away and the sample treated at 200degC. Welding quality was good.

There is a possibility that the P is causing the problem, but the original cylinder weld was attempted with the Ni removed but not de-gassed which also gave weld cracking.

The comment that the hydrogen may be "permanently" trapped is an interesting possibility. I am now trying the large weld with Ni removed and de-gassed at 200 °C.

Many thanks Robin Rhodes
Robin Rhodes
- Warwickshire, England
---
Second of two simultaneous responses -- December 5, 2008

I'm with Guillermo.

It's the phosphorus in the nickel layer. Nothing at all to do with hydrogen (especially as it's a plain carbon steel).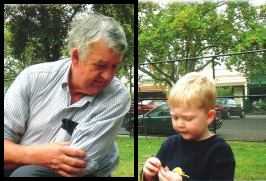 Bill Reynolds [deceased]
consultant metallurgist - Ballarat, Victoria, Australia
We sadly relate the news that Bill passed away on Jan. 29, 2010.