Where the world gathers for
plating, anodizing, & finishing Q&As since 1989
-----
How to prevent micro-flaking of cast aluminum 383?
November 25, 2008
I work in the printer business, designing parts and assemblies that hold and transport ink within the printer. Some of those parts are made of cast aluminum (A383), and I am currently battling a surface defect which I call micro-flaking. The flakes are not a foreign material; they are thin pieces of cast A383 that are attached along an edge, but exposed on their backside and other edges. They come loose during freeze-thaw cycling of the ink, which involves contraction of the ink "nugget" as it solidifies. That contraction pulls the flakes off the walls of the parts and into the ink stream, where it later contaminates and damages other components.

Current Cleaning Process: The parts are tumble-deburred twice; once after casting (ceramic media) and once after machining (stainless steel media). They are then washed in a 7-step process that includes ultrasonic agitation and heavy directed spray. The flakes remain attached despite these processes.

What is the best way to either remove the flakes reliably, or make sure they never come off? A few options we are considering are:

* Electroless Nickel Plating
* Chromate Conversion (by itself)
* Chromate Conversion plus E-Coat
* Bead Blast or Shot-Peen
* Caustic Bath Etch
* SPINner magnetic deburring

Thanks in advance for your insight!
Dave Koehler
product design engineer - Portland, OR, USA
---
November 28, 2008
Hi Dave,

This has to seen just as a possible line of enquiry, since we don't have an idea of the size of the flakes except perhaps the idea from your use of the word "micro" that they're too small for unaided eye observation. Also, it seems that you have not done a metallographic examination on a sectioned sample.

A383 is a high-silicon aluminium alloy (around 12% silicon). If it is just melted and cast, microscopically large flakes of silicon will form during solidification of the alloy and be dispersed through the structure. If your cleaning process involves either a very high or a very low pH solution, that could preferentially remove surface matrix metal, leaving some silicon flakes hanging proud of the surface. Remember we are talking microscopic here, not unaided eye observation.

Before it is cast, the molten metal SHOULD be treated with either sodium or strontium which prevents the formation of coarse silicon flakes and instead gives a very fine structure. In the business of aluminium casting, this is called "modifying". Perhaps you have a batch that was not correctly modified.

The above suggestion is a "best bet" based on insufficient information. Metallographic examination should take you straight to the answer.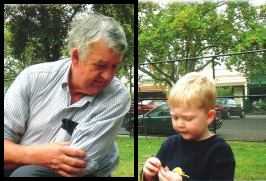 Bill Reynolds [deceased]
consultant metallurgist - Ballarat, Victoria, Australia
We sadly relate the news that Bill passed away on Jan. 29, 2010.
---
December 1, 2008
Thanks Bill Reynolds for the response.

The elemental makeup of these flakes is primarily Al & Si, as measured using our electron microscope. I imagine and hope that the silicon flakes you describe would not be pure silicon, but at least bonded to adjoining aluminum.

The flakes we see are about 10 to 50 microns in "length", with a whole variety of irregular shapes.

I am looking into the details of the cleaning process, but I do not believe it includes any extremely low or high pH solutions. Is it possible that these flakes could be left proud of the surface without such a solution?

The surface of these parts does appear to be made up of layers upon layers of these "flake" structures, and even when we machine 0.015" off the part, we still see these exposed structures.

Thanks for any additional input.
click pictures to enlarge
-Dave
Dave Koehler
- Portland, Oregon