World's #1 on-line resource since 1989
•
-----
Converting rhodium dip plating solution for use in pen plating
Current question and answers:
May 4, 2021
-- this entry appended to this thread by editor in lieu of spawning a duplicative thread
Q. Hello everyone,

I work in a small jewellery shop . We have 2 litres of rhodium bath plating solution, 2g/l Rh metal, 40g/l sulphuric acid, a brightener and a wetting agent.
We want to transform 500 ml of the solution into pen plating, about 15g/l conc of Rh. My guess is to concentrate the solution by 7.5 folds to get to the requires Rh conc. but that would also increase significantly the conc. of H2SO4 (300 g/l)
Can anyone help in finding a way to neutralize the acid without precipitating the Rh from its sulphate salt..

Any help would be most welcome.
Jean Nathael
- Goodlands Mauritius
---
---
---
Previous closely related Q&A's starting in:
November 24, 2008
Q. Hi
We have a large amount of stock of dip rhodium plating but we mostly use pen plating in jewelry for rhodium plating, so is there anything which we can convert our dip plating solution to pen plating solution so we can use that solution in pen plating?
Hiren Dhakan
Plating shop - India
---
December 3, 2008
A. Hiren,
If your rhodium solution is pure and clean enough you could use it for pen plate. First you must know the rhodium metal concentration of the dip solution. Let's say you have 8 grams rhodium metal per us gal (3785 ml). The rule of thumb is one gram rhodium metal per pint (473 ml) for pen plate solutions. There are eight pints to the gallon, so your metal concentration would be correct just as the dip solution is. If the metal concentration is higher in the dip solution, you will have to dilute the solution with DI water and add a little sulphuric and phosphoric acid to spec. If the metal concentration is lower than 8 gr/gal in the dip solution, you will have to add the required amount of rhodium. Sulphuric acid should be around 100 ml/gal and you could add 20 ml/gal of phosphoric acid. The phosphoric acid will give you a whiter deposit. If by chance the dip solution is in poor shape, a rhodium supplier in your area may take the solution for refining (can take 10-12 weeks) and supply you with a proprietary pen plate solution. Good Luck!
Mark Baker
Process Engineer - Syracuse, New York
---
December 11, 2008
Q. Hi Mark,
Thanks for your kind support.As per your instructions we did it and it has been succeeded so far but there is some problem with the whiteness. When we compare the whiteness of finished jewelry plated from pen plating solution and other solution which we have converted from dip plating to pen plating, the whiteness of converted solution is slightly Grey effect.
So is there anything that gives us a best result.
Thanks once again,
Hiren Dhakan
- India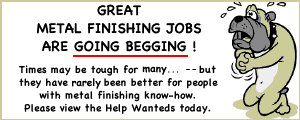 Plating Shop Manager [Salisbury, MD]
Junior Quality Engineer [Santa Clara, CA]
Plating Process Engineer [Wenatchee, WA]