World's most popular finishing site / Internet's friendliest corner
topic 50530
We are powder coating aluminum sheet, but paint is peeling off
November 18, 2008
We are facing paint peel off problem in powder coating of aluminium sheet.
we are pretreating sheet 1)degreasing, water rinse (cold) 2 times, chromating, water rinse (cold) 2 times, drying, powder used epoxy
pl give advice.
Raju Pathrabe
Plating shop employee - Nagpur, Maharashtra, India
---
November 19, 2008

Please give some more detail of your pretreatment and curing. Your question is too broad to answer otherwise.

Concentrations of chemicals, method (spray or immersion), temperatures, temp of curing, temp of drying, times of immersion, drying, curing.




Geoff Crowley


galvanizing & powder coating shop
Glasgow, Scotland



---

November 19, 2008

Raju, you need to start from the beginning, the Powder Coat Institute has books that will help.




Sheldon Taylor


supply chain electronics
Wake Forest, North Carolina



---

November 19, 2008

We had a similar situation a few years ago with one of our clients to whom we supplied a poly powder. They coated sheet aluminium and cast alum for bus shelters. The cast showed no defects but the sheet showed defects similar to your problem. On investigation we discovered that the sheet alum was supplied to them with a protective green strippable coating to prevent damage in transit. It was eventually discovered that this coating contained plasticisers which after time bleach out onto the substrate. Hot water, chromating proved negative in an attempt to improve adhesion. Only when we cleaned the metal substrate with Ketone solvents, i.e., MEK / methyl ethyl ketone or Acetone [paid link to product info at Amazon] (all very low flash) that the adhesion problem was overcome.
Conclusion: Only after solvent clean, chromate, powder coat, bake that the adhesion became acceptable.

Terry Hickling




Birmingham, United Kingdom




---
December 24, 2008
I'm a 20 year Navy man, I work in the civilian sector now. My expertise is welding. My company powder coats aluminum water tanks. The cure time 60 min at 425 deg. My opinion is the aluminum is losing its ductility in the cure process, which results in weld failure in the field.
Gary Collins
powder coat - Ohio
---
October 1, 2009
Dear Raju
Aluminium sheet have a small pores and oil was insert in these pores before component reaching to paint shop for painting.better if you increase the water dry off oven temperature so that all oil would be dry off & and in parallel maintain the other parameters also.

THANKS
SURYA
SURYAPAL
- INDIA
---
May 27, 2010
-- this entry appended to this thread by editor in lieu of spawning a duplicative thread
I want to know reason of peeling of powder paint on aluminium profiles
ABOOBAKER U.CHUDESARA
extrusion anodizing and powder coating - Mumbai, Maharashtra, India
---
A. Hi Aboobaker. It's most likely incorrect or inadequate pretreatment before powder coating, but readers would probably need a lot more info to be sure.
Regards,
Ted Mooney, P.E. RET
finishing.com - Pine Beach, New Jersey
Striving to live Aloha
---
White spots and blistering of powder coated furniture
July 7, 2019
Q. Recently powder coated aluminum patio furniture for a restaurant. Developing white spots everywhere, and some obvious blistering with white powdery underneath.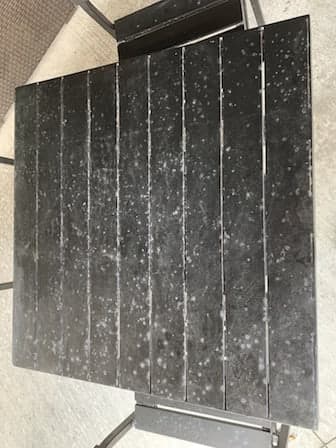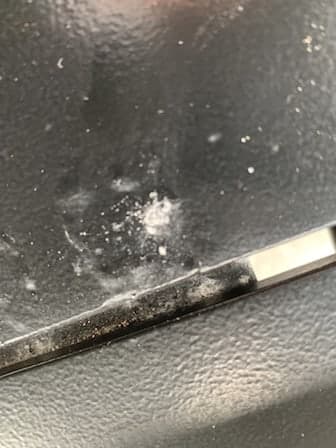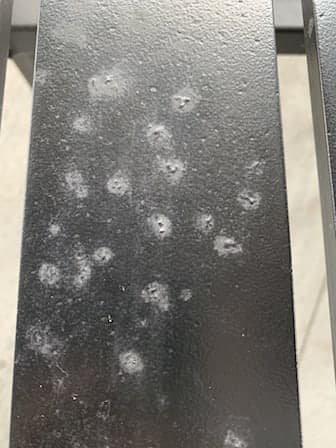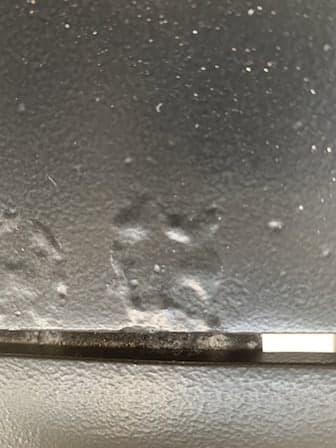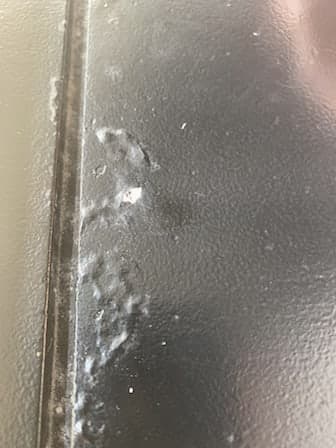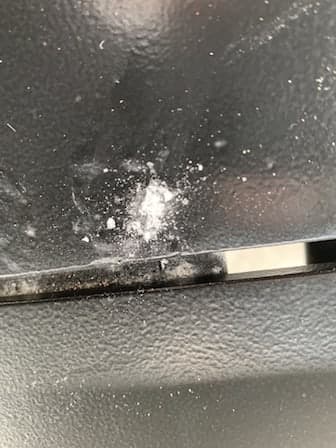 Coater says its something environmental or how we are cleaning it, and nothing to do with the powder coating or the aluminum underneath.
Doug Drukker
Construction Director - Columbus, Ohio USA
---
August 2019
A. Hi Doug. It's certainly obvious that the underlying aluminum is corroding terribly, but unfortunately it is difficult to know why :-(

While it is possible that the pretreatment and powder coating are grossly defective, it also sounds possible that, in a restaurant setting, maintenance workers are repetitively using strong bleach or other cleaners and powder coatings are not impermeable so the aluminum is being attacked.
Regards,
Ted Mooney, P.E. RET
finishing.com - Pine Beach, New Jersey
Striving to live Aloha
---
August 29, 2019
A. Hi Doug,
I will say Ted is right, the aluminium is badly corroding, what kind of pretreatment is used? and what kind of powder? on the Pictures it looks like the layer of powder may be too thin, also if you may have used some pretreatment not meant for aluminum, this could happen.

Rene Christiansen
Surface Treatment Technincian - Lunderskov, Denmark
adv.