Where the world gathers for
plating, anodizing, & finishing Q&As since 1989
-----
Can we do decorative chrome from our hard chrome tank?
November 13, 2008
We are currently in the hard chrome business. We have many inquires for decorative plating on a daily basis. We would like to set up a small decorative line. What type of copper bath is used, and nickel bath, and could electroless nickel be used? Also, could our hard chrome bath in thin deposits be used for the final plating, or do we need a different type of chrome altogether? Thank you for the information. ~Craig
Craig Kemery
plating shop employee - Maryville, TN
---
November 17, 2008
You don't say what your objective is with the decorative line. Do you intend to perform industrial plating? Do you intend to perform refinishing? What substrate(s) do you wish to plate on? These would have a bearing regarding the use of different chemistries.

In answer to the opening question, maybe. Depending upon the type of catalyst you are using you may or may not be able to get enough chrome for the application (again the application needs to be defined). It would be best to have a dedicated decorative chrome tank using a sulfate/fluoride catalyst system or a trivalent chromium process. This would be different if you need to utilize, for some industrial applications, micro porous or micro cracked chromium.

As I said and I repeat, the type of work you wish to do has a great deal to do with deciding on plating bath chemistry.
Gene Packman
process supplier - Great Neck, New York
---
November 18, 2008
Sorry. I need the info for just plating onto steel for now. We intend to use the line as a job shop for custom automotive, motorcycle, etc.. for which we have a daily large demand for decorative chrome plating in this type of business. We currently do engineered hard chrome for local large industry. Again, I just wanted to know if our hard chrome could be used for the final plate after nickel. Also what type of nickel could be used; i.e., electroless, and copper plating. Keep in mind we only know hard chrome, and this would be a whole new adventure. Thanks
Craig Kemery
- Maryville, TN
---
November 19, 2008
Hi, Craig. The short answer is that, yes, the same chrome plating solution used for hard chrome plating can be used for decorative chrome plating; people have done it by just reducing the operating temperature (or not even). But it's not ideal because they are intended for different purposes. You need to plate bright nickel under the chrome, and preferably semi-bright nickel before the bright nickel. Our "Introduction to Chrome Plating" is pretty basic but will help you understand the issues. Then you can move on to the plating textbooks for details. Better might be to contact a distributor on nickel plating solutions and get their help. Good luck.

Regards,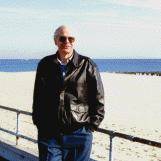 Ted Mooney
, P.E.
Striving to live Aloha
finishing.com - Pine Beach, New Jersey
---
November 22, 2008
Craig,

As Ted said yes you can. For the decorative replate market bright nickel and chrome are the way to go after you have polished the part, cleaned, activated, etc.

The "triple chrome" plating of copper/nickel/chrome as a superior finish is a falsehood from the 1950's. The reason so many re-platers use copper is because: a: it is needed (alkaline) on zinc die casts to protect the casting from nickel
b: it is needed on zinc die casts to protect against attack by high build up bright acid copper and on steel to prevent immersion plating of the acid copper
c: the acid copper can be flowed when being buffed/polished to fill pits, etc.

Duplex or Triplex nickel provided superior corrosion protection but is less frequently used in the replate industry.
Gene Packman
process supplier - Great Neck, New York