Where the world gathers for
plating, anodizing, & finishing Q&As since 1989
-----
ALUMINIUM ANODIZING FAILURE
November 7, 2008
An automotive component is made by welding two pieces of aluminium (a cast and a plate), then subjected to anodizing. A sort of a shade is visible on some of the items: the geometrical properties of the shade are very regular and it is located as a stripe just aside the weldment (more or less corresponding to the HAZ); the statistical occurring is very irregular and random (some items are involved, some others not and the extent of the phenomenon is not always the same). Two different companies are the supplier of the anodizing (and both perform the same cycle: alkaline pickling, coating and sealing, with proper intermediate neutralizations, rinsing and drying) and the phenomenon occurs no matter what is the supplier.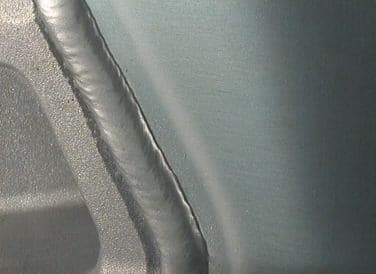 Someone have ever seen such a kind of event?
It seems to us something related to the modifications of the HAZ microstructure, in its turn due to not proper welding parameters, on which the anodizing grows producing the shade. What do you think?
Thanks a lot
Andrea Vecchi
testing lab technician - Campogalliano (MO)- Italy
---
November 12, 2008
The cast piece, the wrought piece, and the weld (all three different alloys) will anodize (1) in clear to a different shade, and (2) if dyed to a more different shade. Further, the varying times of temperature of welding, AND the varying heat of manual controlled welding will show more different shades. This is because the grain structure of the surface is changed by temperature and time at temperature so that the pore is skewed out of the perpendicular into a random pattern, then the anodic treatment magnifies this pattern so that is shows up more predominantly.

There is nothing you can do to get the same shade out of three alloys welded together. You can improve the uniformity of the heat line close to the weldment by accurately controlling the temperature of welding AND the time at temperature,then the shade will always be identical.

Robert H Probert
Robert H Probert Technical Services

Garner, North Carolina