60,000 Q&A topics -- Education, Aloha, & Fun
topic 50478
Anodized surface is powdery
A discussion started in 2008 but continuing through 2019
November 6, 2008
Q. I received an aluminum part that has a greenish/yellowish powder on it. Supposedly, the part was anodized and has been sitting around for 6 months. I was able to perform an X-ray Microanalysis on the powder and it is predominantly Aluminum and Oxygen, with Silicon, Sulfur, and Chromium appearing too. What is causing this formation of powder?
Justin Brooks
chemist involved with military plating operation - Rock Island, Illinois
---
November 10, 2008
A. The most common "greenish-yellow powder" is Nickel Hydroxide when the nickel acetate seal pH gets above 6.0. Go back and do the x-ray again and look for nickel.

Robert H Probert
Robert H Probert Technical Services

Garner, North Carolina
---
November 11, 2008
A. We have had powdery anodize finish problems in the past. They have usually been the result of the anodize solution being too warm. I assume this results in more chemical attack on the anodize surface from the sulfuric acid. The powder would sometimes wipe off and dyed parts would fail a nitric acid seal test. The green color is most likely a dichromate seal.
Brad Walters
- Orange County, California, USA
---
November 12, 2008
A. It sounds to me that you have got a bloom on the surface. Check your operating parameters, it sounds as if something is out of kilter.
Brian Terry
Aerospace - Yeovil, Somerset, UK
---
November 15, 2008
The first thing that is needed to knowbefore anyone can make a real stab at what the problem is will be what type of anodizing was done to the part? Next is what application are you using it for. From there some reasonable answers will come.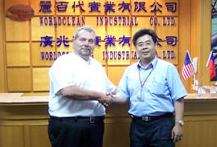 Drew Nosti, CEF

Ladson, South Carolina
---
---
March 29, 2011
-- this entry appended to this thread by editor in lieu of spawning a duplicative thread
Q. Dear all,

Our aluminium parts were found covered with white powder after anodizing process (after hot water sealing).
Is the white powder issue common in anodizing process? Any ideas of the white powder originated from either process or raw material?
We thought the white powder was originated from the glass media, we use glass media to do the sand blast on aluminium surface (A6061). We had tried to eliminate it with immersion in ammonium bifluoride (50 g/L, 2 minutes, RT), and desmut the part surface (Nitric Acid 35% v/v, 2 minutes) before the parts go to anodizing process.
This action help to reduce the white powder, but can't eliminate it.
What is the common sand blast media? Shall we change to aluminium oxide or ceramics?
Please advice.
Thanks!
Eng Chong Lim
plating shop employee - Johor Bahru, Malaysia
---
July 27, 2011
A. It seems your anodic film produced is softer than required.

You may check :

1- the temperature of anodising bath which should less than 21 °C. Higher temperature softer anodic film and dusty appearance.

2- do not hold the load in anodising tank after the power is switched off. Otherwise the anodising solution make anodic film soften. Anodised load must be taken from the anodising tank as soon as possible.

3- rinsing between anodizing and sealing. At least 2 rinses necessary to eliminate low pH solution from anodic film pores.

4- use a good quality seal additive to prevent dust that is formed as a result of chemical reaction of sealing. Also, take notice to the amount added to the tank, more additive softer film.
Timur Ulucak
- Istanbul, Turkey
---
---
Aging of aluminum and a bloom effect
February 23, 2014
Q. Hello
I have a question about aluminum aging 6063.
I want to know what is the effect of aging parameter on anodizing?
I know my aluminium is soft after aging; the hardness is from 2 to 8 and it is not standard. We use cold seal at the end of the anodizing line.
After sealing we have no problem ... but when we want to manufacture door and windows we have bloom effect. I want you to help me. Thanks a lot
asghar norouzi
- ghazvin, iran
---
---
Powdery issue on Al-2024 with sulphuric acid anodized and dichromate seal
July 31, 2018
Q. My situation: Powdery issue observed on AL-2024 parts after sulphuric acid anodizing with dichromate seal. Below is the data collected on powdery and good parts,
1. Powdery - Electrolyte concentration = 191.3g/L and anodized film thickness of 10.3 - 11.9µ

2. Powdery - Electrolyte concentration = 191.1g/L and anodized film thickness of 9.6 - 11.µ

3. Good Part - Electrolyte concentration = 189.3g/L and anodized film thickness of 10.6 - 12.µ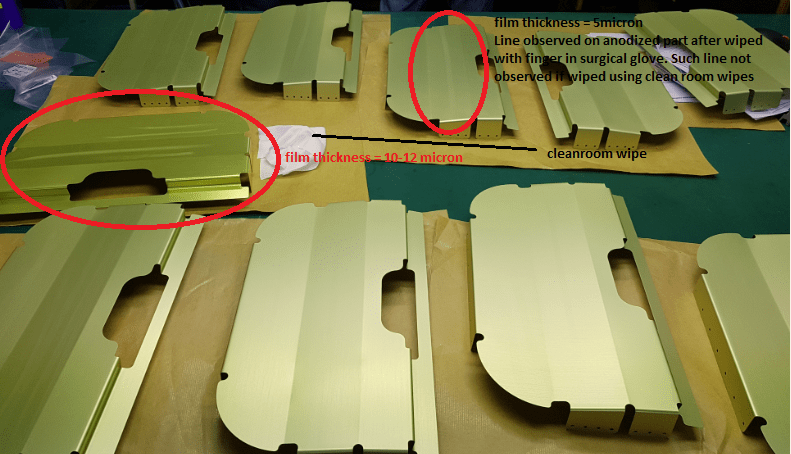 Temperature of anodizing tank was maintained at 19.3 - 19.5 °C. Constant voltage at 17 V at the ramp up = 5 mins. Parts whether buffed or not buffed prior to anodizing show same outcome.
May Koh
Quality - Singapore
---
July 2018
A. Hi May. I hope a knowledgable anodizer offers some insight here, because I really don't think a 1% difference in electrolyte concentration is the cause of your problem.
Regards,
Ted Mooney, P.E. RET
finishing.com - Pine Beach, New Jersey
Striving to live Aloha
---
July 31, 2018
A. One thing to monitor in your dichromate seal bath is that the pH does not stray out of your set range. We find that the best results are attained at a pH of 6.6. Our shop's allowable range is 6.5-6.9 and we have never failed a salt spray test on 2024 for this process. Others prefer to run at lower pH values. I'm speaking from my own experience. We run sodium dichromate (some folks use potassium dichromate so clarifying for informational purposes).

Some notes on pH maintenance in an aging dichromate seal bath is that you may start to see pH falling faster as the bath ages and builds up metals. When attempts are made to adjust an older bath back up to your desired range using sodium hydroxide, a precipitate will form and maintaining pH will be increasingly difficult. You can take a sample in a large beaker and check this in the lab.

Without knowing what you are running for a target pH level, or how much use the bath has seen over its life, I can't speak as to whether that is an issue in your case, and if you've got good plus undesirable finish coming out in loads run within a short time frame …that makes it seem even less likely as a culprit. But every little bit of tank optimization helps :)

Another place to look would be at whether there is variation in immersion times in the seal bath from load to load. Longer is not necessarily better, and an extended immersion can produce a poor quality finish.

Last, the water used for rinsing after seal must be kept quite clean. It should be deionized to begin with, and try to limit buildup of contaminants from dragout to below 20 ppm as total dissolved solids, and change the resin if you don't see that level drop back down within a reasonable amount of time after the rack of parts has physically been removed from the tank.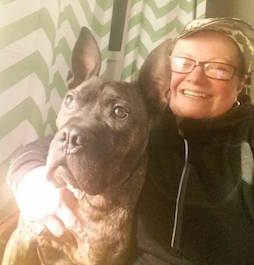 Rachel Mackintosh
Plating Solutions Control Specialist / Industrial Metals Waste Treatment - Brattleboro, Vermont
---
August 1, 2018

Hi Rachel,

Thanks a lot for the guidance! Will try those method and let you know whether it works.

Regards,
May
May koh
[returning]
- Singapore
---
---
August 28, 2019
Q. Have also powdery surface issue and not enough microns on.
I have searched and read lot of posts but not one that solves the problem.

Electrolyte is sulfuric acid with 20% concentration.
Bath temperature is 16-19 °C celsius.
Max voltage 12-15 V but usually it never reaches over 13 V

Voltage according to 312 calculator.
For 180 cm2 part 2,7 A for 30 min for 15 microns (1,5 A/dm2)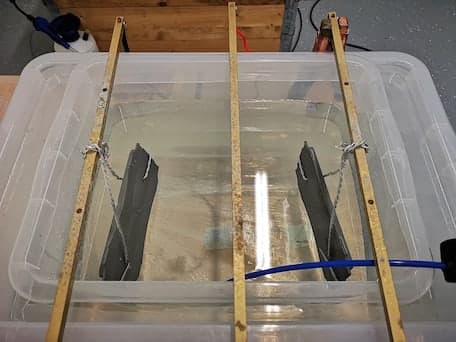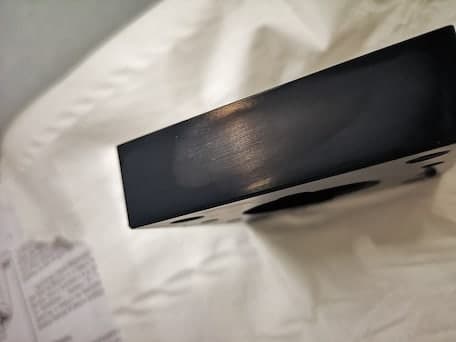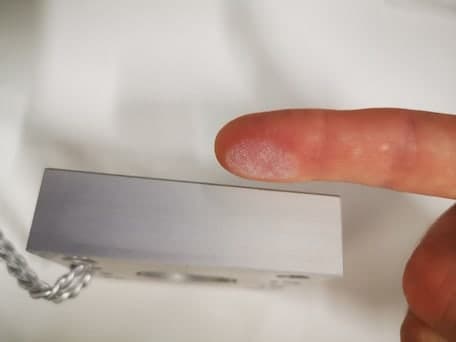 Have tried also less 1,5 A for 30 min for 15 microns (0,65A/dm2)
Also applied for more time. Still same issue, after rinse and to dry, powdery surface appears.

Cathode is aluminium.
Val Tammaru
- Laitila, Finland
---
August 2019
A. Hi cousin Val. What if anything are you doing about pretreatment and about sealing?
Nothing against hobbyist and small-scale anodizing, it's just that when a professional is doing anodizing in an anodizing shop and reports a problem, we usually start with the assumption that they are at least doing all the routine steps involved in the anodizing process from cleaning to etching to de-smutting to anodizing and sealing. When a hobbyist or small-scale anodizer like yourself says they are having a problem, we don't know what they're doing and not doing, and what they are aware of and not aware of.
It's possible that your parts are overheating, that your acid concentration is a bit high, etc., but if you're not doing the other necessary anodizing steps we should start there :-)
Regards,
Ted Mooney, P.E. RET
finishing.com - Pine Beach, New Jersey
Striving to live Aloha
---
August 29, 2019

Thanks Ted!

As you told the acid concentration may be too high.
I am measuring it with basic hydrometer. And according to that the concentration was 1.175, which is, according to graph 24% compound.

After that diluted to 1.100 which should be 15% and the dust disappeared.

The right concentration should be not over 20% as I have investigated.

Val Tammaru

[returning]




- Laitila, Finland





---

August 29, 2019

A. What is the alloy ?! "20%" -- if that is 20% by volume of 93% sulfuric acid -- is about two times too concentrated and that will cause a large soft powdery pore. Get it to 70 °F (21 °C), 180 g/L free acid, and use 16 volts. The fact that you are getting powder and can only get to 13 volts, tells me the solution is too high in free acid (too conductive). However, if you mean 20% by volume of some weaker acid, then I cannot help you unless we know the real grams per liter of free acid. For sure the solution is too high in free acid if you can only get 13 volts.




Robert H Probert




Robert H Probert Technical Services





Garner, North Carolina




adv.