Where the world gathers for
plating, anodizing, & finishing Q&As since 1989
-----
What is the allowable extent of magnetism in CF8m castings?
October 23, 2008
I bought CF8m valve castings and they were really attracting a magnet; and even after pickling and passivation the problem persisted. In the foundry, when investigated, the castings after fettling also attracted magnet sharply. Kindly suggest
VIVEK SEHGAL
buyer - Jalandhar, India
---
November 4, 2008
Hi Vivek,

It is usual for CF8M to be slightly attractive to a magnet.

By appropriate balancing of the chemical composition, while keeping each element within its own specified range, it is possible to vary the microstructure from fully austenitic (zero magnetic attraction) through to perhaps as much as 20 percent ferrite in austenite (magnetic attraction about 20 percent that of mild steel).

The more knowledgable foundries aim at 5 to 8 percent ferrite. This gives major resistance to hot tearing immediately after solidification, because the ferrite near solidification temperature is significantly stronger than the austenite. The finished casting will then have an attraction to a magnet of around 5 to 8 percent of that of mild steel.

There is no foundry benefit from going any higher than around 8 percent ferrite, as the resistance to hot tearing does not increase above around 8 percent ferrite.

Incidental benefits to the user resulting from the ferrite content are (a) higher strength, particularly yield strength, which is significantly higher than ferrite-free CF8M or the corresponding wrought material 316, and (b) increased corrosion resistance when compared with ferrite-free CF8M or the wrought 316, because as part of the element balancing to cause the ferrite to form the chromium content is taken to typically 19-20 percent but in wrought 316 it is held down near 17 percent - the higher chromium content gives higher corrosion resistance in most situations. But these are incidental benefits which are fortunate consequences of the deliberate inducing of the small ferrite content in the microstructure that gives higher integrity at the solidification stage of making the casting.

In some unusual service applications it may be required to have no magnetic attraction. Most casting standards warn that if that is the case, the purchaser must clearly state that requirement in their enquiry and order so that the foundry will balance the chemical composition to give no ferrite even though it will make it may cause some problems in the foundry. It is important to note that the presence or absence of ferrite, and its amount if present, in the castings is determined by the chemical composition of the molten steel before it is even poured into the moulds. You cannot make any significant changes to the amount of ferrite by any subsequent processing.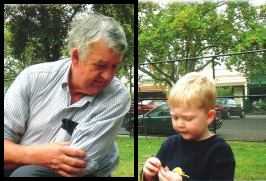 Bill Reynolds [deceased]
consultant metallurgist - Ballarat, Victoria, Australia
We sadly relate the news that Bill passed away on Jan. 29, 2010.