Where the world gathers for
plating, anodizing, & finishing Q&As since 1989
-----
Change in frictional properties after passivation
October 31, 2008
We have some 304 stainless steel tubes which are passivated. A wire passes down the ID of these tubes smoothly prior to passivation. After passivation, these wires get a very "gritty" feel to them when sliding down the ID of the tubes. Does anyone know what causes this gritty feel? I have tried passivation at multiple places and they all seem to have the same issue. Does anyone know what causes this change in friction and does anyone know how to get rid of it?

Thanks for your help!
Sean Doll
Engineer - Austin, Texas
---
October 31, 2008
Well, we know that it is a 304 tube, but we do not know the length or the ID and what type of passivation that was used.
Since we are guessing, I will say that your tubes were not rinsed well enough between process tanks or afterward. This would be highly probable if the tubes were say 1/16" ID or smaller or were not straight. The best SWAG is that you have process chemicals inside the tube that has dried out and crystallized.
James Watts
- Navarre, Florida
---
November 3, 2008
James,

SWAG? Translate, please. I'm thinking something-something-something-guess but can't get further than that.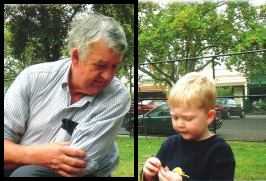 Bill Reynolds [deceased]
consultant metallurgist - Ballarat, Victoria, Australia
We sadly relate the news that Bill passed away on Jan. 29, 2010.
---
November 4, 2008
The tube is 304, but we have experienced the same thing with 465.
Tube is about 5.5" in length with an ID of 0.093".
Nitric acid passivation is used.
Sean Doll
- Austin, Texas
---
November 6, 2008
Bill--Scientific Wild Ass Guess SWAG. More precise than a WAG.

With that length and diameter, rinsing is going to be a significant problem. With that length, I would look at ultrasonics with the tubes loaded vertically on a screen just big enough to keep them from falling thru and having the bottoms touch the tank bottom. You can make or have made a neat rack that will give rapid load and unload capabilities.
You will need to change water frequently and consider using DI or distilled water. Warm water will help also, say around 140 to 160F.
James Watts
- Navarre, Florida
---
November 10, 2008
You may be getting a micro-etch on the surface of the steel. We see this frequently with nitric acid. Try citric acid passivation according to ASTM A967 [affil. link] .


Lee Kremer
Stellar Solutions, Inc.

McHenry, Illinois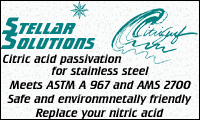 ---
December 11, 2008
Well, I did an XPS (X-ray) on the surfaces and it looks like the more Chromium Oxide that is on the surface, the higher the friction of that surface. However, isn't Chromium Oxide the desired result of the passivation process? Wouldn't evidence of Chromium Oxide imply that the passivation is effective? Is there any kind of passivation that would minimize the formation of Chromium Oxide, yet still yield good corrosion resistance?
Sean Doll
- Austin, Texas