Where the world gathers for
plating, anodizing, & finishing Q&As since 1989
-----
Remove wood blocks and tar from concrete floor
October 16, 2008
I recently purchased a 100,000 sf 1940s industrial building in Southeast Michigan which I expect to lease for warehousing. While most of the building has a traditional concrete slab, 30,000 sf has 2" end-grain wood block flooring set into the slab with an asphalt-based adhesive. The wood area is deteriorated and I plan to remove it. I plan to grind a short slope where the 2" recess adjoins the rest of the slab.

I will need to clean or otherwise prepare the concrete underneath the existing wood block. It appears to be reasonable level and flat, but has a 1/16" inch or so of black adhesive residue. I rented a 2-head circular grinder, which removes the worst of the residue but does not leave the concrete bright or fully clean. I tried a walk-behind scarifier, which removes all residue but grinds 1/8 to 1/4" grooves into the slab surface.

Will shot blasting or other blasting clean the tar residue from my floor, or will the tar-like residue be resistant to this form of removal? If it will be effective, I could hire a shot blasting contractor clean it for me, or I could rent or buy a walk-behind shot blaster (the remaining 70,000 sf of concrete floor could also benefit from cleaning).

Any help would be appreciated.
Doug Smith
Commercial building owner - Ann Arbor, Michigan
---
October 17, 2008
It is kind of a shame that you could not sand down the wood a bit and then bring back up to grade with an epoxy or clear polyester. Those were some fantastic floors. OK, I am old.
James Watts
- Navarre, Florida
---
October 20, 2008
Blasting with frozen carbon dioxide should do the trick, and leaves no residue of it's own.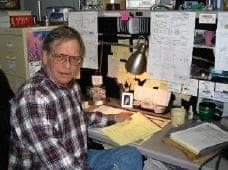 Jeffrey Holmes, CEF
Spartanburg, South Carolina
---
April 17, 2011
I know I'm a bit late ... maybe 3 years late, but maybe someone else might benefit from my response. I've been in the Wood Block business all my life. We own scarification equipment that would have shaved the accumulations off the slab, then shot blast to clean.
Norm Kaswell
- Framingham, Massachusetts