Where the world gathers for
plating, anodizing, & finishing Q&As since 1989
-----
Vibratory Finishing Steel, Stainless, Steel and Aluminum
October 5, 2008
I am going to have 100s of flat stock somewhat small items for Guitar cut out of Steel, stainless steel and Aluminum next week on a water jet. The aluminum will most likely just need a mirror polish and the steel I would like to give a mirror finish them chrome plate.

I figured I could buy a 18 Lb. Vibratory bowl from Harbor freight for $169.99 to have it do most of the grunt work. I was thinking of possibly deburring with 320 or 400 grit on a 1" belt sander. Buy a couple grade of media(not sure what to get for each of my materials) Then I would do the final polish on a wheel.

What would you suggest to use as a medium? how many grades of medium should I use? Will I need to do a 2 step buffing process with 2 grades of compound

I'd really like to do it with as little manual work as possible but will do what ever it takes to have a perfect finish.

Sorry for all the questions, this is my first time doing this, I know I am capable I'm just not sure the order and steps needed for larger quantities.
Kevin Mazz
Product designer - Farmingdale, New York
---
October 9, 2008
I assume the parts you are making are pics. We have done these in the past. They and all flat parts present a special problem in mass finishing equip. In a wet process the parts will stick together and you will not get a uniform finish; therefore, your best way to go is via dry processing and this will probably be a 2 step process. I suggest an abrasive dry organic media and a treated polishing organic. We carry both. Now, if you buy and use the equipment you indicated, this may take over 24 hrs/cycle and process. I don't like to run anything over 24hrs. Both organic processes can be improved time wise by adding media shapes or porcelain to the media in a 2 part mix.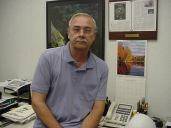 AF Kenton
retired business owner - Hatboro, Pennsylvania
---
November 10, 2008
If thee will be any additional finishing on the aluminum, like chromate or anodize, then use separate media for tumbling so as to avoid embedding tiny iron particles into the soft aluminum which will interfere with the anodic finishing.

Robert H Probert
Robert H Probert Technical Services

Garner, North Carolina