Where the world gathers for
plating, anodizing, & finishing Q&As since 1989
-----
Metal Bars Stamped with "P" Found Near Old Gravel Pit in NW
October 1, 2008
A few years ago my children and I were "hiking" by an old gravel pit in Osceola County, Northwest Iowa. I saw one metal bar sticking up out of the ground and kicked around in the dirt and found nine more. The bars are about 3in. x 1in. x .5in. They seem to be very old and are stamped with a "P", or a "d" if you hold them the other way. I have not found the density of the metal--- but plan to do that sometime. I think that maybe the bars were used as weights on a scale, maybe? I weighed them and they weren't quite a pound. If anyone has any ideas on what the bars might be, please let me know. I teach high school chemistry, so I have offered my students the challenge to help me research this for extra credit--- so far no one has taken the bait! Thanks in advance to anyone who might help me.
Lisa H.
- Little Rock, IA, United States
---
First of two simultaneous responses -- October 8, 2008

If they do in fact weigh a pound, they are extremely dense. They "could" be platinum. They would be inert to all the common acids, in that case. Do you know a chemist?
G. Brackett III
- Maine
---
Second of two simultaneous responses -- October 8, 2008

What color are the bars? If grey, are they a dull grey or will they polish up to a semi- bright grey? Let us know.
Mark Baker
process Engineer - Syracuse, New York
---
October 14, 2008
It is very easy to calculate the density of the metal and then just look it up in a table of metal densities. From the information you have given us, it has a density of about 16, which is very high, so it could be gold (sg 19.8), platinum (sg 21.4), Plutonium (sg 19.8 - very unlikely, otherwise you would be dead by now!), tungsten (sg 19.6) or uranium (sg 18.9 - again very unlikely, as you'd be pretty ill be now!).

My bet is that your measurements aren't as accurate as should hope and that the metal is lead (sg 11.8); this has a chemical symbol Pb, which would account for the "P". However, it could also be silver (sg 10.5 - a bit low) or molybdenum (sg 10.2 - again too low)

What colour is the metal and does it scratch easily - if it is soft and when scratched shows a bright slivery cut, it is probably lead.

Trevor Crichton
R&D practical scientist
Chesham, Bucks, UK
---
October 16, 2008
You teach chemistry. Surely you can devise a few simple spot tests to determine what the bars are. Egads!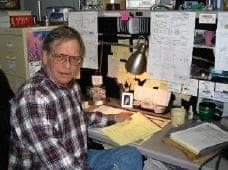 Jeffrey Holmes, CEF
Spartanburg, South Carolina