Where the world gathers for
plating, anodizing, & finishing Q&As since 1989
-----
Problems With 316 and 420 SS Rusting After Laser Etching
October 2, 2008
Hello,
I am designing some trays made of 316 SS used in operating rooms.
After passivation we laser etch them and soon after we sterilize and clean them (pH max. 8.5) in the area of the laser etch the rust appears.
Is there a way to eliminate the rust ? The surgeons and the OR people surely don't like rusty instruments or trays.
I need the laser etch to create features ( text, lines, etc) to be visible in the OR conditions , therefore I need the laser etch to be crisp .
I heard of "white passivation" however I don't know what that means.
Would high-voltage technology be helpful? Who could provide in the States high-voltage technology ?
I know that laser etching changes locally the composition of the metal and probably a strong segregation of the metals in solution is occurring. I assume that the Fe oxidizes and it is not removed properly since the media cannot penetrate in narrow, deep areas to wet them properly and remove the iron oxides.
The same problem( rusting) happens on some instrument we designed made of 420 SS.
Anybody can offer a reliable solution?

Best regards,
Michael Serban
Design metal products that need finishing - West Chester, PA, USA
---
First of two simultaneous responses -- October 7, 2008

Michael,
This is a common issue with laser markings. It is fairly easy to repassivate marked areas to help restore the corrosion resistance. If the process time is controlled it can be done without fading the mark. Let us know if we can be of assistance.

Ray Kremer
Stellar Solutions, Inc.

McHenry, Illinois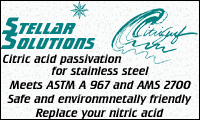 ---
Second of two simultaneous responses -- October 7, 2008

Laser etching have local high-temperature regions formation where austenite (high-anti corrosive) steel alloy is transformed into martensite ferric alloy (with much worse anti corrosive qualities). According to our tests treatment is special phosphoric-based solutions restore and enhance passivated film. We can do some testing of your parts and suggest passivating solution.

Electropolishing will also eliminate the problem.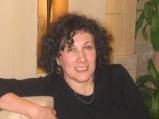 Anna Berkovich
Russamer Lab

Pittsburgh, Pennsylvania