Where the world gathers for
plating, anodizing, & finishing Q&As since 1989
-----
Why Passivate if Parts Already Pass the ASTM A 967 Requirements?
October 1, 2008
My understanding is that passivation of stainless steel parts is unnecessary if the parts are proven via testing to be free of contamination. We are being required by a customer's drawing to passivate 304 SS parts per ASTM A967 [affil. link] . We suspected that the parts are not being contaminated by 'free iron' so we had some salt spray tested in accordance with the specification. All of them passed 'as-is' out of our punch press operation (with the press lubricant removed by a wash). We then also performed the ASTM A967 [affil. link] copper sulfate test on a sample part of each lot and they all passed this test too. So wouldn't it be permissible to skip the passivation process if the parts don't need passivation?
David Maijala
quality manager - Los Angeles, California, USA
---
First of three simultaneous responses -- October 7, 2008

On the surface, you are correct. But, it depends on how GOOD you want the surface to be in resisting corrosion. The salt spray and copper sulfate tests only test for free iron on the surface. Proper passivation removes the iron from the steel itself, creating a passive chrome oxide layer on the surface that is much more resistant to stresses such as chloride attack.
So, if your customer is desiring the best corrosion resistance he will want it passivated even though it passes the copper sulfate and salt spray tests. It is a matter of creating a surface that is nearly pure chromium down to 20-30 Angstroms deep. This oxidizes to form the passive chrome oxide layer. This can only be measured by XPS or AES testing.
I hope that this helps to explain the difference.


Lee Kremer
Stellar Solutions, Inc.

McHenry, Illinois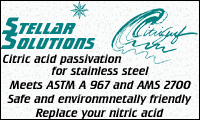 ---
Second of three simultaneous responses -- October 7, 2008

David

While the combination of the current heat lot of material, stamping lubricant, wash process, and die material may yield a part that passes lot testing, how can you be sure that the next heat lot of material will pass the same? If you do not passivate your product, there will be a risk that they may fail in the field. The specification is quite clear about the process requirements, and does not allow deviation because you think passivation is not needed.
Willie Alexander
- Colorado Springs, Colorado
---
Third of three simultaneous responses -- October 8, 2008

David,

Before omitting anything you MUST talk to your customer, otherwise you will be supplying parts that do not meet the drawing and hence your contractual requirements.

After saying that I would say that if you can illustrate that the parts meet specification inspection requirements without passivation then you have a good argument to take to your customer to justify your suggestion. Just don't change anything without their permission.
Brian Terry
Aerospace - Yeovil, Somerset, UK