Where the world gathers for
plating, anodizing, & finishing Q&As since 1989
-----
Air Moisture Causing Stainless Steel to Rust
September 28, 2008
Dear Sir or Madam,
I have recently started working in a commercial kitchen that was fitted with stainless steel from several different companies in a building that was also new. There was a leaky roof that caused a back room to become very damp and had rapid growth of mildew. As we all know mildew grows from damp conditions, could the air be damp enough to cause most of my stainless steel to become streaked with rust? There is a damp test being done but at what level does it cause rust? I have been in the industry for many years and have never seen this problem occur so vastly and quickly.
Thank you for taking the time to read my problem. I hope you can answer my question.

Kind Regards,
Joe Cathers
chef working in s.s. environment - Basingstoke, England
---
October 1, 2008
Moisture and oxygen are required for rust, so the more moisture, the greater the possibility of rust growth.

Bleach is NOT good for SS, it promotes rust. The materials probably were not passivated after MFG or were installed using iron tools which smear and become the starting point for the rust.

Since it is already in place, I would try cleaning the rust with a bicarb and mild soap solution using Scotch Brite [affil link] pads and then using clean pads and clean solution for a final cleaning. Rinse and wipe dry with paper towels. Apply a THIN coat of a suitable vegetable oil to inhibit the formation of new rust.
James Watts
- Navarre, Florida
---
October 7, 2008
The answer depends on a lot of things. If the steel is good steel and it was passivated there should never be any rust forming on the surface from just moist air. However, there are conditions that can cause this.
1) Bad steel with inclusions. This is a common problem these days, especially with 304, it seems.
2) Good or bad steel with iron on the surface that was put there during the processing of the cabinets and not passivated.
3) Seaside air which can contain tiny droplets of mist that contain salt.
If you contact us we can help you fix the problem, and determine which of the above is the cause.


Lee Kremer
Stellar Solutions, Inc.

McHenry, Illinois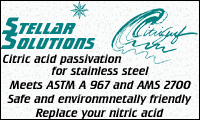 ---
September 21, 2009
Moist air alone would not have created the rust, my suspicions are they may have been cleaned with steel wool that contaminated the surface with iron particles that are now rusting.
Passivation to dissolve the unseen surface contaminants and visible rust is needed to correct the problem and prevent further rusting.
Electropolishing will also correct the problem and leave the surface more corrosion resistant than passivation alone.
Cliff Kusch
electropolishing shop - North Vancouver, British Columbia, Canada