Where the world gathers for
plating, anodizing, & finishing Q&As since 1989
-----
Passivation Problems with Forgings Cleaned with a Wheelabrator
September 17, 2008
We have about a 50% failure rate in the Humidity test on some 304 Stainless Steel Forgings. The parts have both raw forging material exposed and machined surfaces. The machined surfaces always come out fine but the un-machined area fail about half the time.

I did find out these parts are "cleaned" with a Wheelabrator system using steel shot at the manufacturer, so I can see where contamination is possible, but we grit blast the parts with aluminum oxide after machining as kind of a poor man's cleaning process. (yes we change that media frequently) After the grit blast we test the parts with a Koslow Passivation Tester 2026 and the parts generally pass that test without Passivation.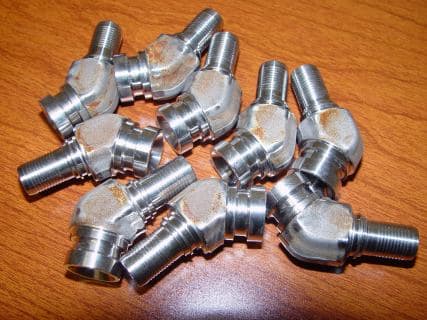 So my questions are
1) Would a vibratory polishing process before machining clean the surfaces as apposed to the Wheelabrator or would that just contaminate the parts further
2) Is the copper sulfate test a little easier to pass than the high humidity test? Maybe we are asking for too much
3) This may seem silly but we are on the west coast a couple of blocks from the beach and the supplier is in Texas. Is it possible the transfer from a salt air to a dry climate could be causing the problem?
4) Where can I find a copy of AMSQQP35 [canceled, affil. link]. I know it has been replaced but the customer insists on using it.
5) How common is it for a Passivation supplier to give up and say 304 CRES parts can't be passivated?

Thanks in advance
Allen
Allen prophet
Contract Machining - Tustin California
---
September 18, 2008
You can find a copy of QQ-P-35 here

assist.daps.dla.mil/quicksearch/basic_profile.cfm?ident_number=50793

You are correct that it is an obsolete spec though ( ASTM A967 [affil. link] is the current spec in place)
Miles KB
- Charlton, Massachusettts
---
First of two simultaneous responses -- September 21, 2008

Allen, I have seen this problem before. If a Wheelabrator machine can be dedicated to stainless media, say Cut wire Shot, and only used for Stainless alloys,... then the impinged iron to the surface is greatly minimized. Trying to blast off an impinged "invisible free iron is difficult" because it usually shows up as rust days or weeks later after part is exposed to humidity "water". By the way, the stainless cut wire shot will last at least 20x longer than cast shot and produce less dust "free iron" in the Wheelabrator and on the blasted forgings. The passivation and scrap forgings may be eliminated too. So running a sample batch of forgings this way may work well and prove cost effective. There are blast shops set up this way to handle stainless products and using Cut Wire Shot.
Michael Deakin
North Tonawanda, New York
---
Second of two simultaneous responses -- September 22, 2008

Mike is correct that QQ-P-35 has been superseded, it was originally superseded by AMSQQP35 [canceled, affil. link] and then by SAE AMS2700 [affil. link].
Brian Terry
Aerospace - Yeovil, Somerset, UK
---
September 26, 2008
You need something more aggressive to remove the surface iron. Longer time and/or higher temp may do the trick. If not, then first pickle in nitric 25% - HF 5% ambient temp for 15 minutes, followed by normal passivation.

Electropolishing will likely also work.

I have not found Koslow results to be meaningful. Copper sulfate will be better.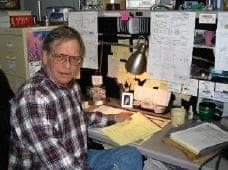 Jeffrey Holmes, CEF
Spartanburg, South Carolina
---
September 30, 2008
Using steel shot in the Wheelabrator will definitely be a problem, as everyone has said, and you know. Grit blasting afterward is problematic, as you will tend to "peel over" some of the stainless on top of some of the steel. This will initially look okay, but when exposed to moisture the rust will bleed out from under.
You are better to remove all of the steel from the surface by passivation. Because there is so much ground into the surface it may take a hot citric product to remove it easily and safely.
304 passivates very well, although it will NOT hold up to salt spray on the ocean. Properly passivated it will pass both copper sulfate and high humidity testing.


Lee Kremer
Stellar Solutions, Inc.

McHenry, Illinois