topic 5064
Air-lifts to reduce water usage in plating shops
(2000)
From the 20 ways to cut water usage:

- SOLUTION NUMBER 10 -- INSTALL AIR LIFTS . . .
Suppose you would like to employ counterflow rinsing but have no elevation difference between the overflow dams. Or suppose you would like to re-use the overflow from plating rinses in earlier, less critical rinses.
A simple air-lift can be fabricated from plastic pipe, and will handle this chore without pumps, level controls, or other expensive complications. See Plating and Surface Finishing, May '82.
Anyone can tell me the air-lift introduced in the above solution since I do not have the Plating & Surface Finishing, May 82
Deville Yiu
Sun Lick - Hong Kong, China
---
(2000)
Can't find my copy of P&SF May '82 either. But here's the principle of the thing --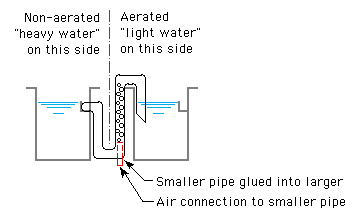 A smaller pipe is glued into the U-bend between the two rinses, and air is injected into this smaller pipe. It aerates the water on one side of the U-bend, making that water lighter. Then gravity and hydrostatic balance take over. It's pretty much the same idea that draws water through an aquarium filter.
Good luck.
Ted Mooney, P.E.
finishing.com
Pine Beach, New Jersey
---
(2000)
The May 1982 article is by Clarence Peger of Hard Chrome Consultants in Cleveland, OH. Pipe size is a little more critical than you would think. His used a tiny tiny piston powered fish tank air pump that he got out of a flea market. It may take a while to get it just right, but the darn thing works.
James Watts
- Navarre, Florida


This public forum has 60,000 threads. If you have a question in mind which seems off topic to this thread, you might prefer to Search the Site