topic 5057
Aluminum Boat Refinishing
2000
Q. I am refinishing several aluminum boats and I would like some advice on where to get started. I have a sandblasting set up already. I have thought about removing the old paint via sandpaper but the process would be easier with a sandblaster.
The next stage I assume would be to prep the aluminum for painting. What should I use? What is the best method of application (brush or sprayer)? And what type of paint should put on the hull afterwards? And how many coats are suggested?
These are projects to restore several small boats for my sons to enjoy. You advice would be greatly appreciated.
Cary R
[last name deleted for privacy by Editor]
- Carrollton, Georgia
---
(2003)
Q. Dear Cary;
My family is also interested in refinishing an aluminum boat. Did you ever get any information about the process? Did you sandblast your boat(s)? What type paint did you use? We will really appreciate any information or tips that you can give us.
Thank you,
Annamae C
[last name deleted for privacy by Editor]
- Chino, California
---
(2003)
A. In response to this question I have refinished a couple of pearly monarchs in the past year. I've decided that the best paint to use for this job would be paint used in the auto refinishing systems 1st sanding with 240 grit paper then cleaning with a mild solvent degreaser ensuring surface is dust free 2nd apply 1 - 2 coats of two-pack etch primer leave for about 4-5 hours then lightly rub with a grey Scotchbrite repeat the degreasing process then its ready to put a top-coat on. I have found that two-pack acrylic paint with a plasticizer additive works best; the additive gives a very durable surface and reduces chips and scrapes. I hope this has been helpful.
Phill S
[last name deleted for privacy by Editor]
- Northants, England
---
(2005)
Q. Basecoat & Clearcoat or Singlestage? I've painted cars for years and some have aluminum parts so I know aluminum can be painted. My question is. What should I use from the waterline up?
Edward Kozlowski
body shop [collision] - Rochester, Michigan
---
(2005)
A. This is the method for painting aluminum above the water line:
If you sand blast the hull use aluminum oxide sand blasting sand. silicon carbide will contaminate the aluminum. Blast with less than 100 psi and spray sand towards the hull on an angle, blasting head on can wrap the hull and cause a wavy hull.
After sand blasting, prep the aluminum with a metal prep you can get this at an automotive paint supply shop. This will cause a blueing affect, or rainbow affect.
After the metal prep you will need to prime with wash primer. wash primer is a zinc chromate primer that is mixed with phosphoric acid usually 50/50 mixture.
When spraying the wash primer spray a light enough coat so that you can see thru it (transparent). Usually if sprayed too thick the wash primer will fail to adhere properly.
Topcoat the wash primer with a 2-part epoxy primer or primer sealer. primer will need a scuffing before final top coating. use 180 grit D/a sandpaper on D/a (dual action) sander. in hard to get to places use red Scotchbrite scuff pad.
Primer/ sealer can be painted usually after a flash time of at least 20 minutes and usually no more than a couple of hours. I'd suggest using a true polyurethane enamel. Imron or equivalent. This is a single stage paint, meaning it shines without needing a clearcoat.
A polyurethane enamel shines without needing polishing and withstands the harsh elements.
Andre' Hebert
- Chalmette, Louisiana
---
(2005)
Q. Deep lacerations on outside of aluminum boat. I just recently bought a 16 foot welded aluminum Hewes Craft boat. It was not well taken care of as there are several nasty laceration on the outside of the hull. I can run my finger over the lacerations and feel sharp edges. I want to fill in the bad places and have the boat painted. If I paint it will the paint fill in the bad spots without being able to see them or should I fill them in with something? If I need to fill them in what do I use? I think Bondo [linked by editor to product info at Amazon] would just fall out because of the flexing of the hull. Or, am I wrong in that assumption?
Will Self
Consumer - Walla Walla, Washington
---
(2007)
A. I've read about finishing aluminum boats and you need to wash the boat with soap and water, then let dry. Wipe it down with enamel or lacquer thinner [linked by editor to product info at Amazon], then wipe dry with paper towels. Once dry, wipe with a tack rag turning several times. Spray a wet coat of Vinyl Wash Primer. Not a heavy coat, but wet, over lapping several inches. After this has dried, spray it within 24 hours with a couple of coats with a epoxy primer. Once this is done, spray as usual with any automotive paint.
Richard Ridgely
- Wellston, Oklahoma
---
(2007)
Q. I also have been looking for ways to paint an aluminum boat. Is the lacquer thinner alright to reduce/ clean the paint already on the boat or do you have to sand blast the entire boat? What type of sandpaper or procedure to smooth scratches on bottom of boat? Is it best to use a sprayer or another method? Want to make it look nice, but not spend thousands.
Rick Rebenstorf
- Tempe, Arizona
---
(2007)
Q. Refinishing an old aluminum Starcraft boat that has been in my family for 30 years. A neighbor of mine who is refinishing an aluminum motorcycle frame told me about this stuff called Aircraft stripper [linked by editor to product info at Amazon]. You brush it on and give 15-45 minutes and the paint and primer bubble up and wipe right off. If I take this boat right down to the metal how quickly do I need to be ready to prime or paint and what must I do before? Just in case there are any small leaks what should I go over the seams and rivets with before painting? I was thinking about covering all of the seams with J-B Weld [linked by editor to product info at Amazon], would that work or do I need to use something else? Then do I need to use marine paint or will any paint do? Do I need to use something different on the outside portion that sits in the water or can I use the same paint inside and out? Can I do it with a brush? I do not have any fancy equipment. I am a rookie at painting metal so someone please help me? Thanks! :)
Robert Garfat
Hobbyist - Mansfield, Texas
---
(2007)
Q. What would be the best stripper for an alum. boat? I have used many types but not much results...I made sure they would not react to the alum. Also!
Thanks,
Joey Byrd
Jack of all trades - Walterboro, South Carolina
---
(2007)
A. Hi, Joey. I think the previously mentioned Aircraft stripper [linked by editor to product info at Amazon] will prove to be the most effective, although it is very noxious, and to be used only with goggles [linked by editor to product info at Amazon], Protective Gloves [linked by editor to product info at Amazon], and excellent ventilation.
But if you've "used many types but not much results", please tell us what they were; otherwise your dialog with a reader could go like this:

"Try this ..."
"We already did, it didn't work"
"Okay then, try this ..."
"We already did, it didn't work"
"Alright then, try this ..."
"We already did, it di"
"I'M GONNA THROW A BRICK AT YOU, JOEY!!"
Thanks.
Ted Mooney, P.E.
finishing.com
Pine Beach, New Jersey
---
August 27, 2008
A. I have been researching blasting media and there is some good options and information at www.kramerindustriesonline.com/blasting-media/plastic-abrasives.htm. There are some plastic media options that work very well on aluminum.
Guy Boyden
- Portland, Oregon
---
June 29, 2009
A. A post further up the list asked about Bondo.
DO NOT under ANY circumstances use Bondo ANYWHERE on a boat; EVER !
Wood, aluminum or what-have-you; NO BONDO.
Some people have the idea that boats are cars. They are NOT. Marine materials are made especially for boats and cutting corners at the Auto Shop will come back and EAT you.
Polyester putty, a two part component will fill any gouges after proper prep. Alodine etch (Alodine 1201 [linked by editor to product info on Amazon] ), then primer then two part epoxy coating will do your topcoat.
Mike Goldsun
- Half Moon Bay, California
---
A. Best to remove all old paint/scale etc from an aluminum hull. If you have a compressor (or maybe not, you can buy one cheap) you can get a SODA BLASTER from Harbor Freight for around $100.00.
To repair leaks or scratches or to replace spots which are badly bent use DURA FIX....it is welded with a propane torch and is easy to use for someone who has never welded b4. I have tried it on structural welds and it is as strong as a TIG weld. Its about $30.00 for 25 sticks... it will do a lot of welding.
Hope this helps.
Swamp Thing aka Sam
Samuel Hay
- Covington, Georgia
---
February 9, 2012
A. When prepping a mudboat, airboat or any other aluminum boat for hull refinishing, I have always relied on using proper technique and a good final product. First, if you feel it is necessary to remove the old coating because it is compromised (chipping, flaking, cracking, etc.) then grind it out with a DA sander. Alternatively, you could rent, borrow, or buy an aggregate blaster to blast the old coating off.

Fill in any gaps in welds or rivets with a marine-grade caulk or putty - NOT BONDO, that's for autos!- and let it cure.

Then apply the type of coating that is designed for the type of boating you do. Need a abrasion resistant coating with great slip of over land, brush, hyacinths, etc.? Then use a specific coating made for airboats. If you need a coating for high performance, use low drag resistance coatings designed for racing. The coating must match the application.

After you decide which coating to use, apply according to manufacturers specs. If you are unsure, call them. They know their product better than anyone on the planet. They will have tips, tricks and product specific advice on the best techniques and conditions to apply.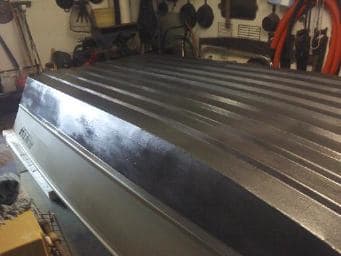 Scott Hogan
- Saratoga Springs, New York, USA
---
May 9, 2012
Q. I have an aluminum boat with bottom paint and I've been under the impression that I should coat it with anti-fouling paint but I've found it to be a lot of maintenance, every year scraping, sanding, wire wheeling the bottom, just to touch up a few spots, then every two years, the same process but pretty much the whole bottom, I bought an aluminum boat for less maintenance and I find I'm doing more. My question is, go with bottom paint and no anti-fowling, or go bare aluminum? There are lots of aluminum boats around with bare hulls, although they don't look as sharp, they still float.
Arnie Tweten
- Kodiak, Alaska USA
---
May 10, 2012
A. Hi Arnie.
I'm not certain if things are exactly the same in Alaska with your much lower temperatures, but around here it's simple: bare aluminum is fine for fresh water, but will be choked in barnacles in 72 hours if left in salt water.
Regards,
Ted Mooney, P.E.
finishing.com
Pine Beach, New Jersey
---
July 7, 2012
Q. Hi All
I just bought a tinny and want to repaint it; it's flakey. etc. It's going to be mainly used in salt water.
Now, can I use paint stripper or will it react with the aluminium?
The primer, does it have to be epoxy?
The paint? Will I get away with car paint? a friend of a friend used pavement paint and has had no problems with it and its been 2 years now, or will the salt water bubble and peel the paint away? Any help would be helpful.
Thanks
Bill Travers
- Sydney Australia
---
July 2012
A. Hi Bill.
Aircraft stripper is a non-caustic paint stripper and will remove the paint without damaging the aluminum =>

But aircraft stripper contains methylene chloride and can easily damage you: use only outdoors, wearing Protective Gloves [linked by editor to product info at Amazon] and goggles [linked by editor to product info at Amazon] and following every precaution on the can. And make it a one-time thing -- don't get used to using aircraft stripper.
You can use a zinc phosphate primer rather than epoxy. Car paint is no better or worse than other paint; it should be fine. I can't comment on the experience of your friend's friend except to say that if the story is reliable then the paint is reliable. Good luck.
Regards,
Ted Mooney, P.E.
finishing.com
Pine Beach, New Jersey
---
August 26, 2012
Q. I have a alum boat 19' and I have been trying to buff to a shine But I keep get a lot of black on the buffing wheel. I did use a flapper wheel and got it to shine but the wheel is too small.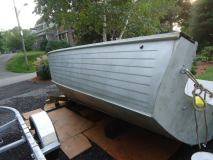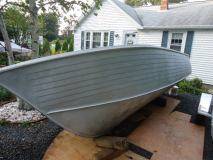 Is there a wheel that will go on my Flex buffer? Thanks.
Bob Zollo
- Cape Cod Massachusetts USA
---
---
February 16, 2016
! Painting aluminium boats:
After being in coatings for 43 years, (and being a chemist for many of those years) please note that NO zinc-chromate or any other etch-primers, especially twin-packs, are designed to be used below the waterline on boats.
So the people discussing this as a primer on aluminium boats must heed this warning. If the coating gets damaged, the primer layer can fail with catastrophic results.
Rick Simpson
Coatings - Spalding, Lincolnshire, England
---
February 2016
Q. Hi Rick. Thanks! I would expect copper-bearing bottom paint to be horribly corrosive to aluminum because of galvanic incompatibility, and I guess you're saying that the paints you mentioned won't prevent it.
We are all interested, however, in what the right answer (if any) is. I've had a number of fresh water aluminum row boats that didn't stay in the water overnight, and it seemed the paint wasn't crucial (but you certainly would not use ablative copper bottom coatings).
And I've had a couple of fiberglass salt water boats where ablative copper bottom paint was crucial or they'd be covered in barnacles within a few days. And I've had a few aluminum outboard engines and outdrives where a good enamel of some type, plus zinc anodes, seemed to stop corrosion and discourage, but not stop, barnacle growth.
So, you've told us what is no good ... but what is the right coating for the bottom of an aluminum salt water boat?
Regards,
Ted Mooney, P.E. RET
finishing.com
Pine Beach, New Jersey
Striving to live "Aloha"
---
April 16, 2016
A. Hmmmm. I once had an aluminum boat which I painted with ordinary hardware store enamel. It stayed in salt water for 4 or 5 months for several summers.

Never saw a barnacle.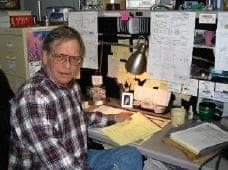 Jeffrey Holmes, CEF
Spartanburg, South Carolina
---
April 2016

Hi Jeff. I don't doubt your experience, but living on a salt water lagoon for 15 years -- whether the bulkhead was pressure treated wood or fiberglass ... whether the ladders were wood, aluminum, or stainless steel ... whether the outboard motors and outdrive parts were rubber, or steel, or aluminum ... whether it was a row boat or a cruiser or a jet ski: barnacles would start within just a few days, and the only thing that prevented them was ablative copper bottom paint.

Tributyltin
There was a time when organo-tin paint was available, and it would stop barnacles, and I think it was okay to use on aluminum, but it was an environmental disaster and is forbidden everywhere these days.
Regards,
Ted Mooney, P.E. RET
finishing.com
Pine Beach, New Jersey
Striving to live "Aloha"
---
April 18, 2016
I dunno', Ted. You were in NJ, I was 40 miles North of Boston. I don't recall ever seeing a barnacle on a boat, pier or anywhere. Maybe the water up there is too cold?
Jeffrey Holmes
- Spartanburg, SC
---
April 2016
Sorry, I'm no marine biologist; I only know what I see here :-)
Regards,
Ted Mooney, P.E. RET
finishing.com
Pine Beach, New Jersey
Striving to live "Aloha"


If you have a question in mind which seems off topic, please Search the Site