topic 5008
Heat Reticulation of aluminium alloys
2000
Q. Hello, I am currently completing my M.A. My subject is the detailed multi-colouring of anodised aluminium. My research has been directed towards metal artists, not commercial production.
When heat reticulating alloys, patches of metal will not accept dye after anodising. Is this due to an alloy separation that has occurred when the metal was heated? The problem does not occur when using pure aluminium.
Jennifer Walsh
- Australia
---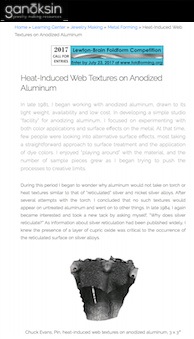 A. Hello, Jennifer. I'm not very familiar with heat reticulation and had never heard of it with aluminum, although I see this article =>
But in trying to understand what you are doing, you must be saying that you heat reticulate first, and then anodize and dye the material ... because anodizing, then reticulating, then dyeing does not seem feasible.
As you seem to recognize, it is the aluminum which anodizes, while the alloying materials just get in the way. It can be very difficult to anodize castings or old copper-bearing aluminum alloy, because even without heat, you get separation of materials along grain boundaries over time. And different aluminum alloys anodize at different voltages as well. Heat reticulation seems to be a process that will result in such metals separation, and localized areas of differing alloys which would be a difficulty for an anodizer :-)
Only the aluminum can be anodized, not the silicon, copper, etc. contained in them. If the segregation effect of the reticulation is really powerful, leaving largely non-aluminum material in a given area, it may not be possible to anodize those areas. Maybe such articles or such areas of the articles could be painted? ... although if pure aluminum works for you, that seems to be the best answer :-)
Good luck.
Ted Mooney, P.E.
finishing.com
Pine Beach, New Jersey


If you have a question in mind which seems off topic, please Search the Site