topic 49362
Need Aluminum finish that looks like stainless steel
A discussion started in 1998 & continuing through 2016 and beyond.
(1998)
Q. We are manufacturers of aluminium fittings for washroom areas, mainly from 6063 extruded sections. We have seen a finish which gives the aluminium the appearance of stainless steel in colour. In order to remain competitive we need to emulate this finish urgently. Can anyone advise us of the process?. Components are all small (150 mm x 20 mm 20 mm maximum)
Tony Thompson
- Spennymoor,UK
---
(1998)
A. Sir,
We are anodizers of aluminum. A few years ago we had a job which needed to match SS - we had set up a custom anodize dye which matched the color of SS very well - I believe we bought the dye from US Specialty Color or Clariant. The name of the dye was "Stainless Steel". This is your best option.
David A. Kraft
- Long Island City, New York
---
---
Getting a brush steel finish on aluminum
(2004)
Q. Sir, can we get brush steel finish on aluminum anodizing? what is the process?
Best Regards,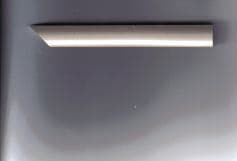 Nilesh
Mfg. of display boards - Mumbai, Maharashtra, India
---
(2004)
A. The aluminum can be brushed before anodizing and will retain the brushed finish through the anodizing process. There are anodizing dyes reputed to impart a steel or stainless steel look.
Ted Mooney, P.E. RET
finishing.com
Pine Beach, New Jersey
---
---
A dip to make aluminum shine like stainless steel
(2004)
Q. I am living in Indonesia, lately I notice so many aluminum chair for outdoor usage, chemists here saying that to make that aluminum chair but look like stainless steel is only of a matter of dipping into acid, I would like to make for own usage some chairs for my garden, I've some friends that can supply the aluminum tubular, but how to make it so shine, anybody can help me, I really appreciate your kind assistance.
Best regards,
Daniel Herman S Suhendra
- Jakarta, Dki, Indonesia
---
(2004)
A. Hi Daniel. The way to do this yourself is to mechanically polish & buff the aluminum, then clearcoat it. It will be whiter than the blue-ish color of stainless steel, but it can look nice.
It is impractical to chemically bright dip the tubes because it requires a highly toxic, almost boiling mixture of nitric and phosphoric acid, followed by anodizing them, and dyeing and sealing them. This is an industrial process that can't be done at home by a consumer.
Ted Mooney, P.E. RET
finishing.com
Pine Beach, New Jersey
---
---
To minimize searching and offer multiple viewpoints, we combined multiple threads into the dialog you're viewing. Please forgive any resultant repetition.
---
---
Aluminum finish to look like matte-polished stainless steel
(2005)
Q. We are manufacturing furniture made from aluminum pipes. Our buyer has requested us to find a way/technique to finish aluminum parts to look like matte-polished stainless steel pipes. Is there any chemical process or anything at all that can achieve that?
Chaidar Liem
furniture manufacturer - Makassar, Sulawesi Selatan, Indonesia
---
(2005)
A. Try a matte anodize with a dye to approximate the color of stainless steel. I think letters 1720 and 31135 cover this same topic.

Good luck.
Jim Gorsich
Accurate Anodizing Inc.
Compton, California, USA
----
Ed. note: Those two threads are now incorporated into this one; Jim is referring to David's response to Tony, and Ted's response to Nilesh, above.
---
(2005)
A. You should try a process called Alfisteel from a company called Alufinish in Germany. It produces the closest colour to stainless steel I have seen.
Bill Taylor
- Co. Offaly, Rep of Ireland
---
---
Making an aluminum casting look like stainless steel
July 15, 2008
Q. I work for an aluminum die caster, producing aluminum A380 castings for the automotive, electronics, appliance, furniture and defense industries. We have been chromating, painting, anodizing, and otherwise finishing our parts for years.

However, we recently came across a customer requirement for which we have been unable to find a cost effective solution. The part we produce is a handle that mates to a stainless steel component. For aesthetic reasons, our customer wants the parts to match. No consideration will be given to making the stainless component look like the casting.

Unfortunately, our time is SHORT. We have been seeking help from our customer for months, assuming that they have had this done before and could help us find the appropriate source/process. Now that sample parts have been delivered, our customer understands the magnitude of the problem. We now understand that they have NOT done this before. We have about a week to find a solution.

We realize that paints can be formulated to match fairly closely, but with our customer's requirement, we are finding that it has to be formulated from scratch, potentially taking months. We don't have that time.

Is there a cost effective process out there that can make die cast aluminum LOOK like stainless steel? The alloy contains about 9.5% silicon, and tends to cause some finishing options to darken as a result. We need a process that can be uniform and repeatable - AND match the look of the mating component.
Jeff Brennan
we use finishing services - Berrien Springs, Michigan, USA
---
July 16, 2008
A. Electroless Nickel (EN) might be the closest match. Not easy but totally doable for a good plater specializing in plating EN on aluminum. G. Marrufo-Mexico
Guillermo Marrufo
Monterrey, NL, Mexico
---
July 16, 2008
A. You probably also want the protective equal of stainless steel, therefore, the best alternative, however long it takes, is definitely powder paint that has been blended to match.

Robert H Probert
Robert H Probert Technical Services
Garner, North Carolina
---
---
Aluminium pipe polishing to look like steel
September 6, 2015
-- this entry appended to this thread by editor in lieu of spawning a duplicative thread
Q. Hello.
I want to know if it is possible, how can we give aluminum pipe the look of steel? Please tell me if you can?
sikander abbas
production manger - punjab,pakistan
---
September 9, 2015
A. Good day Sikander.

You wish to "give aluminum pipe the look of steel? Please tell me if you can?"
Steel can be polished, it can be stainless--very bright, smooth, lustrous, or it can be black pipe.
What is it that you need to accomplish? What type of aluminum are you processing? You can electroplate the aluminum with nickel and chrome, etc.
More info would be helpful.

Regards,
Eric Bogner
Lab Tech. - Whitby, On, Canada
---
October 4, 2016
A. Hi. You can have polished anodize and it looks like stainless steel.
Ali Kia
Neon Energy USA - Laguna Niguel, California


This public forum has 60,000 threads. If you have a question in mind which seems off topic to this thread, you might prefer to Search the Site