60,000 Q&A topics -- Education, Aloha, & Fun
topic 49165
Fastest way to get steel to rust/rot
June 27, 2008
Q. I am doing an experiment, I am trying to find the fastest way to rust or rot a steel panel. Is spraying salt water on it every few days the best way or is there some other mixture that will work better? Any help will be great..

Ron
Ron Smith
Hobby Scientist - Boston, Massachusetts
---
June 30, 2008
A. Hi, Ron. Vinegar, being a mild acid, will help that salt water along. Good luck.
Regards,
Ted Mooney, P.E.
finishing.com - Pine Beach, New Jersey
Striving to live Aloha
---
July 1, 2008
A. Common name Sal ammoniac, chemical name "ammonium chloride" =>
Often referred to as "soldering iron cleaner" sold in hardware stores in a solid block for cleaning soldering iron tips.

It was very common pre-refrigeration as a freezing solution . and when dissolved in water or slightly acidified water is very endothermic and will become very cold !

It is a strong oxidizing agent and a lot safer than others , its is very common in patination solutions and will bring brass, copper and bronze to green blue.
A paint brush left in even a mild solution for two hours will have the iron band that holds the bristles completely corroded away. it will cause iron and steel to actively rust . and is many many times more effective than common salts . and safer and cheaper than cupric nitrate or strong acids .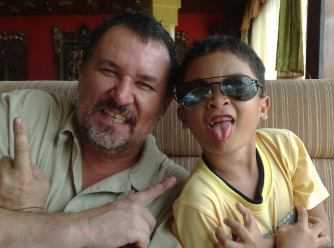 Dave Mune
mfgr of decorative concrete - Cebu, Philippines
---
---
Speeding up rusting/oxidation of metals with ferric chloride & peroxide
July 16, 2019
Q. Hi I am James I am currently a 1st year university student studying Botany (BSc).

So I have ferric chloride etching solution; here is the datasheet for the product I have: https://download.altronics.com.au/files/datasheets_H0800D.pdf
I have a 3 types of metal; stainless steel metal about a half inch thick, aluminum metal sheet that is also about half inch thick and zinc metal that is also half an inch thick.
I Will be applying the solution like a paint with a paint roller or paint brush to rust the surface of the three metals.

My question being; what chemical/s added to the ferric chloride would speed up the rusting/oxidation process of the metals? Preferably so that it rusts fast; within seconds/minutes
I do not want to heat my solutions or use an electric current. I want it to be a purely chemical based solution at room temperature.
Could a solution of ferric chloride + hydrogen peroxide work as it is an oxidizer?
Any Input on how to create the solution would be great, thanks.
James Woods
student - Perth, WA & Australia
finishing.com is possible thanks to our supporting advertisers, including this one: