Where the world gathers for
plating, anodizing, & finishing Q&As since 1989
-----
How to electropolish titanium for medical applications
2004
Q. How can I electropolish titanium? I am working on electropolishing of titanium.
Mansoor Rahsepar
student - Shiraz, Phars, Iran
---
1996
Q. I'd like to obtain a mirror finish on an irregular part made from 99.5% pure titanium. The dimensions are roughly 1.5 inches diameter by 0.8 inches long. Is it possible to electropolish it to do so? If so, how?
P. Haneuf
---
"Titanium and Titanium Alloys"
by Leyens & Peters (Ed.)
from Abe Books
or

Affil. Link
Your purchases make finishing.com possible
A. Not that I know of. Readers?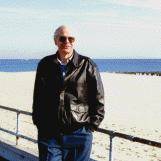 Ted Mooney
, P.E.
Striving to live Aloha
finishing.com - Pine Beach, New Jersey
---
1996
A. Electropolishing would not be an option ... try mechanical.
Greg Godbey
---
1996
A. Titanium can be electropolished. Hydrofluoric acid is one of the components that must be used in the process. The procedure is given in Plating & Surface Finishing, December 1980, Page 10.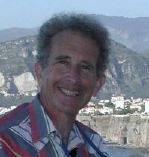 Art Kushner
Anaheim, California
---
---
Ed. note: We're merged together several previously separate threads about electropolishing of titanium, so the posters did not necessarily see the previous postings.
---
---
1998
Q. I have been approached recently by several people wanting information on Electropolishing Titanium without the use of fluorides & other "nasties" can anyone out there help please?
Regards,

John Tenison - Woods
- Victoria Australia
---
1998
A. John - In a nut shell NO. I have looked into a lot of EP systems for Titanium and all of them employ some nasties. Whether Chrome, fluoride, or varieties that tend to be explosive. The trick is that titanium metal is rather reactive. The surface oxide is rather unreactive. The nasties are required to remove the surface oxide. I have played with some and have had results from dismal to unbelievable. Either case, none I have found would I put into a production environment.
Jon Quirt
- Fridley, Minnesota
---
July 13, 2012
A. Jon,

I decided to return to this posting, since when searching on titanium electropolishing at yahoo - the answers come at the top of the listing.

Your answer may discourage titanium users from looking for a more environmentally friendly approach to titanium, niobium, nitinol or tantalum electropolishing.

There are many ways to electropolish titanium without hydrofluoric acid. The best results are for pure titanium - grades 1-4. This can be high-voltage electropolishing in water-based solutions, or low-voltage electropolishing in organic solutions.

The grade 5 - or 6Al4Va titanium alloy require more aggressive solutions, but still can be electropolished in organic electrolytes.
adv.
We can prove this by setting up titanium electropolishing production line.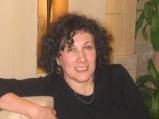 Anna Berkovich
Russamer Lab

Pittsburgh, Pennsylvania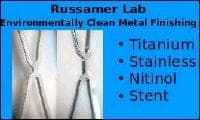 ---
July 17, 2012
A. Anna,
My reply was from many years ago. I defer to your expertise on the organic solutions and such.

I also found titanium, like Nitinol, can be electropolished in a super chilled methanol H2SO4 bath.

Grade V still not yielding results as good as CP Ti.
Jon Quirt
- Fridley, Minnesota
---
---
2003
Q. Hi,
Can anyone send us or tell us where we can get information on how to electropolish small round Titanium components for the medical industry.
Billy King
machine shop manager - Shannon, Ireland
---
2000
Q. What do you need to electropolish titanium? We have a doctor in our hospital who will not reuse titanium bipolar forceps because of the damage it causes to the vessel.
If the working surfaces of the titanium bipolar forceps are not smooth, when you open the forceps after coagulation the titanium sticks to the vessel. There is nobody here in Australia electropolishing titanium so we need to do it in-house. How can we do it? Setup cost is no issue. Thanks in advance.
Raphael P
[last name deleted for privacy by Editor]
hospital - Sydney Australia
---
2000
A. Just for the record I met up with Raphael in Sydney to trial the instruments with a process that has already successfully electropolished titanium.
In most instances, volatile chemicals have been employed for this and hence the electropolishing of Ti has not been extensively commercialized but confined to the laboratory. There are inherent problems associated with the processing of Ti and the process is confined to the 'alpha' rather than the 'beta' category of Ti.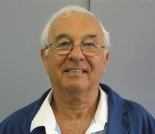 Joel Levinsohn
- Sydney, Australia
---
2000
A. Titanium bipolar forceps stick to tissue when they have carbonized organic matter (blood, etc.) on their conducting surfaces. One of the easiest and most effective cleaning methods is bead blasting. Small units for this purpose are readily available, at least in the States.
Jim Transue
- Somerset, New Jersey
---
---
May 9, 2013
Q.
Hi, if anyone can help me:
I want to perform Electropolish for titanium with very strong acids solution (HF +, etc.). Which material can I use for cathode and which material I can use for anode (titanium)? ( I can't use Stainless steel; the SS reacts with the solution ).

THANK YOU
AVIA LEVI
- Israel
---
May 13, 2013
A. Avia,

Titanium can be successfully electropolished in mild acid-free solution. In prior years we claimed that only titanium grades 1-4 are electropolished acid-free. However recently we incorporated the environmentally friendly process even for grade 5 (6Al4Va) alloy. For some applications we do need more aggressive solutions, however none of them contain active HF.

adv.
The processes are licensed to various companies.

Some of the electrolytes we sell to the customers, some - license the chemical know-how.

In order to recommend the most appropriate method, we need to test your samples.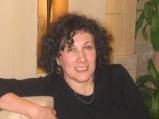 Anna Berkovich
Russamer Lab

Pittsburgh, Pennsylvania