Where the world gathers for
plating, anodizing, & finishing Q&As since 1989
-----
Inconsistent hard anodize colour.
2000
I am have problems with getting consistent colour of hard anodized pieces. Occasionally the part will come out very light. Our racking material is 6061 and it to will be light.
Although our meter will indicate a thick coating (2.5 mil or more). The tank parameters are all within spec. I know that not all alloys will come out dark, but the 6061 should at least. Could someone please give me some insight on this problem.
Erin Lewis
- Calgary, AB., Canada
---
2000
What are your parameters, be more specific? What are the voltage and amperages ratings (ASF for the part(s)) in question. Low voltages and amperages tend to generate a slower coating, than it turn doesn't have the dark shade of gray/black that you might be used to seeing. You have to exceed at least 30-35V to get a rich, deep color of gray.
Matthew Stiltner
plating company - Toledo, Ohio
---
2000
As Matthew says, it is not easy to answer your question without more specifics. When you say that your parameters are all within spec., the fact that the process isn't working implies that one or more of those parameters isn't right. Which one? Even your rectifier capacity comes into play here, as 6061 usually hardcoats very well until the coating thickness is over .002". Above that the voltage goes very high, and if your rectifier can't go up to 75-100 volts, the coating will develop slower and slower, and the outside coating gets softer because some of it dissolves from too much tank time and changes color. All of this assumes you are anodizing at constant current density- the ASF that Matthew mentions. (Do you really need more than .0020"? That thickness is usually considered sufficient for most wear resistance applications, and more is not always better.)
If your parameters are all truly OK and the ASF is constant throughout the cycle, there is a possibility that your bath temperature is going up near the end of your cycle, as the voltage is very high then, hence the heat produced (volts x amps) is high and your cooling capacity is tested at this point. The coating color is sensitive to bath temperature.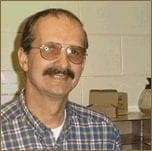 Phil Johnson
- Madison Heights, Michigan