Where the world gathers for
plating, anodizing, & finishing Q&As since 1989
-----
Steel pipe protection at construction site
2000
Hi everybody, I have a question regarding steel pipe: As a consulting engineers, we specified ASTM A53 [affil. link] carbon steel, Sch. 10 pipe intended for low pressure air service. After field welding (butt weld) of spool pieces, its exterior will be sandblasted and painted.
The interior remains uncoated. However, to protect pipe interior from ambient while stored at site, we specified for the interior to be coated with a protective grease coating during construction, which will be solvent washed after completion of pipe welding and just before its placed in service. A contractor asked to coat the interior of pipe with soybean oil instead of grease.
His reasoning is that it safe to weld pipe while coating (soybean oil) still on pipe. Is his reasoning realistic? Will the soybean oil protect pipe interior (pipe will be capped)? Is there a grease based coating that allows for safe welding? Any suggestions ? Thanks. Dusan Stanisic
Dusan Stanisic
- Phoenix, Arizona
---
2000
I am not an engineer so everything has to be taken with a grain of salt or two.
There is nothing that is going to protect the inside of the pipe from oxygen and moisture from the compression cycle, even with a good dryer. Moisture is inevitable and thus some rusting. Oil is an undesirable in an air line, but you will get some unless this is an ultra grade of installation in which it would probably specify stainless.
Why not buy pipe that is dry nitrogen filled and capped? A lot cheaper and nearly as effective.
How can you give a 100.000% guarantee that all of the solvent is out of the pipe after you solvent flush it? Most solvents and high pressure air is an invitation for an explosion. What effect will the solvent fumes have on whatever it goes thru?
Appropriate slope and effective drip legs would seem like a better way to go than greasing the pipe. The grease will cause fires at the weld site and will give some carbon and or bubble filled welds. Without a lot more information, it just seems like a good idea with some nasty results.
James Watts
- Navarre, Florida
---
2000
I would ask the welder: Are you doing this now? or Have you seen other contractors doing this? It may be an insanely great idea, discovered like Goodrich dropping rubber onto the stove, save the planet, save solvent, and etc. I think that capped pipe coated with soybean oil has a shot at being protected for several months on-site.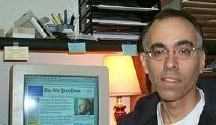 Tom Pullizzi
Falls Township, Pennsylvania