Where the world gathers for
plating, anodizing, & finishing Q&As since 1989
-----
How to Blacken Lead
2000
Q. A client has enquired about easy chemical methods of getting an aged black coating on lead (Pb) strip as used in leaded windows. The strip is lead-antimony and is silver bright. I've tried acids plus hydroxyl ammonium sulphate, but grey is the best! Any ideas out there? Roger
Roger Bridger
- Croydon UK
---
2000
A. The trouble with antimony lead alloys in this application is that they are resistant to sulfuric acids. The "natural" black lead on old window channel is the lead suboxide, Pb2O, and it forms g-r-a-d-u-a-l-l-y over long exposure to the elements.
There may be a good way to make a conversion to another black surface, but I am a window maker from way back and a good trick is to just rough up the surface of the lead with some fine abrasive cloth, and then rub the cleaned surface with carbon black. (wear rubber gloves [←affil. link]) ! It stains EVERYTHING permanently) It is supremely black and does a nice job at hiding the shine in lead. I assume after a hundred years or so you can go back and clean off the residual carbon & no one will know the difference.
Maybe not what you were looking for, but it works.
Dale Woika
Surface Conversion Sciences Corporation - Bellefonte, Pennsylvania
---
2000
affil. link

A. Since I am a total amateur in this field my input may be not on-track or useful, but then again it may. I have a stained glass window, constructed in about 1985, which exhibited oxidation of the lead (white particulate at the junction of the lead and the glass pieces) around 1995. I obtained a small bottle of Novacan Black Patina -->
from a stained-glass person. Application of the product according to instructions instantly turned the lead to a pleasing black patina and seems to have arrested the oxidation. From the bottle's label:
"Contains nitric acid and selenium compounds. Directions: Thoroughly clean project to remove flux residue. Remove accumulated oxidation - properly prepared surface will appear bright and shiny. Apply patina to lead and solder with a clear flux brush. Continue brushing until desired finish is obtained, then wipe away excess solution."
Reinhold Press
- Laguna Niguel, California
---
2003
A. Black for lead :40 % ammonium sulfide solution
Black for lead II:
iron chloride 100 gm
HCl...........500 ml
water.........1 lit
Budija Goran
- Zagreb, Croatia
---
June 15, 2008
A. I have been making panels for many years and can offer some insight if useful.
Having finished soldering and possibly cementing and cleaning you will be left with dirty surfaces. Whatever the desired finish I always use fine wire wool to lightly rub down all lead surfaces (solder and cames) to produce a uniform finish of clean lead. Next step depends upon desired finish. With the lead freshly cleaned in this way any patination applied will be very effective and also if applied properly will give an even result.
For a Blackened Finish: apply 'Black Patina' obtained from any leaded glass supplier ,,, using a 1/2 inch brush. wipe evenly. Or apply graphite based grate finish paste.. allow to dry for short while then polish with a soft cloth. This latter method is very messy and awkward to clean up afterwards.
For a Copper finish: as above with the Black Patina solution but use the Copper finish solution... this is copper sulphate and can be made up from crystals if you can get them.

In both cases when using the patina solutions is is critical to clean off all traces after use. If left it will leech put over time and produce a whitish powder deposit which spoils the appearance. To clean you can buy patina neutraliser solution but I find that a good scrub with a detergent liquid is fine. Having cleaned and dried the panel spray all over with any glass window cleaner and use a light nail brush to scrub the entire panel... then wipe off excess with a paper towel and finally polish with a soft cloth.
Certain designs benefit from using the black patina on some areas and copper on others.... do black first then copper last... you get a nice contrast say for flowers, etc.
Hope this helps.
Paul Hollis
- Surrey, England
---
June 24, 2009
A. I have found that the Birchwood-Casey antique black M21 oxidizer works quite well for getting a dark solid black patina on lead.- check it out.- malkOhm
Malcolm Horn
- Boulder, Colorado
---
---
January 6, 2010
Please inform me how to get a black colour on lead surface, we use copper sulphate for antique copper colour. Also if you could inform me is it possible to get a gold effect on a lead surface.
neal medows
glass studio- wattala , Srilanka
---
May 23, 2020
A. Use Lime-A-Way [affil link] or CLR [affil link]. Soak overnight and it turns dull.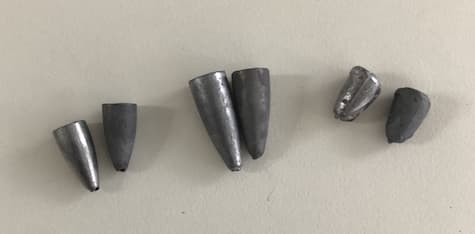 Captain Wayne Hanners
- Palm City, Florida