Where the world gathers for
plating, anodizing, & finishing Q&As since 1989
-----
Reflection from windows is melting plastic siding
An ongoing discussion beginning back in 2000 ...
2000
Q. I am Project Co-ordinator for a Hands-on Science Centre - we have a Suck-Blow mirror made up of a Mylar reflective film connected to a simple bellow that allows the visitor to change the flexible Mylar film from convex to concave (change the reflected image).
We need to protect the Mylar film from damage as it is very thin, we have a piece of toughened glass sheet in front of it (spaced off 100 mm to allow for the movement of the film) but this is producing a double image and ruining the effect of the exhibit. The glass is circular with a diameter of approx. 1300mm. Does anyone know of a film or spray or finish that can be applied to the glass to make this non-reflective? Help!
David W
[last name deleted for privacy by Editor]
- Bristol, England
---
2000
A. David - It sounds like you're looking for the coating that is used on eyeglasses to reduce glare. I would try contacting a major eyeglass lens mfgr. to find out what that coating is. Good Luck
Dan Brewer
chemical process supplier - Gurnee, Illinois
---
2000
A. David, This may be a stupid idea but what about using some polarized sheeting over the glass Wasn't the old 'saccrimeter test' (at least I think that is the right name) one whereby one placed two pieces of polarized sheeting on each side of a piece of clear acrylic and rotated them?
The original test being something to do with testing sugar, I believe. This shows very visibly if there are any stresses in the acrylic (welding, cementing, bending, drilling etc). Regards to the Vic. place, Henleaze & the Downs & to Wallace & Grommit ... Cheers from an ex-Bristolian. Dan Brewer's idea sounds like a good suggestion.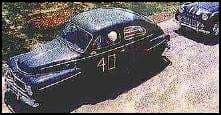 Freeman Newton
[dec]
(It is our sad duty to advise that Freeman passed away
April 21, 2012. R.I.P. old friend).
---
2001
Q. I am a picture framer. I need mylar glass. It is about an 1/8th of an inch thick. No frame shops will sell and I cannot find a supplier. I need to buy it in a good quantity at a good price. Any ideas will be much appreciated.
Thank you for your time.
Charles L
[last name deleted for privacy by Editor]
- Burlington, Vermont, USA
---
2007
A. To cancel glare on glass contact Rosco Lighting in New York or Los Angeles, or www.rosco.com.

They make products used by motion picture gaffers ( lighting people ) that can be sprayed on glass, such as windows, to eliminate reflections on motion picture sets. They are very knowledgeable
Dan McGarigle
- El Segundo, California
---
November 27, 2008
A. I think the problem you are describing is a newton ring. There is an anti glare coating that can be applied or you can get the glass very lightly shot blasted. You could try an Anti Reflective coating but I don't think this will help as its only getting rid of the reflection on the surface you get coated.
JASON EITE
diamond coatings- Halesowen, UK
---
November 15, 2016
A. David, What you are looking for is the anti-reflective glass property of Mylax, typically used for concave and reflective purposes of eyeglass companies. You would be best off contacting a company that specializes in what you are looking for.

Good luck in your findings,

God bless the United States,
John
John Holmes
- Burnee, Illinois
---
---
Sun reflection from window is melting plastic siding
February 24, 2019
Q. We have a situation were the sun is reflecting off a standard double hung thermo-pane window onto the vinyl siding about 20' away and heating the siding to the point of warping the plastic over time. Is there a film I can put on the window to reduce the reflection of the sun?
Dave Zoghby
- New Tripoli, Pennsylvania, USA
---
February 2019

Hi Dave. This sounds nearly unbelievable. Is a picture of the reflection on the siding possible?
Regards,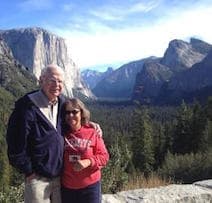 Ted Mooney
, P.E. RET
Striving to live Aloha
finishing.com - Pine Beach, New Jersey
---
March 17, 2019
Q.
Sorry is has taken this long to reply, but is travel a lot. The 4 pictures were taken yesterday about 5:30 pm.
In IMG_1799 you can see the two houses and the sun shining on the west side of our house and reflecting off the 2 second story windows on to the neighbor house: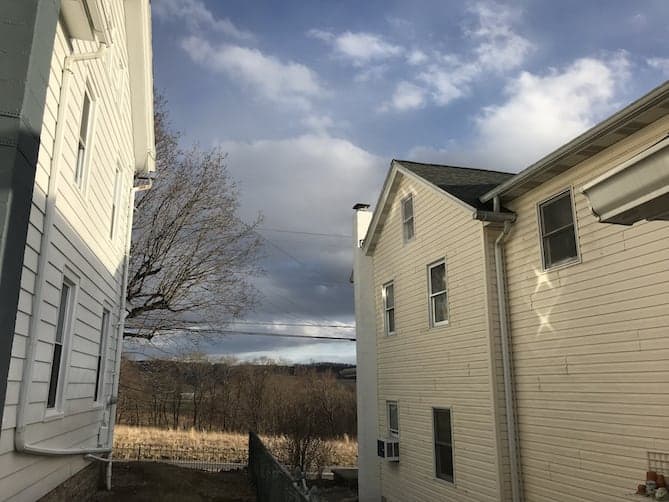 IMG_1798 shows the double hung windows: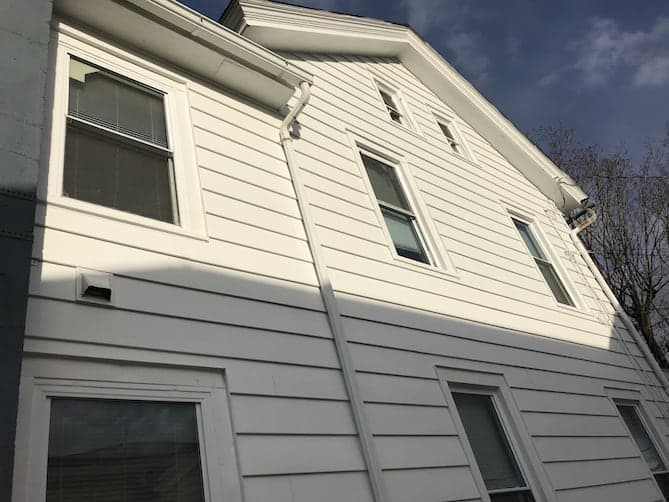 IMG_1797 shows the star reflection from each pane of the window: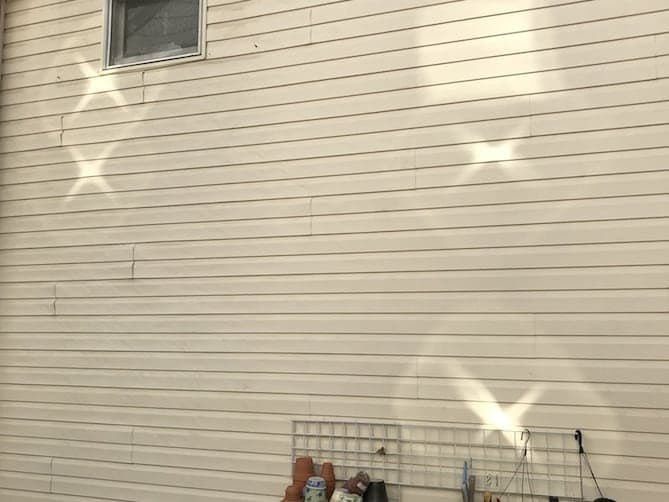 IMG_1796 shows this diagonal wavy pattern that has slowly, over the years, heated the siding to the point it deformed it: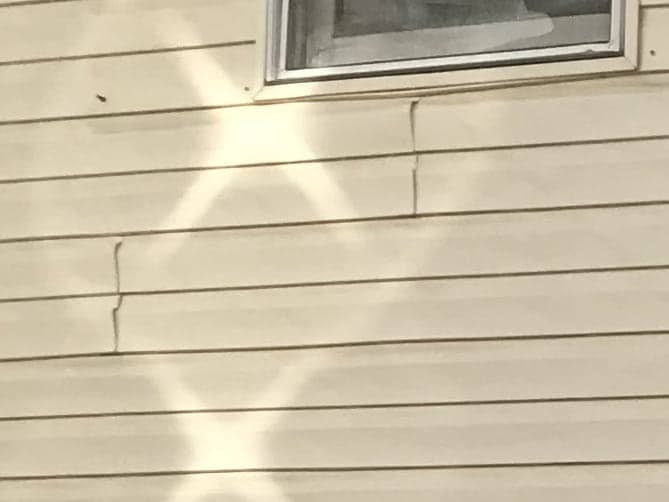 The neighbor also had dark green shutters that were damaged even worse. I went over one day in October and he put the probe of the grill thermometer at star reflection and the thermometer rose to over 120 °F. You can even see on the stars which window has which screen over one pane.
I need to determine what I can put on the window pane to disrupt this reflection. The neighbor's insurance company is replacing the siding and shutters in the spring, but need to not have happen again.
Your advise is appreciated.
Dave Zoghby
[returning]
- New Tripoli, Pennsylvania, USA
---
March 2019
A. Hi Dave. I have never heard of such a thing; it has to be a rarity. Because of that, it's just possible that the manufacturer of your windows might be interested in trying to correct it regardless of their age.
My own theory, based on the shape of those crosses, is that the slight vacuum in your thermopane windows is causing the glass to go ever so slightly concave, with the result that it's producing a very long focal length concave reflecting mirror, and the neighboring house is just the right distance from yours to intercept that reflection at its focal point.

Note that the top half of one window exhibits the usual rectangular reflection rather than the concentrated light like the other panes. I'm not sure if you are saying this is the pane with the screen. If so, screens seem to be an answer. If not, is it possible that the seal on that particular pane is broken so it's no longer pulled concave by the vacuum (does it feel colder in the winter than the other panes)? Next time you see the reflections can you go inside your house and try to lightly push on the inside glass to see if that relieves a bit of the concavity of the outside glass and changes the pattern?

If the manufacturer won't fix it, and a local glass specialist can't fix it, and the screen doesn't fix it, you are probably limited to trying to apply some non-reflective coating Regards,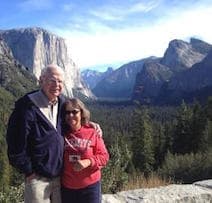 Ted Mooney, P.E. RET
Striving to live Aloha
finishing.com - Pine Beach, New Jersey



---
January 6, 2020
Q. I am having the same problem with my windows. And it is very common with the new lowE glass double pane windows. The lowE coating is a highly reflective coating added to the outside of the window. In colder weather, the argon gas between the panes cools and contracts and external pressure presses the window panes into a concave shape forming a convex mirror.

What kind of anti-reflective coating can be applied? Would it hold up to the weather?
Ron Davis
- Cleveland, Ohio