The world's most popular metal finishing site, and striving to be the internet's friendliest corner
topic 48993
Clear zinc plating develops brown stains with time!
A discussion started in 2008 but continuing through 2019
June 9, 2008
Q. We have some chassis that have developed brown stains over time (approx. 1.5 years).
They were built and plated in Minnesota, spent some time in New Jersey, and are languishing in Austin, Texas.
The plater says they can't figure it out.
They were packaged in a standard type corrugated box- not sealed up in a bad with dessicant.
Some of the badly stained areas have been in direct contact with the corrugated.
Other areas were not. It does not appear to be a plating solution entrapment issue.
I am thinking it is packaging related, with humidity contributing during storage.
I've heard the acid in corrugated or brown kraft paper can attack zinc plating with a chromate conversion coating.
(click pictures to see 4x as large)
We need to re-make the chassis's, but I am reticent to use the same suppliers when they have not determined a root cause and cannot guarantee this won't happen again.
Experts- please help!
Thanks,
Jon
Jon Perdue
product designer - San Jose, California
---
June 12, 2008

Expert help on line is easier said than done. Remember, the definition of an expert is someone who comes from over 100 miles away!

Seriously, it is difficult or not impossible to determine the problem from the pictures. Perhaps your vendor can get a failure analysis from the technical service department of one of his vendors. Otherwise, I feel that if you are determined to find the cause of the failure it would be necessary to hire a consultant.

Any yes it is possible that the box contributed to the problem. It is also possible that the environment in which the parts were stored contributed (not the geographical location but the specific location). And for further confusion, yes it is possible that a deficiency in the plating was highlighted by the first two.

Gene Packman




- Great Neck, New York





---

June 12, 2008

Brown corrugated boxes and any brown paper is a source of sulfur which reacts with humidity and corrodes zinc and steel. This corrosion is even moire likely with clear chromate than heavy yellow chromate. And it is less corrosion when the chromate has been topped off with one of the newer silicate type top coats. But how about thickness, was his zinc so thin that the chromate ate most of it off, leaving you closer to the iron which goes into "brown" oxide. Take the parts to a local plater who has a magnetic type thickness gauge and check the thickness. You should have at least 0.0002 or 0.0003 inch after chromate. Tell your next plater the thickness you want after chromate, and to wrap in clean sulfur free paper.




Robert H Probert




Robert H Probert Technical Services





Garner, North Carolina




---
---
Brown stain on zinc plating
September 17, 2019
Q. HI EVERYBODY, WE HAVE THE PROCESS ZINC ELECTROPLATING , AT THE LAST DAYS I HAVE SOME BROWN STAIN ON THE PIECES , SOME OF THEM ARE IN CIRCLE BUT OTHER ARE ASSYMETRIC, DO YOU HAVE ANY IDEA WHAT'S HAPPENING? I MADE IRON TREATMENT, FILTER SOLUTION BUT THEY DON'T DISAPPEAR.
MARY CARMEN RETANA
RESPONSIBLE FOR GALVANIZE - MÉXICO
---
September 2019
A. Hi Mary. This sounds like acid zinc plating. Are you doing barrel plating or rack plating? Clear chromate or yellow? Trivalent or hexavalent? A picture is worth a thousand words, so please send pics for posting here if possible.
Regards,
Ted Mooney, P.E. RET
finishing.com - Pine Beach, New Jersey
Striving to live Aloha
----
Ed. note: Here's Mary's pic which I apparently misfiled: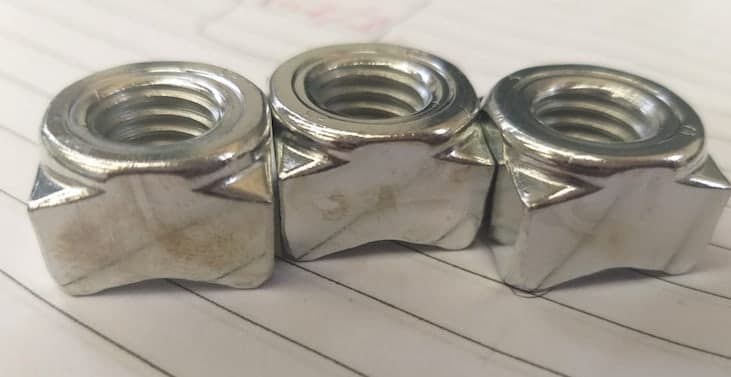 ---
October 9, 2019
A. Mary,
Do your employees use gloves while racking parts and do you have a good cleaning process to remove oils? the part on the left of the photograph especially looks like the part was cleaned poorly before plating.
Derek Hutter
- Buffalo, New York, USA
---
October 9, 2019
TUTORIAL FOR NEWBIES:

Chlorhydric = Hydrochloric

HI TED, YES OUR PROCESS IS ACID ZINC, CLEAR TRIVALENT CHROMATE.
THESE PIECES IN PARTICULAR HAVE HEAT TREATMENT; THEY ARRIVED SO DIRTY, AND JUST USE ZINC WITHOUT CHROMATE TRIVALENT.
WE SOLVED BY PRECLEANING THE PIECES WITH CHLORHYDRIC ACID TO 10% AND ADDING MORE POTASSIUM CHLORIDE AND CARRIER (ADDITIVES) TO THE ZINC, BECAUSE WE LOST WHEN WE DID THE IRON TREATMENT -- WITH THAT BROWN STAIN DISAPPEARED.

DEREK, YES OUR EMPLOYEES USE GLOVES AND WE HAVE 2 CLEANING PROCESSES, ONE IS IMMERSION AND THE OTHER IS ELECTROLYTIC WITH DOUBLE RINSE, AND THESE ARE POORLY FOR OUR PIECES; WE SOLVED AS I SAID CLEANING BEFORE WITH ACID.

THANKS SO MUCH FOR YOUR HELP AND ALL THE POSTS HERE. THERE IS A LOT OF INTERESTING INFORMATION.
HAVE A NICE DAY

MARY RETANA
[returning]
RESPONSIBLE FOR GALVANIZED - SAN JUAN DEL RIO, QUERETARO, MÉXICO