World's most popular finishing site / Internet's friendliest corner
topic 48642
Anodized aluminum vs. galvanized steel for Asbury Park Boardwalk
A discussion started in 2008 but continuing through 2019
April 29, 2008
Q. I was awarded a substantial anodized aluminum railing job for the pavilions at the Asbury Park Boardwalk. Just as we were to start the job the architect stopped us and said the only product to use would be galvanized steel. I would like to know what your professional opinion on this matter would be. All of the professionalss I've contacted so far agree galv. steel will rust and corrode in a few years.
Robert Schinder
custom fabricators Inc. - Bayville, New Jersey ,USA
---
April 30, 2008
A. Hi, Robert. I would be cautious about the galvanized because most people do not consider it attractive. It will hold up well to the salt for a few years, but not the long term. You can walk the boards in Point Pleasant or Seaside Heights as well as Asbury, and see all the rusted galvanized overhead doors on the concession stands. You'll also see the peeling paint from unsuccessful attempts to paint it.
Anodized aluminum may be "fair" in performance. Boats are made of aluminum (although painted), and aluminum sailboat masts and boat towers are common. For a condo association I investigated a condo with somewhat troublesome anodized balcony railings, but I didn't think they were too bad. However, while the condo was "oceanfront", it was probably actually 200 yards or more from the water, not on it. My guess is powder coating on properly pretreated aluminum will be more satisfactory than anodizing or galvanizing.
The ideal choice is 316 stainless steel, of course, but this is in a different price range. Take a day trip to the Cape May Ferry --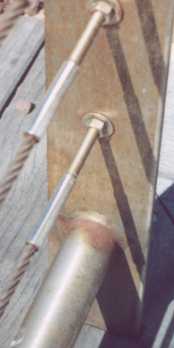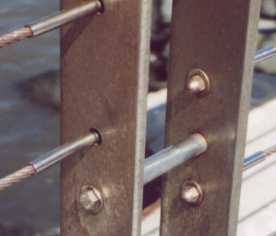 -- the boardwalk railings there are stainless and, although not shiny on the day I photographed them, have remained quite beautiful in my opinion for many years.
Regards,
Ted Mooney, P.E.
finishing.com - Pine Beach, New Jersey
Striving to live Aloha
---
---
February 4, 2019
Q. A client is replacing a guardrail on a second floor patio.

The client has selected an anodized aluminum railing.

I'd like to get your opinion on the most appropriate metal for BOTH the base plates and the base plate anchors.

The railing is being mounted/anchored directly to the top of an existing concrete deck.

The project is located approximately 600 yards from the beach.
Paul Farnan
- Cape May, New Jersey
---
February 2019
A. Hi Paul. 316SS sounds to me like the ultimate material for the baseplates as well as the anchors, but it's not cheap.
My recollection is that the majority of outside balcony railings I see at hotels near the shore, though, are anodized aluminum with integral welded aluminum baseplates, bolted directly to the concrete with stainless anchor bolts. Highly developed New Jersey offers us the advantage that we can actually see dozens of examples of proposed approaches without having to travel very far. I'm not sure if the building trade organizations offer any advice, and examples of established installations that you can see, but I would expect that the anodized railing suppliers can show you examples that have been in service for a while. Good luck.
Regards,
Ted Mooney, P.E. RET
finishing.com - Pine Beach, New Jersey
Striving to live Aloha
adv.