topic 48431
Trivalent chromium plating bath gives parts uneven yellowish color
April 8, 2008
Q. We have made up a Trivalent chrome plating tank for our company,the technology is supplied by Macdermid named "TriMacIII"; but we have trouble now...
When we plate a round panel that has a diameter of 20 mm, we have 4 parts a rack, but the two placed on the lower position on the rack alway have some strippled yellow color;
The Hull cell test is ok, we don't know why?
Frank Liou
Plating shop employee - Guangzhou City, GuangDong Province, China
---
April 9, 2008
A. I think I would call my MacDermid guy. Barring that, you might want to look at your rinsing.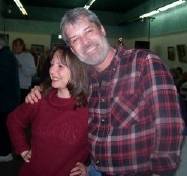 Trent Kaufman
electroplater
Galva, Illinois
---
April 10, 2008
Q. The engineer from Macdermid gave me some useful advise, Electrolyzing with Dummy cathode at 5 ASD. 2 hours later, the yellow stripe disappears, we think there's too much additive in my tank.

By the way, the anode we used is not supplied by Macdermid, but our anode uses the same surface treatment: [deleted by editor] -- do you think it works?
Frank Liou
[returning]
- Guangzhou, Guangdong Province, China
---

Hi Frank. You've just seen one advantage of working with the supplier: quickly knowing what to do when something goes wrong. In obtaining your own anodes you might lose some of that advantage.
You or your anode supplier are reverse engineering the anodes to copy them; and if they work, fine. But, considering the anonymity of the internet, we can't post questions or comments about what surface treatment Macdermid uses -- that's too close to crowd sourcing of industrial espionage :-)
Regards,
Ted Mooney, P.E.
finishing.com
Pine Beach, New Jersey
---
---
Excessive nitrates in Trivalent Chrome plating bath?
May 18, 2017
Q. Dear all

We are also using Macdermid Trimac III. We are facing the issue of coverage; we were told that bath is contaminated with nitrates and requires changing the bath. Kindly suggest.

Regards
SNEHAL
SNEHAL PATIL
- PONDA GOA, India
---
May 23, 2017
A. You may need to adjust pH; add sodium carbonate to reach your operating pH.
Asmaa el-sayed
Chemical Engineer - Alexandria, Egypt


This public forum has 60,000 threads. If you have a question in mind which seems off topic to this thread, you might prefer to Search the Site