World's #1 finishing resource since 1989
No login needed: Chime right in
topic 48149
Blistering of silver plating on electroless nickel
March 12, 2008
Q. Hi,
We have some components that are 6061-T651 and receive the following plating: Double zincate per ASTM B253 [affil. link to spec at Techstreet] , 100-200 microinches of electroless nickel per SAE-AMS-C-26074 [affil. link to spec at Techstreet] Class 4, 100-200 microinches of silver per ASTM B700 [affil. link to spec at Techstreet] Type 1 Grade B or D, Class N. After plating, parts are baked at 300-330 Deg F for 1 hour. There are multiple parts that join together and must rotate, however we have learned that after thermal cycling, the faces gall (or stick) to a point that you literally have to snap them apart. We've eliminated this by lapping one face to approx. less that 10 microinch surface finish. However, as of late our parts have began forming blisters all over (not just on the lapped face). We are wet lapping them on 1200 grit polishing wheel followed by polishing on regular polishing felt using liquified aluminum oxide. We feel that we have eliminated the aluminum oxide as the culprit and have narrowed it down to the moisture. My question is that if the plating is good, should the moisture be a problem? Any ideas would be appreciated.
Ronnie Sullivan
engineer - Norcross, Georgia
---
March 14, 2008
A. I will not bet a cup of coffee on it, but I think that your lap/polish cycle is locally overheating the part causing it to blister.
Engineering thought, why do you run a silver to silver part. That is like running stainless to stainless or lead to lead. EN one of the surfaces, and your problems of galling will go away. I think that both surfaces will have less friction and both will last far longer. Cheaper also!
James Watts
- Navarre, Florida
---
March 17, 2008
A. 1. consider the coefficient of thermal expansion of the aluminum versus the nickel. I think you are close to the limit, add that to the extra heat that Watts talks about.

2. a better process cycle would be: Clean-Etch-Deox-Dilute Zincate - 4 oz/gal Sodium Carbonate-ALKALINE EN strike-regular EN. You will get the best adhesion.

Robert H Probert
Robert H Probert Technical Services

Garner, North Carolina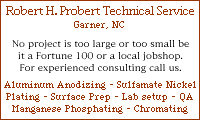 ---
---
Silver plating over electroless nickel for salt fog resistance
January 13, 2010
Q. Can someone please give me recommended thickness of silver plating over electroless nickel for good salt fog resistance?
I couldn't find any definition in ASTM B700 or any other standard.
Thanks a lot
Sharon Shmueli
product designer - Tel Aviv, Israel
---
January 18, 2010
A. All deposit requirements for different applications is in fact written in the ASTM B700 [affil. link to spec at Techstreet], ... but yes, difficult to find where silver deposits are used in excess of salty atmosphere.
Dominik Michalek
- Sydney, Australia
---
Adhesion issue between electroless nickel and cyanide silver plating
November 25, 2020
Q. Right now I am plating cyanide silver onto an electroless nickel and are having lifting, peeling, and blistering of my parts after we get them heat treated at about 500 °F for 30 min - 1 hour.

I'm pretty new to this and trying to learn all I can. For context I plate Silver onto aluminum forceps for surgical use after we go through an electroless nickel process. We then do a cyanide silver strike for 90 seconds then go into a cyanide silver finish for 75 minutes. after we plate the parts they are worked on a little and sent off to be coated with an insulator that they heat set at 500F for about an hour. when we get the parts back from them we are having issues with the adhesion letting go between the nickel and silver layer.

Any and all help on this would be appreciated thank you.
Eric Reynolds
- St. Louis Missouri USA
---
November 28, 2020
A. You may find your answer if you look up the thermal expansion coefficients of aluminum, nickel alloy, and silver at 500F.

Robert H Probert
Robert H Probert Technical Services

Garner, North Carolina