World's #1 on-line resource since 1989
-----
Can stainless steel be chrome plated in a high quality manner?
A discussion started in 2008 but continuing through 2019
March 4, 2008
Q. I am the shop superintendent for a mechanical/ architectural contractor. We do a lot of custom exposed metal work which sometimes involves anodizing,polishing,or chroming. Here is my situation: I have a piece of T-304 stainless steel, 4" x 14" x 1/8" thick (2B plain finish).The logo "F-150" has been laser cut in the piece (like a stencil), but was barely left intact so it could be polished as one unit and removed individually later. The customer requested a polished mirrored finish. Upon return of the part from a polishing/plating shop, the customer wasn't happy with the small polishing "swoosh" marks even though it did have a mirror finish. He said he wanted it to look like chrome. The polishing/plating shop told me that was the best they could do with a small manually-done application as compared to full-size 4'x10'sheets bought with mirrored finishes. They also told me that they don't apply chrome to stainless steel because it won't hold. So I checked with another plating shop and they said basically the same. My question is: Is this true? Can stainless steel be polished and then chrome plated so its finished appearance looks like a flawless "liquid" chrome has been poured over it? And secondly, do you always get small inherent "swooshes" when you polish stainless steel, or is it possible to get that ultimate mirrored finish? I would appreciate help in answering these two questions. Thank you.
Bob Auchard
Mechanical/ Architectural Contractor - Santa Clara, California, USA
---
March 4, 2008
A. Stainless steel can be nickel-chrome plated in a high quality manner, Bob. The necessary preparation steps include a Wood's Nickel Strike, and some plating shops do not have experience with that and therefore do not offer it; but once you find the right shop they will be able to do a quality job.
Yes, those parts can be polished with no swoosh marks, but I'm certainly not claiming that I could do it :-)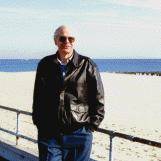 Ted Mooney
, P.E.
Striving to live Aloha
finishing.com - Pine Beach, New Jersey
---
March 6, 2008
A. If you are old enough,you may remember back in the 50's, all Pontiac's had a trademark band of 5 ridges formed out of stainless steel, AND THEY WERE QUALITY CHROME PLATED in Adel Georgia.

However, the thin film of chromium will not hide the polishing lines. The polishing must be mirror perfect before it gets to the plating room. As Ted said, there are experienced plating plants that can do your job.

Robert H Probert
Robert H Probert Technical Services

Garner, North Carolina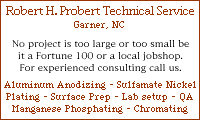 ---
March 17, 2008
A. Hi, there is no reason at all that s/s cannot be plated .

As the guys above have said, Wood's nickel strike , bright nickel and chrome flash is a relatively simple job. The finish of the plating depends on the quality of the polishing, and there is no reason there should be "swoosh" marks if the polisher is any good !

Nickel and chrome will highlight any defects in the base metal , so polishing is the most important part of the process to get the perfect finish.

Hope this helps
Jay Smith
- Essex, UK
---
March 20, 2008

A. Don't go telling a plater that the polishing is the most important part of the process. Maintaining a plating line properly is a back breaking job that requires every bit as much talent as a good polisher. A good polisher should be able to get a swoosh free job on a good piece of stainless and a plater properly set up should be able to plate it. I don't do plating on stainless myself because I have never set up for it and the demand for it is so small now days on small custom jobs that it is not worth it. At least not in my area. Most of my customers are quite happy with a bright swoosh free buff job.

Frank DeGuire




- St. Louis, Missouri, USA





---

March 20, 2008

A. Hi Frank , I myself am a PLATER- not a polisher- so I know how demanding running a plating line is - but its very annoying when you do a lovely bright chrome finish but are let down by the polishing - I am not a polisher so I cannot comment on how easy or difficult it is , but I do know that swooshes in polishing can be avoided .

Hope you read my first response correctly - because I was explaining the plating process , not having a moan about platers !

Jay Smith




- Essex, UK




---
March 21, 2008
A. Try electropolishing. Might be easier
Tom Sivula
plating shop - Harbor City, California
---
March 22, 2008

Mr.Smith. All the people I meet think polishing is the majority of the work and platers are just" dipping it" in some bubbly water afterwards.
It has made me a platers advocate. I just want everyone to know that plating is just as important as polishing when it comes to doing good chrome work.
Sorry if I was a bit too forceful in pointing that out.

Frank DeGuire




- St. Louis, Missouri, USA





---

March 27, 2008

Hi Frank , yes I agree , it is annoying when people think all we do all day is just " dip it in " ! if only they knew just how much work it takes to do some jobs ........ I'm just waiting for the day when a solution is invented so all we have to do is " give it a quick dip " .... until then , we will have to keep doing it the hard way ! have you got any jobs going ? I would love to live and work in America ! :-)

Jay Smith




-Essex, UK





---

March 27, 2008

Hi, J; hi Frank. I've dipped strawberries into melted chocolate and apples into candy coating with pretty good success; I'm confident that dipping bezels and hood ornaments into melted chrome simply can't be much different; but I've heard that for Show Chrome it's best to dip them in melted copper first. Is that true? :-)

Regards,




Ted Mooney

, P.E.




Striving to live Aloha




finishing.com - Pine Beach, New Jersey




---
January 31, 2013
Q. Hi Guys,

I am making a stainless steel product with the shape like a empty 4" x 4" x 4" box. The material is SS304. I asked a manufacturer to mirror polish it allover. They told me they can only polish the outside, but can't polish inside, as no tools can work inside. They tried other ways, nothing works. Now I suggest chrome plating it, as I thought by this way inside and outside will reach same mirror result. But I have the following concern:
1. will the chrome plating hold firmly and last long?
2. I know chrome on brass is good, but no idea on stainless steel.
Any suggestions? Thank you.
George Wu
- New York, US
---
---
February 26, 2019
-- this entry appended to this thread by editor in lieu of spawning a duplicative thread
Q. How I played stainless steel by nickel chrome?
Wael Khial
- Mansoura, Egypt
---
February 2019
A. Hi cousin Wael. I can tell you that you start by doing a Wood's Nickel Strike and you then proceed immediately to nickel plating and then chrome plating. I can also refer you to books about nickel-chrome plating, and chapters about Wood's Nickel Strike. But actually explaining the entire process of nickel chrome plating onto stainless steel would take many pages of explanation and nobody is going to take the necessary many hours to do that for you :-(
I appreciate from your earlier attempts to post this question that English may not be your first language. But please use translate.google.com or a similar service and do your best to tell us who you are, what you do, what kind of parts you have in mind, and basically what you know about plating so that we can better understand how to be more responsive to your needs. Thanks.
Good luck, and please send us a detailed question. Thanks!
Regards,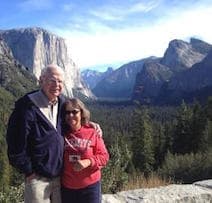 Ted Mooney
, P.E. RET
Aloha -- an idea worth spreading
finishing.com - Pine Beach, New Jersey