Where the world gathers for
plating, anodizing, & finishing Q&As since 1989
-----
Effect of metal finishes?
2000
Hello, my name is John Gillis I am a Mechanical Designer at Intelligent Controls. We are a Developer and manufacturer of monitoring and control systems for underground storage tanks and piping systems.
I have a device, which consists of 3 pieces. Housing, cover and cable. The housing and cover are machined out of 12L14 or 1215 steel. The cable, with threaded brass gland ends is Brass SAE CA 360. One piece (the housing) will be finished with electrolytic nickel plate .0003 - .0006 thick. The mating piece (the cover) will be Zinc plate with black chromate .0003 - .0006 thick. The third piece (cable) will screw into the cover (zinc plate w/black chromate). Then we will screw this assembly into the housing (electrolytic nickel plate). The environment this device would reside in is atmospheric, with the presence of petroleum products (Vapor and liquid).
Would there be any reaction between the finishes of the two steel pieces?

Would there be any reaction between the cover (zinc plate with black chromate) and the brass piece?

If we decide to have everything electrolytic nickel-plated, would there be a reaction between the brass and this finish?

If we decide to have everything zinc plate with black chromate, would there be a reaction with the brass and this finish?

If anyone knows of any literature that would help me make a decision like this in the future, could you please let me know?
John J. Gillis
- Sace, Maine, USA
---
2000
If you end up going with this design, you had better put it through salt spray or another corrosion test. We have a big problem on a product my company makes. This part also has plated steel in contact with brass. The part is supposed to last 768 hours in salt spray, but rarely makes it over 120 before red rust starts right where the brass and plated steel meet. Anytime you have two different metals touching, you create a galvanic corrosion cell. I'm not saying your device is doomed to rust, but I am saying that there could be a problem.

Tim Neveau
Rochester Hills, Michigan
---
2000
These are always interesting puzzles of chemical activity. The atmosphere in UGSTs is humid and typically sulfurous, so there are elements of corrosion promotion going on here as well.
The zinc is going to offer some galvanic protection to the steels, but depending on the contacts made, you are looking at a corrosion situation. In general, you have to look at a chart of standard electrode potentials to determine the electromotive force in the system you are making. It sounds more complicated than it is, but then again you have a complicated system here.
Would it be possible to nickel plate everything? Even a thick chrome plating might do the trick. This would give you a consistent corrosion resistance in this environment and a very small electro cell potential (at least for the Nickel-iron or chromium-iron system. The trouble in the brass is the copper, which has a +0.34V potential while the iron (in the steel) has a -0.44V potential, so there will be a reaction anywhere there is metal contact and there is some water available. The same applies to the brass coming into contact with the zinc (the electrode potential for zinc is -0.763) If it was me, I might be considering an organic coating or even an organic material for the item; quite a few plastics might fit the bill.
whatever you decide to coat with, make sure the coating is 100% conformal with no pinholes!
Dale Woika
Surface Conversion Sciences Corp. - Bellefonte, Pennsylvania
---
2000
I don't believe that you will have any trouble with galvanic couples, a starting reference would be the ASM Metals Handbook.
3 tenths of nickel on steel is not too robust. I would like to see what railway signal specifications are for nickel plated steel. That might be a good place to search, if you make outdoor boxes.
Make sure that you really get 3-6 tenths of zinc with black chromate, and a salt spray certification for same on the print that goes to the plating vendor. You may want olive drab chromate instead.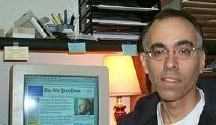 Tom Pullizzi
Falls Township, Pennsylvania