Where the world gathers for
plating, anodizing, & finishing Q&As since 1989
-----
Bright dip problems
2000
We are attempting a new cleaning process in our acid cleaning area. The materials are copper nickel and nickel copper alloys. We used the ASM recommendation for bright dipping but are having some safety issues with the nitric oxide gas that is being given off after the material is immersed in the bath. Also, we find that if the nitric oxide gas is produced, it causes an accelerated tarnish of the material which negates the reason for bright dipping the material. Is there any suggestions as to what can be done to calm the reaction or if we should back off on the acid concentrations. The bright dip mix is sulfuric/nitric/hydrochloric.
Jonathan Maneval
- Mt. Carmel, Penna.
---
2000
Dear Jonathan, You can certainly avoid the use of acids for bright dipping,instead of it you can use this SEQUENCE
1. Soak Cleaning
2. Water Rinse
3. 5%Sulphuric Acid
4. Water Rinse
5. 2-10 min dip in solution of 10% BC-20 +10% Hydrogen Peroxide
6. Water Rinse
7. Dip in 1% Sulphuric Acid
8. Water Rinse
Varun Bhalla
- Delhi,Delhi(INDIA)
---
2000
Defects from pickling are: red stain which may be caused by cupric oxide which may be removed by bichromate or ferric sulfate pickle. Red stains can come from immersion of copper caused by the presence of iron in the pickle. Have you contaminated your bath with iron? Degrease your parts before bright dipping. Dip parts in soap to neutralize after bright dipping. Vary time, temperature, and concentration for your particular alloy. The NO must be handled by very effective hoods. See www.finishing.com/consultants/ for design help.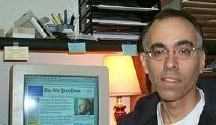 Tom Pullizzi
Falls Township, Pennsylvania
---
2006
Hello Varun
What do you mean BC?
And this sequence is for bright normal steel
Nabil Salama Zaki Meakeal
- 10th ramadan, Egypt