Live! From beautiful Pine Beach New Jersey: Welcome to the world's most popular metal finishing website
topic 47731
Stainless steel with significant rust staining after 6 weeks
A discussion started in 2008 but continuing through 2018
February 5, 2008
Q. We have just installed an external stair to our home 6 weeks ago. We have had a lot of wind and rain with sea spray and high humidity recently and are located right on the coast. The stainless steel posts and components show A LOT of rust staining in this short period of time, very unsightly and cannot be removed by simply washing down with detergent and a stiff nylon brush. It appears that a rust converter or a sandpaper will be necessary to remove the staining.(like tea coloured splotches all over) We are surprised at the level of visual deterioration in such as short time and question whether we were supplied 316 grade at all. Do you think it is likely that we have 304 instead of 316 for the speed and extent of rust staining? or would this be expected?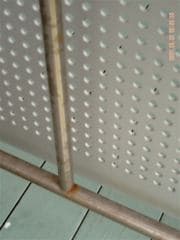 Thank you
Loretta Lehmann
home renovator - Noosa, Qld, Australia
---
---
February 18, 2008
Q. We manufacture SS pedestals for helm chairs and table pedestals that are used in the yachting industry and we use 304 grade; however it is polished to a mirror finish and does not discolor over time. perhaps you could look into that.

HB
Hubert R Boissiere
- Savannah, Georgia
---
---
April 16, 2010
Q. Dear , I very interested in surface preparation and painting job. On now, my responsibility is co-ordinator on this job. May I know that how to clean stainless surface when corrosion is there? Thanks a lot
Kyaw Ya
- Singapore
---
---
Rust on 304SS in Water Treatment Plant
April 12, 2018
Q. I work at a water treatment works and the 304SS has stained (brown marks) on the external to the pipes. There is a chance that gassing off of sodium hypochlorite in the air from some tanks could this be the cause and what would be the best way to clean?
Stewart Smolarek
- Glasgow, Strathclyde, UK


If you have a question in mind which seems off topic, please Search the Site