Free personalized metal finishing help!
Best way to clean a lacquered brass-plated machine, or possibly, re-new it
(
-----
)
January 3, 2008
Hello,
I bought a used 15-year old La Pavoni italian espresso machine and got it shipped all the way to Saudi Arabia from eastern Germany, for which most of the parts I believe are made of copper but are brass plated with a layer of clear lacquer on top. Since then, the lacquer layer is slightly being peeled from some parts and from the areas of the boiler that the other parts are affixed to (using brass washers and nuts inside the boiler). The coating of the machine has an intense, golden colour that is nothing like the pale yellow colour found on the Pavonis sold nowadays, and I am very sad that it has come to have a lot of minor scratches and areas of colour change because of lacquer peeling. The pieces of lacquer that I have seen coming off were yellowish in colour, and they took away with them the original colour of the small areas they came off from, leaving an almost light metallic colour.
The question is, what is the best way to clean this machine? And how may I restore it to a better condition with respect to surface finish? And if I was to re-plate it, wouldn't be that too expensive and how can I ensure that they will preserve the colour. Because I asked some people why the new machines look different and the answer seemed to be that newer machines are made from a another "less-expensive" "grade" of brass (I really don't know what that means)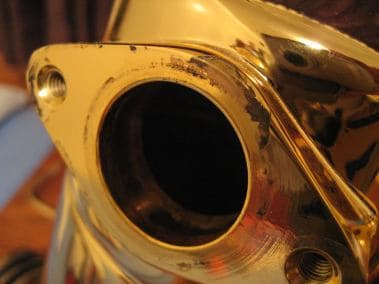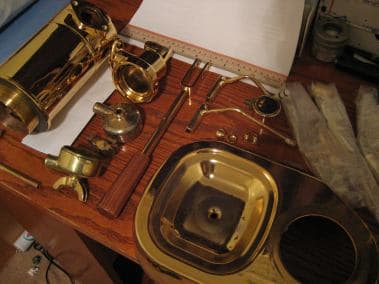 In my area I couldn't find electroplating shops, in Bahrain I could, but when I was writing to the guy, his English was awful giving me the impression that I shouldn't rely on him with this expensive machine, in UAE most of the shops said that this is decorative coating and they were specialized in industrial coating etc. Note that the boiler's coated surface may reach temperatures up to 120 °C and I remember that the guy from Bahrain said that it shouldn't be lacquered, however this is what the company, La Pavoni, says.

Thanks in advance.

Best Regards,
Orwa M. Diraneyya
Hobbyist - Dhahran, Eastern Province, Saudi Arabia
^
---
January 14, 2008
Without looking at it in person, and by observing the photos, I'll wager what you are looking at is actually a layer of Gold plating that has been disturbed, letting the brass underneath start to corrode. This plating is used many times to add a decorative effect to high end sink and lavatory faucet sets, appliances and barware fittings. It may be very similar to the plating and lacquer coating applied to high end brass musical instruments (Like Saxophones, trumpets, French Horns and the like). I have seen flaking on these instruments similar to what your photos show. I'll also wager the lacquer is a very high temperature one, and is (in most cases) very good protection. You probably cleaned it a bit better than most owners, since you purchased it used, and this may have disrupted the coating on the sharp edges and corners. Is there any reputable musical instrument repair shops there? The problem you describe and have illustrated is a common one for brass musical instrument (horn) players. The polish you see on most high quality brass horns is actually a flashed layer of gold that protects and beautifies the highly polished brass underneath. It is commonly coated with a durable protective lacquer as the gold most of these instruments are plated with is very thin (like a Micron or two) and the thick lacquer coat has to be applied to protect it. Once the coating is disturbed, the gold comes off very easy, and sometimes even turns loose under the lacquer. Touching the surface with your bare hands, especially if they are sweaty, without the coating is most times enough to start it oxidising very rapidly. If you locate a musical instrument dealer in one of the larger cities with a repair shop, I'll bet they can either do it in-house or can recommend someone that can. You may need to supply the high temp spray lacquer yourself. The lacquer they use is not for the higher temperatures your expresso maker uses { I've heard some REALLY HOT horn players, but I don't think even a 'smokin' horn solo will get it anywhere near the temperature of saturated steam!}
If you do need lacquer, try the US gunsmithing supply house, Brownells [affil. link by editor]. They have some clear aerosol spray lacquer that has a service rating of close to 300 °F. Replating and re-coating a horn is a very routine job for a instrument repairer. Your coffee maker should be a snap. You sound like you like coffee as much as I do! Drink it all day! Sounds like you have one of the very top of the line makers. Good luck, Bill - Goboom
William F. Wood
- Oxford, Alabama
^
---
January 20, 2008
Thank you very much for your valuable reply, and in fact, La Pavoni do sell a gold-plated version (3 microns of gold) of this Professional model, and thus I tend to think that you are right about the coating. Moreover, I have always admired the beauty of this machine, and always thought that it was nothing like what I know of brass appearance, however, most of the people I sent the photos to said it was merely brass, lacquered. Therefore, I am so sad that I have come to hurt the coating so badly. If I knew it was gold I would've been much more cautious, rather than literally re-building the machine like I did, replacing every functional piece of it, and cleaning most of the parts repeatedly.

You say that a musical instrument repairing shop will re-plate it as well as applying the high-temperature lacquer to it? Or only re-new the lacquer coating while maintaining all the current surface imperfections? Is gold-plating a routinely fix in such shops and how much does it usually cost for something in the size of this machine (that being, approximately, 30 cm * 30 cm * 20 cm when assembled)?

Thank you very much again for your kind reply. I don't think that anyone in my area has such an espresso machine, since using this sort of machine is a bit difficult. And for espresso, if I was to describe it in few words, then I would say that it's the only extraction method of coffee beans that is capable of extracting the aromatic components that are usually only smelled, but are never attending in the cup -- It's something I am fond of making and understanding!

Best Regards,
Orwa M. Diraneyya
- Dhahran, Eastern Province, Saudi Arabia
^