Where the world gathers for
plating, anodizing, & finishing Q&As since 1989
-----
Clear anodizing colour difference between machined surface and extrusion surface
2007
Dear sir,

I have a 6061 Al extrusion part that needs to be machined on certain surfaces for flatness. Unfortunately, the colour on that surface was darker after being clear anodized compare with the extruded surface.

What are the reasons of this issue? Is it possible to get a similar colour on both surfaces?

Thanks,
Chee Yau
Product Designer - Australia
---
First of three simultaneous responses -- 2007

In short, NO. you would have to remove all of the surface metal to get the same anodizing. This is why anodizers hate to see extrusions, especially poor extrusions that were bought for their low cost.
If you want the same color, you will need to go to a wrought alloy, not a cast or extruded one.
James Watts
- Navarre, Florida
---
Second of three simultaneous responses -- 2007

The pore crystal build-up forms more perpendicular on the flatest surface and more random and scattered on the wavy surface of the extrusion. Then the light refracts differently from the different surfaces. The anodic film, being thick, magnifies the surface differences.

You may get a closer match by (1) lower thickness and (2) heavier alkali etching and (3) better deoxidizing.

Along the way be sure,in the anodizing tank, (1) dissolved aluminum is under 12 gm/L.(2) temperature is up around 72 to 75 F.and current density is close to 12 amps per square foot.

Robert H Probert
Robert H Probert Technical Services

Garner, North Carolina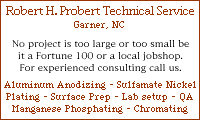 ---
Third of three simultaneous responses -- 2007

The substrate has to be same in order for the anodized part to look same. If you machine off certain area, it will look different from the unmachined area after the anodizing.
The color difference will be more if you are dying also.

Functionally, both areas should perform same. I think its only cosmetic issue.
What you put in, is what you get out..
Hope it helps,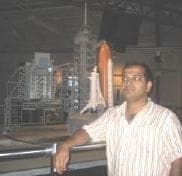 Hemant Kumar
- Florida, USA
---
2007
Please use enough coolant during macining to avoid this defect; in other words, avoid heat formation during machining - you may get better result.

Good luck.
Srimay Basu
- DUBAI, U.A.E.
---
January 12, 2008
While machining all surfaces equally would be the be-all en-all of solutions. Perhaps a lower thickness of anodizing will answer the problem as well.

a lower thickness would "blend" the flaws a little bit better.

Anodizing does not hide flaws in the aluminum, it magnifys them,
(someone call webster I'm killing the english language again)

The thicker the oxide buildup, the more apparent the flaw in the substrate.

Keep in mind also, that the thinner the coating the less abrasion resistance, dyeing (color) becomes less of an option (depending on thickness.) and the corrosion resistance will be sacrificed. (again depending on the pore size and the ability to properly hydrate that pore.

I have seen some industries simply "flash" the extrusions with anodizing (.0001-.0002) thickness. While not a functional coating, they can still call it anodized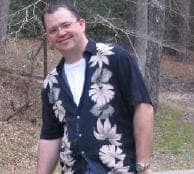 Ryan Cook
Toccoa, Georgia