Live! From Pine Beach NJ: The world's most popular metal finishing website, and the internet's friendliest corner
topic 47201
Black spots on weld areas of zinc plating
A discussion started in 2007 but continuing through 2018
2007
Q. We are getting steel zinc plated IAW ASTM B633 [link by ed. to spec at TechStreet] -07 SC1 Type II

Upon receipt the parts have isolated black spots on the weld material
Plater indicated it was due to flux in the weld, how do we remedy?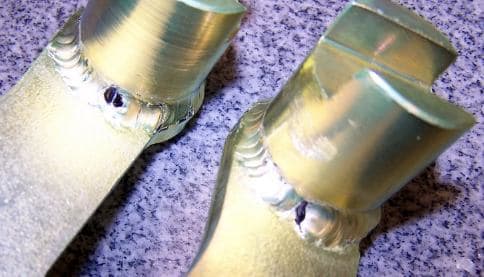 Shawn Tymchak
manufacturer - Winnipeg, Manitoba, Canada
---
2007
A. Hello Shawn,
I think I know what is causing you a problem, two questions first. (1) Is the flat metal hot or cold rolled?
(2) Is the welding tig rod stainless steel?

Regards
Andy Griffin
- Redditch, UK
---
2007
A. You really need to talk to your plater or another plater. The plater needs to determine a pre treatment cycle (cleaning, acid dip, etc) that will remove the flux you are leaving on the part. this cycle will vary depending on the manner in which the plater processes the parts (manually or automatically) and the type of plating process being used.

If I was to guess, I would say that the flux has been burnt into a porous area of the weld and the plater is having trouble thoroughly cleaning this area.

If product specific treatments are needed or additional operations you may find that the cost will be higher.
Gene Packman
process supplier - Great Neck, New York
---
2007
A. Hello!

Well we were also facing the same problem ,but only during winter season. I did lots of R&D but couldn't find the solution.Now I tell you a story which helped me to find my solution to the problem.

I always go to my office on bike and when I came to home, my face got black due to pollution (particles got stick to my face).When I wash with water , I couldn't got clean enough and when I wash with hot water my face got cleared.

So I thought that if after plating ,if I dip the plated material in hot water for few minutes so that the chloride laden chemical could be washed out from the welded parts and after that I did de-hydrogen embrittlement for at least 5 hrs. after that I again dip the same part in hot water and after activating it with Nitric acid and washing it with again hot water by immersing it in that hot water say for 4--8 mins. and passivating it at a slight warmer rate, my problem got solved.

So the conclusion is that when we did plating the chemical is in the pores of the welded spots and after plating, the chemical couldn't got washed out effectively and when it came out, it takes out the plated chemical. So when we did hot water dip the extra chloride comes out ,as it got melt instead of disturbing the plated metal.
So during summer season this type of problem didn't occur because room temperature is enough to melt down the extra chloride deposited.

For more better results we can also use centrifugal hot drier in order to dry the plated parts more effectively.

I hope this could help you to solve the problem.
This type of problem can also came if you are manufacturing threaded articles,because the same problem came in the threads of nuts and bolts. Do the same technique and you will be out of problem.
Sean Aarchr
- Chandigarh, India
---
January 8, 2008
Q. The black spots are believed to be a combination of the tig rod (silica) and waste material from the base metal left over. The location is consistently at the weld termination points.

Material is HR steel, filler metal is ER70s.

The plater indicates his cleaning process uses alkali cleaner and hydrochloric acid, apparently, these have no effect on the silica.

The confusing part it is appearing in sporadic batches. Depending on which welder does the welding, sometimes it is there and sometimes it is not.

We have resorted to sandblasting the parts to remove the spots.
Shawn Tymchak
[returning]
- Winnipeg, Manitoba, Canada
---
January 10, 2008
A. From your original picture, it looks like flux or slag that was not chipped off. All people that weld are not welders! I would look at hiring a certified welder trainer as a consultant for a day or two to improve the weld process.
A company that I worked for had a serious cracking problem with 718 welds even tho it was "in spec" . It took a talented person less than half a day to fix the problem - permanently.
James Watts
- Navarre, Florida
---
January 16, 2008
A. Hi,

I had these problems as well while I was working in the car industrie. Fact is, that due of higher Temperature (or the flame is too close to the to be welded part) the flux is getting burned in and of course won't be removeable that easy. One of the help was, that after the welding process the parts get dipped in a cleaner and afterwards rinsed and dried so the parts won't corrode prior plating process. If the parts are in the plating process it is very difficult to eliminate. Therefore it should be also considered whic kind of pickling are in use (Hydrochlorid acid, or a mixture of different acids such like phosphoric acid and sulfuric acid). The pickling of course should contain inhibitors to avoid strong attacks and other un-welcome effect.

Regards,
Dominik Michalek
- Mexico City, Mexico
---
January 19, 2008
A. According to the picture I agree with James. This problem has little to do with the plating shop. If a weldment is not chipped or blasted to get rid of the slag, little can a plater do with chemicals to get rid of it. Make sure your welders do their job properly or add a shot or glass bead blasting cycle. Minute amounts of flux slag can be cleaned away in pre-treatment but this is obviously way too much. A respondent mentioned TIG. This certainly looks to me like a coated arc electrode weldment.
Guillermo Marrufo
Monterrey, NL, Mexico
---
---
November 19, 2014
Q. Dear Sir,

We've got a black mark noticed in welded area in trivalent plating after 15 days with part in idle condition. But our customer needs the parts urgently. Do we need to apply Aluminium paint? Is it okay (my customer also accepted). Any accepted standard is available? Or any rework procedure available?
Kindly share with me.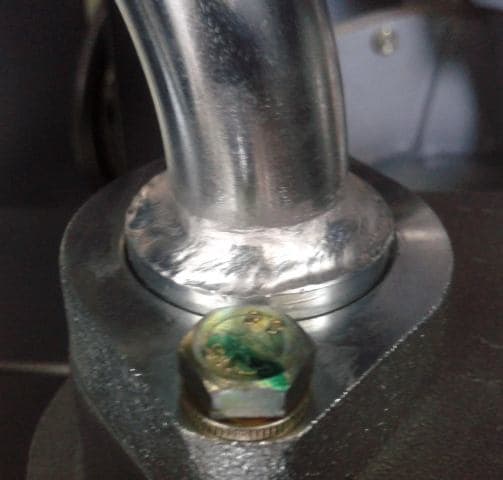 Vageesan Murugesan
- COIMBATORE,TAMILNADU.INDIA
---
November 20, 2014
Q. Dear Sir,

We are facing many quality issues like rust noticed in short period, and black marks noticed in welded areas. Our part passed salt spray of 96 hours; our spec is 96 hours only.
Welded area black mark: that's very critical. In earlier days we put aluminium paint on the black mark. Now our people are not accepting it -- what kind of rework is acceptable? Aluminium paint touch up is okay for this defect? And what is the shelf life for plated parts? How to handle and store plated parts?
Vageesan Murugesan
[returning]
Supplier Quality Engineer - COIMBATORE,TAMILNADU.INDIA
---
November 2014
? Hi Vageesan. I'm not sure what the picture is trying to show. There appears to be some blackening on the pipe near the top of the photo, but it's hard to tell whether it's a defect or just lighting. I see no rust or discoloration of the weld area here. What finish is on the fastener, and what is the green mark on it?
I'm sure our readers will try to help you, but when you have discoloration, rust, short salt spray life, no established re-work procedure, and you claim no knowledge of expected shelf life, proper handling, or proper storage, and your needs are urgent, I think you should retain a plating consultant.
Regards,
Ted Mooney, P.E.
finishing.com
Pine Beach, New Jersey
We need "Aloha" now more than ever
---
---
Brown marks near welds on zinc plated parts
October 23, 2018
-- this entry appended to this thread by editor in lieu of spawning a duplicative thread
Q. Hello All, I'm the QC for my company and I have these steel parts that get welded and then zinc plated. When it came back from plating there was brown markings near the welds. I was not able to see any acid bleeding around or causing the brown marks.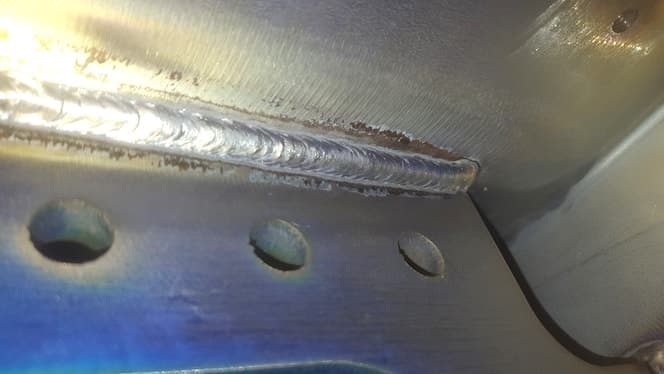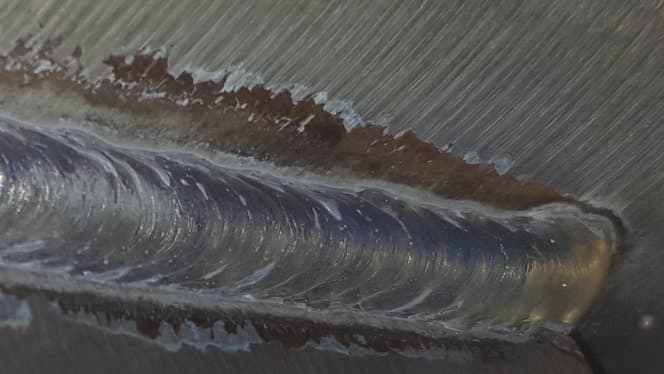 I contacted the plater and was told that the brown marks are from heat scale and there's not much they can do unless they blast it off. Although my buyer said the brown marks are soot from the torch being slightly too high of an angle or them not having enough shielding gas since it's next to the welds. And finally my welders, having welded these parts the same as before and never running into this problem, think it is the spatter spray that was not cleaned off well.

I'm able to clean off the brown color but you can see where it was making me concern if it is still plated. My question is, what is the brown markings so I know how to go forward in fixing these parts and avoiding this problem in the future.
Monica Olivas
- Redmond, Washington, USA
---
October 2018
A. Hi Monica. As you see, we attached your inquiry to a prior thread where the discoloration may look a little different but the questions & answers sound highly applicable.
Although it might be possible for your welders to do things just exactly right, so the slag is only on the fillet, and then manually chip off / brush off the slag, the general problem seems to be that the welding process is producing slag which isn't getting brushed off, and which the plater can't remove chemically, but must remove by blasting.
I doubt that the plater is doing anything wrong, or that this is rust. And I doubt that the discoloration is on top of the plating, so I share your concern that after you remove the discoloration you are probably down to bare steel. To me it makes more sense to remove the discoloration (by blasting) before plating rather than after. Good luck.
Regards,
Ted Mooney, P.E. RET
finishing.com
Pine Beach, New Jersey
We need "Aloha" now more than ever


If you have a question in mind which seems off topic, please Search the Site