Where the world gathers for
plating, anodizing, & finishing Q&As since 1989
Chemical to clean weld marks from stainless steel, or procedure to remove the burn marks?
-----
Q. Is there any way to remove the blue/black marks caused by welding 304 2b stainless steel?
Thomas Sikora
lighting - Chicago, Illinois, USA
2003
---
2003
A. Pickle the weldments in 30% nitric, 5% hydrofluoric (rest water) at room temp for enough time to clean. You can opt for additional passivation in 30% nitric (no fluoride). Both chemicals are extremely dangerous and aggressive to all forms of life. Personnel protection, neutralization and disposal according to local laws is mandatory. Injectable calcium gluconate is also highly recommended to be available in case of possible skin contact with HF.
Guillermo Marrufo
Monterrey, NL, Mexico
---
2003
A. We use a product called Blueaway. It looks like runny toothpaste ... but requires very little effort. Not sure where we bought it.

Good luck,
Matt Merklein
- Lewisville, Texas
---
---
To minimize searching & thrashing, multiple threads were merged; please forgive repetition, chronology errors, or disrespect of other responses (they probably weren't there) :-)
---
---
Removing welding marks on stainless steel
2007
Q. We are a kitchen manufacturing industry; we are using pickling solution (hydrofluoric acid + nitric acid ) for removal of oxide formed in the time of welding (TIG welding). In this process after some days of finishing, the chemical within the molecule of weld material reacts with weld material to form oxides.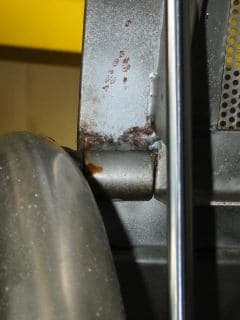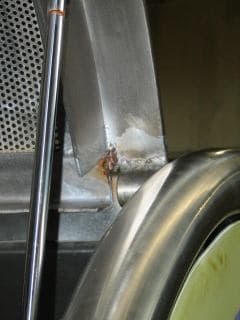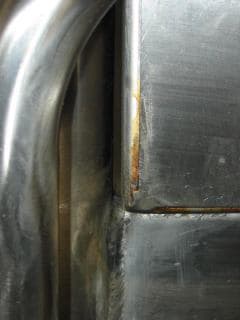 So please suggest another good process for this with proper solution.
Pranabesh Kumar Rout
Development engineer - Delhi, India
---
2007
A. Dear Pranabesh

You need to check the Welding Electrode -- what is it?

Are you using Arc Welding? -- Switch over to Gas Inert Welding.

Do not use chemicals to remove tinting of welded areas. Instead passivate them by simple grinding.

You must get in the habit of cleaning the component free from any residue of Chemical/Abrasive before selling it.

Hope this helps you.
Ajay Madan
- New Delhi, India
---
2007
A. Sir, looking at the photos it appears as if you have contamination, either your filler rod is not pure or the process you are using is introducing contaminates.

We use TIG welding; either fuse the weld or if you have to add filler 308L wire (wire is cleaned prior to use, as is the joint area). Straight Argon or a Argon-Helium mix is used for the shielding gas.

Make sure your heat is not too great that you draw oxygen in from the rear of the weld (or run a gas purge behind the weld). This will avoid "crystalization" of the rear of the weld.

Hope this helps.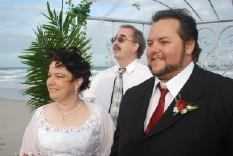 Andrew Benson
metal fab company (buyer)
Cocoa, Florida
---
2007
A. Good TIG welds that are cleaned and chemically passivated afterwards will give good results. What alloy is this?

Grinding of the weld DOES NOT passivate it. Quite the opposite, it can easily cause ferrite formation that will rust later unless passivated chemically.


Lee Kremer
Stellar Solutions, Inc.

McHenry, Illinois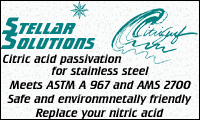 ---
---
2007
Q. I work for a tanker company my name is Bill, and want to know what I can use to remove the burn marks from welding. I need to find a chemical to use; it must look like it was not touched .
My boss is having me use a flapper wheel but I know that there is something that I can wipe it off with. Please if you can help. Thanks
William Knoche
welder - Lemoyne, Pennsylvania
---
2007
A. William:

Typical weld paste for pickling of welds will remove the heat effected discoloration (heat tint) that you see. It is generally a blend of nitric and hydrofluoric acid in a gelled solution. After removal of the heat tint, passivation should be performed with either nitric or citric acid gel passivation. These solutions can be purchased from a number of suppliers.

Thanks,
Daryl L. Roll
Costa Mesa, California, USA
---
July 16, 2008
Q. How do I get rid of burn stains left behind on a welded stainless steel?
nathaniel oitomen
fabricator - benin, Nigeria
---
January 29, 2010
A. Try The Magic Wand from Diversified Products. It cleans weld burns quick and easy to use.
A. Martinez
- Sunland, California
---
August 4, 2010
Q. I remember using a product while working for another fabricator. It's a charcoal gray color with, what almost looks like glitter imbedded in it. It comes in a 2" X 3" X 1/2" block and feels alot like an eraser. It won't mar the surface and you use it like a sanding block. Is anyone familiar with this? I forgot the name of the maker.
Janet Emmert
- Chicago, Illinois, USA
---
June 20, 2013
Q. Looking for a solvent that will take grinding burns off of hardened high speed steel.
brian a gillund
- chicago Illinois
---
---
How to chemically remove weld seam marks from stainless steel?
August 19, 2008
Dear Sirs,
I'm WIG welding AISI 304 stainless steel. Is there some chemical (acid or something similar) to remove the change in color in the welded area?
Best Regards
Paulo Figueiredo
hobbyist - Viseu, Portugal
---
August 21, 2008
A. Hi, Paulo. Yes, this generally goes by the name of 'pickling paste'. It usually involves the nasty acids hydrofluoric and nitric, so observe the MSDS carefully.

Regards,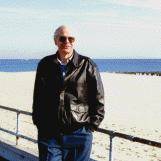 Ted Mooney
, P.E.
Striving to live Aloha
finishing.com - Pine Beach, New Jersey
---
October 9, 2008
adv.
Paulo, several appliance manufactures are using our Scratch-B-Gone kit to remove just this problem particularly at corner weld sights. Take a look.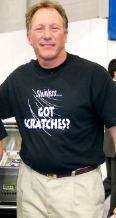 Barry Feinman
BarrysRestoreItAll

Carlsbad, California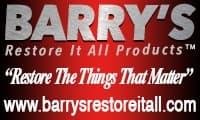 ---
September 23, 2009
A. Stainless wire brush right after welding.
Electropolishing will also remove heat discoloration and render the surface more corrosion resistant then passivation or pickling alone. It will also brighten the surface.
Cliff Kusch
electropolishing shop - North Vancouver, British Columbia, Canada
---
---
June 7, 2015
Q. Sir, I am doing a project in my college on stainless steel, to be more specific welding of stainless steel. We did some welding and that is my query: There are some weld marks on the jobs, which are not visually good. How can we remove those or you can say polish them out? Please help me out here sir. Thanks.
PRITAM BASU
- ANDUL, WB, INDIA
---
June 2015
A. Hi Pritam. We appended your inquiry to an existing thread on the subject, which explains several different possible approaches. Good luck.
Regards,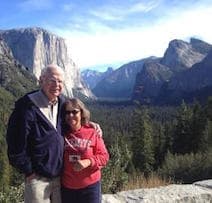 Ted Mooney
, P.E. RET
Striving to live Aloha
finishing.com - Pine Beach, New Jersey
---
---
Fabricating a stainless grille for a classic car
September 25, 2016
Q. Hi

I want to fabricate a grille for a 65 t-bird. I'm planning to use 304 stainless bar stock. The bars will be welded to form the assembly. I intend to polish each before assembly. My question is what will welding (TIG) do to the bars/finish? Will there be major discolouration? It may be very awkward to do full polishing after assembly, but minor touch ups should be possible. Any advice would be appreciated.

Thanks

Jeff
Jeff Gee
- Winnipeg Canada
---
September 2016
A. Hi Jeff. We added your question to an existing thread about welding of 304 SS. The biggest problem is probably not how to clean the weld discoloration, but the fact that this is unlikely to be a satisfactory grill for an automobile in terms of staying attractive and rust free. If it's a show car kept in a garage and not used on the road, it's one thing; but environmental exposure on an automobile that is in use is rated "very severe" (as opposed to other applications which are rated mild, moderate, or severe). The 304 SS will probably rust even if passivated, and will surely rust if not. But good luck.
Regards,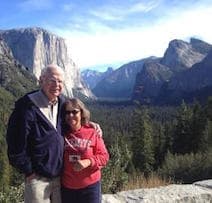 Ted Mooney
, P.E. RET
Striving to live Aloha
finishing.com - Pine Beach, New Jersey
---
---
September 27, 2016
Q. I weld thinner gauge stainless steel. After acid cleaning and fresh water rinsing, often times even with my best effort, there are seam leaks and acid residue left over on the finish that is very hard to permanently clean without a complete re-clean re-rinse, etc.
Is spray citrus oil cleaner an effective cleanup for that residue or do you suggest something different? A brand product would be most helpful.
JIMMY HANSIL
SELF - Concord, North Carolina USA
---
September 29, 2016
A. Jeff,
Since you're in Canada I'm going to assume lots of salt on the road during the winter. I wouldn't try it with anything less than 316 that is electropolished and then citric passivated, and even then it would probably need occasional treatments to remove corrosion and repassivate.

Most car parts like that are chrome plated, I believe, and even then they don't often hold up forever to road conditions.

- - -

Jimmy,
I guess I'm not following you completely here. When you say acid cleaning, what type of acid? Liquid solution or some kind of gel/paste product? Acids are totally water soluble, so if your parts end up with dried acid residue on the surface it means your rinsing is not very good. Though sometimes people mistake acid etch marks for a "residue".

When you say seam leaks, what is leaking, and through what seams? The welds?

Ray Kremer
Stellar Solutions, Inc.

McHenry, Illinois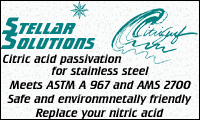 ---
---
January 19, 2018
Q. How do I remove a burn mark or stain on my electric baseboards ?
John S.
[last name deleted for privacy by Editor]
- Toronto , Ontario , Canada
---
January 2018
Hi John. A picture is worth a thousand words. Please send a pic to mooney@finishing.com.
Regards,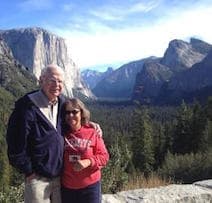 Ted Mooney
, P.E. RET
Striving to live Aloha
finishing.com - Pine Beach, New Jersey
---
---
June 9, 2018
Q. Can we use Oxalic acid and phosphoric acid for removing weld marks from stainless steel?
Akshata Ghadi
Royal arc gastech - Vasai,Mumbai, India
---
June 19, 2018
A. Akshata,
You can certainly try, but don't expect much success. Those acids generally are not powerful enough to etch heat discoloration from stainless.

Ray Kremer
Stellar Solutions, Inc.

McHenry, Illinois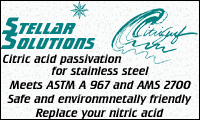 ---
June 16, 2018
Q. 32 years ago, when I picked up my new cycle from the dealer, I started it up (choke on), and was distracted by a friend interested in my new toy. Next thing I knew, he pointed to my stainless exhaust pipes, parts of which were glowing dark cherry red. I drove away to cool them down, but believe damage was done. I still own the bike, which is very rare, and highly sought after. The pipes have the brown discoloration (fairly easy to remove with Simichrome), but also spots, which require a lot of time with a buffer, and polishing compound. I have taken the pipes to mirror finish several times over the years, but once back in use, they quickly develop the dark spots. Unsightly. As the entire pipe gets stained, the spots are not very noticeable. My question is, is there anything I can do about this? Passivation or some heat treating process? Replacement parts are extremely hard to find.
Jim Canale
- Homer, New York, USA
---
June 2018
A. Hi Jim. The pipes should be passivated with citric acid based passivating solution after polishing. But I think (but don't know for sure) that getting them electropolished will deter both the brown spots and the general darkening.
I doubt that what you did 32 years and several mirror polishings ago is having any effect on what is going on today.
Regards,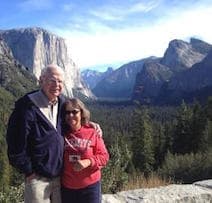 Ted Mooney
, P.E. RET
Striving to live Aloha
finishing.com - Pine Beach, New Jersey
---
June 25, 2018
Q. Ted,

Thanks for your reply. Is this citric acid passivating solution something I can cook up myself? If so, how is it formulated, and what is the process? Or is it something I must go to a plating house for? I take it electropolishing IS something that needs to be done by a professional.
Jim Canale
- Homer, New York, USA
---
June 2018
A. Hi again. You can apply the citric acid yourself, but I would advise buying it as a proprietary so you get the right stuff at the right concentration, as well as the necessary instructions. I can suggest contacting Stellar Solutions [a finishing.com supporting advertiser] about it.
You cannot do electropolishing yourself. You would have to send the pipes out to an electropolishing shop. Good luck.
Regards,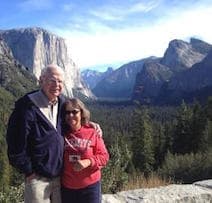 Ted Mooney
, P.E. RET
Striving to live Aloha
finishing.com - Pine Beach, New Jersey
---
---
March 31, 2019
Q. Hi
Is there any economical way to clean large size structures of a 3 metre size of SS 304 material having heavy TIG welding black marks? Every month we need to clean 45 structures after buffing the external surface.
haribabu elluru
Fabrication - Hyderabad, India
---
April 10, 2019
A. Haribabu,
Normally mechanical descaling like bead blasting or wire wheel grinding, or some sort of pickling paste.

Ray Kremer
Stellar Solutions, Inc.

McHenry, Illinois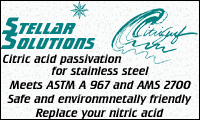 ---
---
October 31, 2019
Q. Hello ... I have been reading some of the questions and answers to the discoloration of stainless steel from heat. I have been approached by a fabrication shop that welds stainless steel. They wanted to see if I can get rid of the discoloration from where they weld at without abrasion. They have been having it sandblasted with a very fine sand but that's not what they're wanting. What way if any is the best way to remove the discoloration without leaving a profile? Thank you.
Timothy Miller
- LIMA, Ohio..... United States
---
November 1, 2019
A. Google "Pickling Paste" - Apply, let stand, rinse off.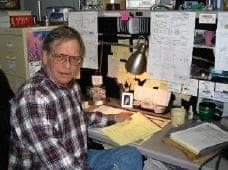 Jeffrey Holmes, CEF
Spartanburg, South Carolina