Where the world gathers for
plating, anodizing, & finishing Q&As since 1989
-----
HCD Area Problem!
2007
Hello All!

I m running a Rack plating tank of capacity 800 ltrs. of Acid Zinc.I m maintaining Metal as 35 gm/ltr. (30--35 gm/ltr.);Chloride as 130 gm/ltr.(120-140 gm/ltr) & Boric as 33 gm/ltr.(30--35 gm/ltr.)
My problem is that I m facing the problem of HCD area i.e when I did Hull-Cell at 1 Amp. for 5 Mins. I have no Problem ,but when I did at 1 Amp. and for 10 Mins. a dark brown colored start appearing at HCD and after HNo3 dip I found dark Silver grey color in only HCD area whereas my LCD area and Medium area is cleared and shiny.So, what is that dark brown color.
Is it due to some Metalonic Impurities or what?
I have packed zinc dust [affil link] ,Carbon at 100gm. twice
I have packed packed KmNo4 at 100gm.twice in order that no iron or any other impurity should be there.
I did Hull Cell at 1 Amp. at 10 mins. with only 'M' as there may be un-balanced M-R ratio, so what I find that in Hull-Cell of 250 ml. I put total 18.5 ml after various trial.So corresponding to 800 ltrs. it comes out to be 60 Ltrs. So should I go for it or not. please Tell.
Sean Aarchr
Engineer Q.A - Chandigarh
---
2007
The Indian brighteners are not formulated to work at that metal concentration.

Reduce metal to 20 - 22 gms and Boric likewise. Reduce the chlorides to a 1 : 5 ratio to the metal and start work.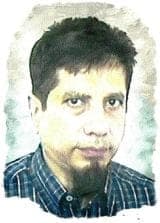 Khozem Vahaanwala
Saify Ind

Bengaluru, Karnataka, India

---
2007
Dear Khozem Vahaanwala

I have also did the same thing for atleast 1 week. But in vail.
Sean Aarchr
- Chandigarh
adv.: