Where the world gathers for
plating, anodizing, & finishing Q&As since 1989
-----
Problem with adhesion of silver plate
2000
Q. I am having adhesion problems plating silver to a nitrided steel. The silver plate has small blisters, which when peeled away show a copper strike. The process is:
Soak clean
Rinse in running water
Anodic alkaline clean
Rinse in running water
Muriatic acid dip
Rinse in running water
Copper strike
Rinse in running water
Silver Strike
Silver Plate
Rinse in running water
Hot water rinse and blow dry
It appears that the silver is not adhering to the copper strike in small areas. What could be the problem?
Daniel Bemenderfer
- Indianapolis, Indiana
---
2000
A. Since I can not see it, my first guess is that the copper strike has holes or pits in it that traps impurities which cause the later tiny blister. Try putting a thicker strike on it and see if that helps.
James Watts
- Navarre, Florida
---
2000
A. Yes, and I wonder if the copper is having trouble with the nitrided steel. How about testing with a Wood's Nickel strike or Watt's nickel before the copper?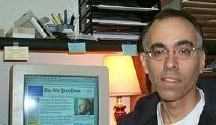 Tom Pullizzi
Falls Township, Pennsylvania
---
2001
A. Have you tried putting a potassium cyanide rinse in between stages 8/9 to activate copper? This will also stop a galvanic silver taking place in silver strike. A water swill is just not sufficient.
Keith Ager
- Sheffield, S.Yorks, UK
---
November 8, 2014
A. I think you have your silver strike badly contaminated with copper. If you see a small black point when it comes out of this bath, it's copper. You need another rinse between copper and silver, only one is too few.
Victor Esteves
- Munich, Germany