World's #1 finishing resource since 1989
No login needed: Chime right in
topic 46777
Paint is peeling from chromated zinc plating
A discussion started in 2003 and continuing through 2020
Adding your Q. / A. or Comment will restore it to the Current Topics page
2003
Q. I'm facing paint peel off / lack of adhesion problem in one sheet metal cover being used in automotive application. This part is a cylindrical cup where both surfaces - inside and outside are to be corrosion resistant. We decided to have MFZn-8G plating first and then the external surface is painted in assembled condition.
After painting we find the finish not too good and also some peel-off problem. Is the green passivation (MFNz-8G) the correct one or should we go for another passivation with different thickness? Can someone please suggest the countermeasure?
Ashish K Singh
Sr. Engineer-R&D - Gurgaon, Haryana, INDIA
---
2003
A. Mr Singh
The spec you state is 8 microns of zinc followed by green Passivation.
Ok. ?
Yellow passivation helps paint adhesion much better.
It helps if the parts are not very bright, Medium to low brightness is useful for adhesion of paint.
Hope this helps.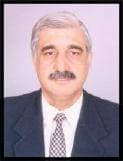 Asif Nurie [dec.]
- New Delhi, India
With deep regret we sadly advise that Asif passed away on Jan 24, 2016
---
---
To minimize search efforts and to offer multiple viewpoints, we combined previously separate threads onto this page. Please forgive any resultant repetition, failures of chronological order, or what may look like readers disrespecting previous responses -- those other responses may not have been on the page at the time :-)
---
---
2007
Q. We purchase a low carbon steel enclosure that is Zinc plated then covered in yellow chromate. The enclosure is then painted with Sherwin Williams Polane white and then orange. We are having trouble with paint peeling (with the chromate attached to the paint) during our environmental stress screen (-40 °C to +80 °C for 22 cycles, each cycle take about 1 hour). Currently we are trying to add a "cure" time after the chromate step but I'm having trouble finding information on time and temperature recommendations for the "cure". Also, we've seen some paint peeling on enclosure in the field after they passed the in house environmental stress screen. Are we going in the right direction or should we not be painting on top of the chromate.
Ray Cwik
electronics - Germantown, Maryland
---
2007
A. Perhaps the yellow chromate is too heavy. Put the chromate on very light for a paint base.

Robert H Probert
Robert H Probert Technical Services

Garner, North Carolina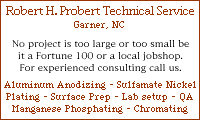 ---
2007
A. FIRSTLY, Tell us do you do adequate Pre-treatment by removing rust and other contaminants.
Shankar O
- COIMBATORE, Tamilnadu, INDIA
---
2007
Q. Thanks for the responses.
First, Yes the enclosures are new and pretreated prior to chromating. There are three water baths and one mild acid wash prior to chromate.
What would you recommended for chromate thickness if used as a paint base and is there a good way to check it.
Thanks, Ray
Ray Cwik
[returning]
electronics - Germantown, Maryland
---
2007
A. Mr.Ray,
Try alkaline Cyanide free Zinc plating without much shine (less brightener added).
Chromating has to be a thin layer means a few seconds dip time.
You will be through.
Regards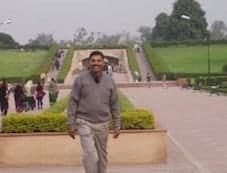 T.K. Mohan
plating process supplier - Mumbai, India
---
2007

Thanks again for all the responses we are trying the light chromate finish and I'll post results when we are finished with our life testing on the units.
Ray Cwik
[returning]
electronics - Germantown, Maryland
---
July 20, 2009
A. Hi all,

We are using this kind of process for about 5 years,

1 ASTM B633 [affil. link to spec at Techstreet] TYPE II Fe/Zn8 SC2 YELLOW CHROMATE (ZINC)
(CLEANING, APPLYING, DRYING PERFECTLY, INDIVIDUAL PACKAGING)
Min zinc thickness: 8 micron
Min salt spray test: 96 hr

2-THE DRYING AND PACKAGING PROCESS MUST BE DONE IN A CLEAN ENVIRONMENT

3-THE UNPACKING PROCESS SHOULD BE DONE JUST BEFORE PAINTING CLOSE TO THE HOT AND DRY AREA OF THE OVEN

4-THE ONLY WAY TO CLEAN IS: WITH CLEAN & DRY AIR PRESSURE AND A CLEAN WHITE CLOTH. (NO WATER, NO HUMIDITY)

5-POWDER COAT UV PROOF PAINT SHOULD BE USED
Thickness test: 80-130 micron
Adhesion test : SCRATCH TEST
Quv test:illumination 60 °C 8 hours, condensing back to 40 4 hours, 200 hours of cycle testing

THE PEELING PROBLEM COMES FROM THE DUST BETWEEN THE PAINT AND THE ZINC. iF YOU PASS THOSE TEST... YOU WILL HAVE RESOLVE YOUR PROBLEM.


Q. I HAVE A QUESTION!
WHAT KIND OF TREATMENT HAS THE SAME QUALITY AS THE ZINC ANTI-RUSTING, CHEAP LIKE THE ZINC, BUT NO GALVANIC CORROSION? (SHOULD NOT BE THICKER THEN THE ZINC.)
Jonathan Cadieux
- MONTREAL, QUEBEC, CANADA
---
A. Hi Jonathan. Nothing is as cheap and corrosion resistant as zinc plating -- that's why it is so universally used. I don't understand what you mean by "no galvanic corrosion": the point of zinc plating is to provide protection to the underlying steel by galvanically corroding. But alloy zinc plating like zinc-iron, zinc-cobalt, or zinc-nickel provide better protection at only slightly increased cost, probably via having a galvanic potential closer to steel than plain zinc has, and by having tighter and more impervious corrosion products to seal the steel behind.
Regards,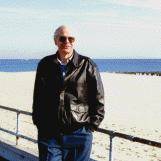 Ted Mooney, P.E.
Striving to live Aloha
finishing.com - Pine Beach, New Jersey
---
---
Paint peels after olive green passivation
January 10, 2014
Q. We are supplying automobile components used in leaf spring with zinc plating with olive green passivation. the components are finally painted with black paint at customer end. We are facing a problem of paint peel off (not drying properly) after proper painting. Is there any restrictions for painting the components with olive green passivation?
Rajendra Agrawal
- Gwalior, Madhya Pradesh, India
---
---
June 17, 2020
Q. Hello,

I am having trouble with paint adhesion of a Zinc Plated 1018 Steel and Garolite Slip Ring brake. (electrodeposit zinc coating followed by conversion coating using chromate). We are using an epoxy primer Cardinal, #7760-73349 (W-1500) with the cardinal liquid paint Light Grey Ral 7035 Textured Cardinal #6032-GRM02114 (W3193). We are wiping the surface with an acid solvent before painting and are seeing chips in the paint after transport and can scratch the paint off by applying pressure on the textured surface.

Any advise is helpful!
Elaine Johnston
- Grand Rapids, Michigan USA
---
July 23, 2020
Johnston:
1. Is this process you do at the first time or this process is well established for you but this adhesion failure happened the first time?
2. You can try to use IPA or acetone instead of the acid solvent before painting.
John hu
- Singapore